Home »
Interaction Design
Interaction Design
Do you constantly imagine how things might be in the future? Are you interested in graphic design, 3-D design and technology? Are you curious about how people engage with screen based designs? More importantly, do you want to create incredible and enriching digital experiences through design?
From apps and websites to connected products and wearable technologies, interaction design is about designing to support the way people communicate and interact in their daily lives, at home, work or play. Interaction design is fundamentally about imagining things as they might be, not necessarily as they are.
Interaction Design ranges from apps on a phone to large scale online interfaces, from smart objects to interactive installations. It explores the relationship between people and technology at home, work or play. Through first hand research you uncover needs which will be then solved by creating engaging experiences for now or in the future. Studying Interaction Design at NCAD will enable you to develop your skills within a creative art school environment, underpinned by technical expertise and extensive links with industry. The small size of each year-group, coupled with close and frequent contact with the tutors, creates an informal yet highly effective student-led learning environment.
Follow Interaction Design at NCAD on Instagram, Facebook and Twitter.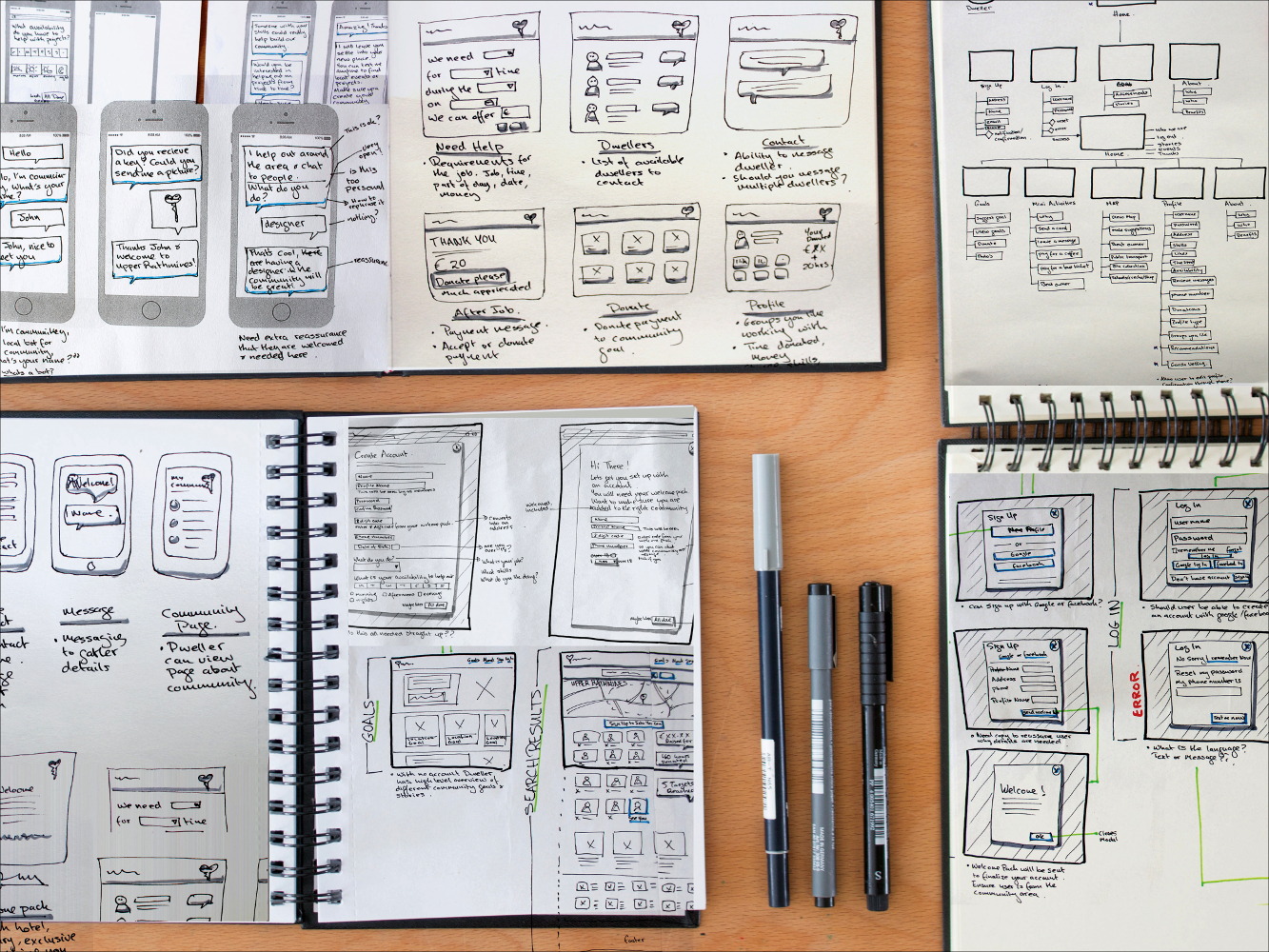 What will I study?
The curriculum exposes students to a wide range of topics, ranging from design for screen-based interactions for web and apps, to service design, to interactive products, and installations. It is built around a core belief in human centered design with students developing the research and innovation skills that will allow them to design meaningful and desirable digital products.
Year 1
The first year experience begins with a semester of interdisciplinary art and design research, observation and analysis. During semester 2 students work on a project in collaboration with students from other areas in the Design School. The second half of semester 2 focuses on developing core Interaction Design skills such as problem solving, idea generation, user interface design, prototyping and digital skills.
Year 2
The focus in second year is on further developing fundamental skills and knowledge within the field of Interaction Design. Projects focus on human centered design, visual communication, web design, user experience design, service design and physical computing.
Year 3: Studio + & International
Studio+ is an optional year open to all Design students allowing you to engage with the world beyond NCAD by gaining practical work experience in the form of internships and industry placements on live commercial, social or community projects. Studio+ can also include a work placement abroad or a study abroad period through the Erasmus programme with internationally recognised art and design faculties partnered with NCAD.
Final Year
In the final year students are ready to develop their own programme of study, which reflects each individual's skills and interests within Interaction Design. This will culminate in a substantial body of work for assessment and display at degree shows, exhibitions and events.
Each year is supported by a series of lectures by leading creative practitioners and theorists, collaborative interdisciplinary opportunities, live industry projects, field trips, and study visits.
How will I be assessed?
Coursework, essays, practical design projects and assessments take place at key points throughout the year. Formal assessment results are issued at the end of each academic year.
Interaction Design graduates have a wide range of local and global opportunities open to them working in areas such as interaction design, user experience (UX) design, product design, service design, web design, user interface design, and design-led research. Graduates find employment within large organisations and design consultancies, and have strong entrepreneurial skills which enable them to set up their own design companies, creating and producing interactive products.
Increasingly graduates progress to further study at postgraduate level to refine their creative abilities and approach. The School of Design offers a range of innovative masters programmes, as well as a practice-based PhD programme.
Please see the Study at NCAD section for full application details.
Duration
3 /4 Years BA
Places
20
Applications

CAO Course Code:

AD222 Interaction Design

Entry Requirements

Leaving Cert: 6 Subjects (2 X H5 and 4 X O6/H7)

Subjects must include English, Irish and one of the following: a third language or Art or Design & Communication Graphics (DCG)

Maths Requirements: Leaving Cert Maths or Technical Subject O6/H7


QQI/FETAC: 5 Distinctions Full Award + Maths requirement as per Leaving cert or equivalent

Portfolio Requirement

Year 1

8th February 2019

Degree Awarded
BA Interaction Design / BA Design (International)
All Undergraduate applications for Year 1 entry and Year 2 Advanced entry are through the
CAO
.
NCAD students currently in First Year can choose Interaction Design as their degree pathway for 2018.
For further information please contact:
School Secretary David Bramley
E-mail: bramleyd@ncad.ie
Programme Team
Sam Russell (BDes, MA) is an experienced product designer, researcher and academic. His current research interest relates to the design of new learning experiences and interactive spaces. As Head of Product Design his focus is on experiential learning, interdisciplinary collaboration and linking students to industry networks.
Emma Creighton (BDes, MSc, PhD) worked and trained in both interaction design and product design. She is a passionate designer and educator whose research interests include interactive play, design in education, and physical computing.
Marcus Hanratty (BDes, MSc, PhD) has been designing products and experiences for over a decade, and has taught interaction design in a number of universities here and abroad. His research focuses on the role design and technology play in shaping people's behaviours with a particular interest in behaviour change, design for emotion, and sustainable design.
Portfolio and Application Events
Each year we run a range of events to help applicants prepare their portfolio for application to Product Design.
Portfolio Information Session
On Tuesday November 6th at 5.30pm Interaction Design staff will host a dedicated information session for prospective applicants intetested in studying Interaction Design at NCAD. On the evening you will get a tour of the studio space and workshops, meet staff, see examples of successful portfolios, and get a sense of what we are looking for in your application.
This event is free but spaces are limited so booking is essential. Book tickets here.
Open Day
The NCAD College Open Day is on Wednesday 28th November 2018. Open Day is an opportunity to vist the NCAD campus, visit different departments, meet students and tutors, attend taster lectures, talks, tours, demonstrations and view First Year Entrance Portfolios. All are welcome. Both staff and students will be on hand to answer your questions.
There will be a lunchtime Information Session for teachers, tutors and guidance counsellors focussed on developments in Design at NCAD.
Who should attend our events?
Anyone interested in applying for Interaction Design for entry in September 2019.
Art & Design/Technology/Engineering/DCG teachers and tutors helping students prepare an entrance portfolio for NCAD.
Further details of events will be posted on our social media accounts below.