CEADWorks 2022
CEADWorks 2022 Exhibition, showcasing the extraordinary work of the 2022 part-time Higher Diploma and University Certificate courses at NCAD
Fri 24 June - Thur 30 June
Design for Industry Building, 101 Thomas Street, Dublin 8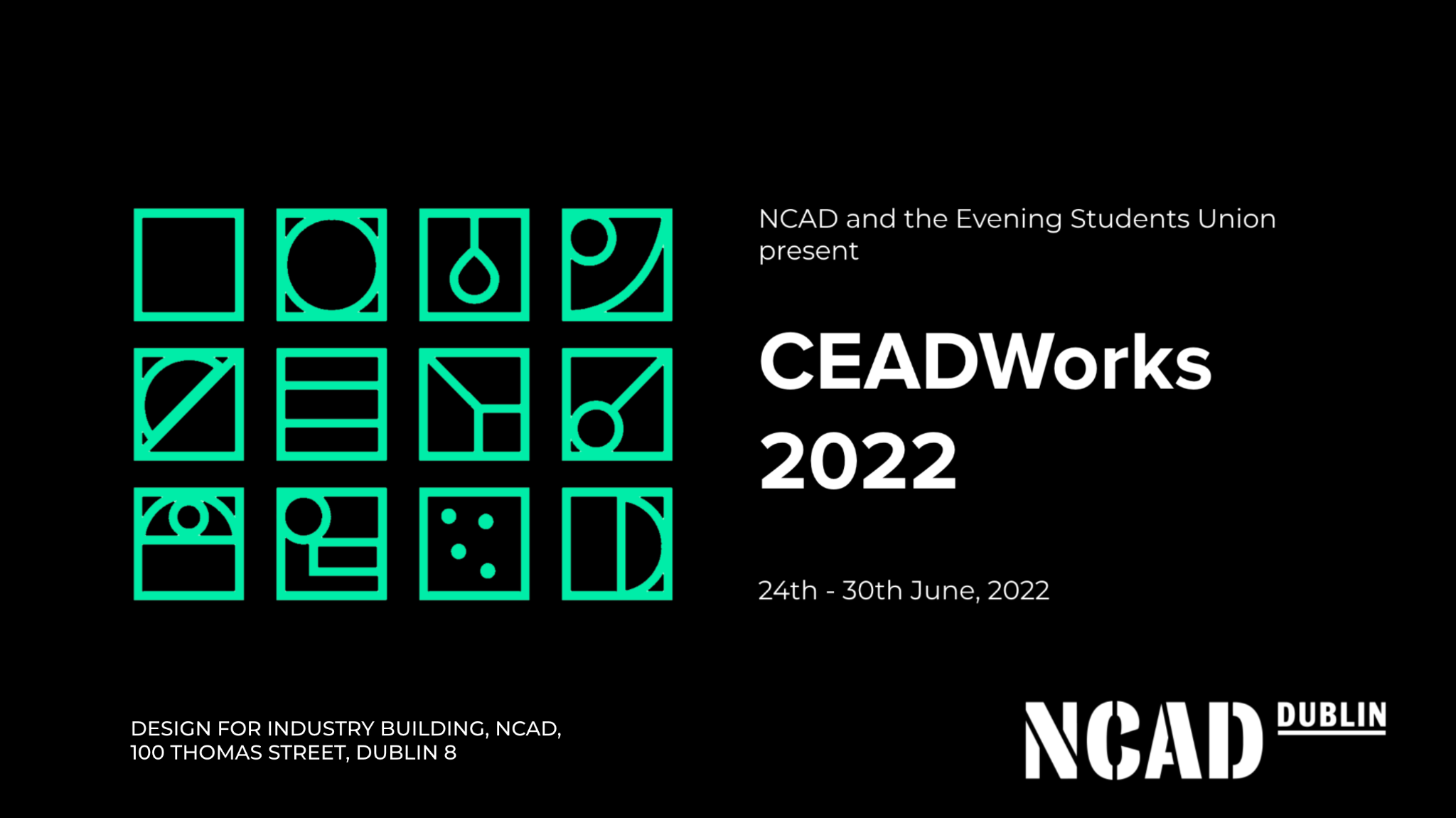 See work by: Higher Diploma in Art; Drawing and Visual Investigation (D+VI); Photography and Digital Imaging (P+DI); Visual Arts Practice (VAP)
The NCAD CEAD Works Exhibition opens on Friday 24th June 2022 in the Design for Industry Building at NCAD. The exhibition showcases the work of over 120 talented artists, involved in part-time Higher Diploma and University Certificate courses at NCAD CEAD. The exhibition includes inspiring works in drawing, painting, photography, print, sculpture, video and embroidery and will run until June 30th.
Profiling the work of NCAD part-time students, the CEADWorks 2022 Exhibition is open to the public, and all are welcome to join this showcase.
If you are thinking of studying part time at NCAD this autumn, or if you are planning to progress your studies, the CEAD Exhibition is a good opportunity to explore options for flexible learning and progression in art and design.
Come explore our work and find out more about becoming a part time student at NCAD!
Opening Celebration - Thur 23 June
6-8pm 100 Thomas Street.
Opening Times
Fri 24 June
10.00-16:00
Sat 25 June
11:00-16:00
Sun 26 June
12:00-16:00
Mon 27 June
10.00-16:00
Tue 28 June
10.00-16:00
Wed 29 June
10.00-16:00
Thur 30 June
10.00-13:00
For further information on the events programme:
Follow the Evening Students Union on Instagram, Twitter and Facebook to stay up to date on what's happening with the exhibition.
Want to study part time at NCAD?
Have a look at our online Gallery to see the work of CEAD certificate and diploma students.
Learn more about Progression routes for part time students at NCAD.
-----------------------------------------------------------------------
More information:
Email: cead@ncad.ie
Tel: + 353 1 636 4214
Instagram @cead.ncad
Twitter @cead_ncad
Facebook @CEADatNCAD