Examination Results
End of Year Exam Boards and Published Results
- FOR GRADUATING STUDENTS
2018-19 Results for graduating students will be confirmed and released online from 11am on Wednesday, June 19th 2019.
- FOR CONTINUING (Non Graduating) STUDENTS
2018-19 Results for continuing students will be confirmed and released online from 11am on Wednesday, June 5th 2019.
How to access Examination Results Online:
To access examination results on the MyNCAD student portal, you will be required to enter your username and password.
Your username is your NCAD Student ID number, this is on your NCAD Student ID card and appears on all correspondence from NCAD.
Your password is what you use to access the NCAD wireless (wifi) network
Your results will be available to view on the 'results' tab on the left hand side of MyNCAD.
If you are still having trouble accessing your current set of results, try using the drop down menu on the left hand side here.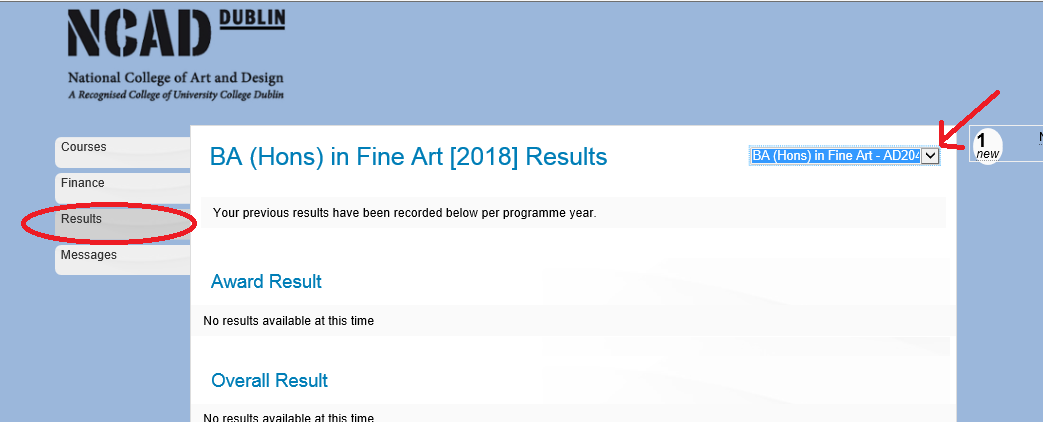 If you are having trouble accessing your results or need to reset your password, please email Daire Byron at byrond@staff.ncad.ie. NCAD does not provide results over the phone.

Examination Appeals:
Lodging an appeal:
The closing date for lodging appeals arising out of all results be 14 days from the publication of the results online. Late submissions will not be considered.
For continuing students the deadline for appeals will be 12.00 noon on Wednesday, June 19th 2019.
For graduating students the deadline for appeals will be 12.00 noon on Wednesday, July 3rd 2019.
Students who wish to appeal their results should take the following steps:
1. Read the NCAD Assessment Appeals, Policy and Procedures AVAILABLE HERE
2. Meet with your Head of School or Head of Department to discuss your reson for considering an appeal. If you would like to meet with the Head of Academic Affairs to discuss the issue please make an appointmnet through academicaffairs@ncad.ie or call in to the SS&A Student Information Desk near the student concourse to make an appointment.
3. If you decide you wish to proceed with an appeal you should complete the Assessemnt Appeals Application Form AVAILABLE HERE and submit to the Head of Academic Affairs by the date indicated.
Resit Fee Payment
Students who have not submitted all assignments or who have failed a module(s) will be notified by email to their College email address of the procedures to resubmit/repeat.
Payments should be made through the student portal MyNCAD. Please click on the Finance tab and follow directions on how to make a payment.
Outstanding Fees/ Levies / Fines: All students have access online to exam results - but in the event that a students has course or library fees outstanding, NCAD reserves the right to withhold results. Please note that final award students will not be allowed to graduate and will not receive their degree parchment until all fees, levies and library fines are fully paid.
Time Out Deadline
The cut off point for taking time out in Semester Two was 15th February 2019.
You should return a completed time out form to Student Services & Admissions in advance of your requested period of Time Out. Please ensure that the School have also completed and signed Section C, before submitting the form to Student Services and Admissions.
Taking a leave of absence may have implications for fees and grants. If you are in receipt of a grant you are obliged to let your grant authority know of your change of status.
Academic Transcripts
Final award students - A hard copy of your academic transcript will be posted in July 2019.
Continuing students – Hard copies of transcripts for non-award years are available upon request from studentrecords@staff.ncad.ie. Please note: We do not issue soft copies of academic transcripts.