Home »
Our partnership with Dublin Airport
Our partnership with Dublin Airport
NCAD artists and designers at Dublin Airport
"Creative Journeys is part of a wider programme to help Dublin Airport provide an experience that is engaging and memorable, but also one that also creates a unique sense of place. Dublin Airport is proud to partner with NCAD, which fosters and inspires Ireland's future artists." Vincent Harrison, Managing Director, Dublin Airport Authority (daa)
In the early stages of 2017, Dublin Airport Authority issued an open call for applications from arts agencies and organisations to work together in the production of a multiannual programme of exhibitions. The aim was to bring an enhanced public art programme to Dublin Airport, creating a unique sense of place and showcasing Ireland's creative talent to the millions of visitors that pass through the airport terminals each year. The result is Creative Journeys; a two-year public art program born from a partnership between Dublin Airport and the National College of Art and Design (NCAD), with support from Business to Arts.
In the early stages of the Creative Journeys project, both partners worked together to issue an open call to students, graduates and staff of NCAD and jointly selected the artwork that would feature in the exhibition programme. A small number of open calls additionally provided the opportunity for the Irish diaspora, as well as artists living in Ireland, to submit work for display. Louise Bannon, Head of Marketing at Dublin Airport, has reflected on the collaborative process: "Working in an airport environment can be challenging, particularly in airside areas. We have learned together how to optimize the process and how best to bring art to life in an airport environment."
Successful applications include the photographic installation of Bob Gray & Matthew Thompson, NCAD Illuminated, which captures the working practices of NCAD students across a range of disciplines. High-Flyers by Wexford artist Deirdre Byrne illustrates the landscape and seascape of Dublin Bay, a striking sight seen by passengers when on approach to the airport. In June 2018, the installation of the first of five Showreel exhibitions included moving image works created by students of the NCAD Media department. Additionally, the Object & Image exhibitions feature a selection of NCAD student and graduate work in a variety of media, including painting, print and textiles.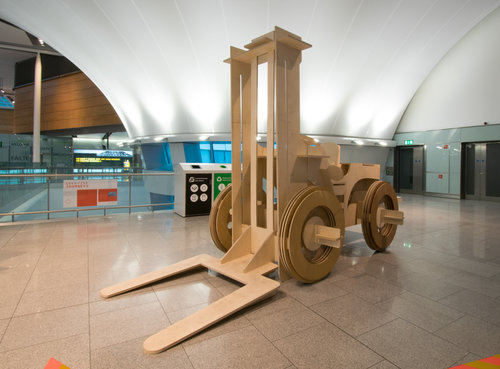 As well as granting NCAD students, graduates and staff the opportunity to showcase their talent to an international audience, the Creative Journeys partnership has allowed students to gain valuable practical experience in the realisation of site-specific artwork, including the installation of the large plywood forklift sculptures of Philip Napier, titled Visual Amenity 1&2 (photo: Derek McGarry).
The Creative Journeys logo was designed by NCAD Designer in Residence Conor Foran, who developed the design concept by researching aeronautical maps, signs and symbols. The graphic work of Foran was expanded to the branded signage and print material surrounding the seven artistic sites in Dublin Airport and the creation of a purpose-built website, creating a recognisable visual identity for the Creative Journeys partnership.
Sarah Glennie, Director of NCAD, reflects on the positive outcomes of the Creative Journeys partnership: "This project creates a fantastic opportunity for a wide public to experience some of the great work that is happening in NCAD and for NCAD students to gain invaluable experience of presenting their work in a highly public space. Ireland's creative sector represents an ambitious and internationally connected wealth of talent and NCAD is delighted to be able to give visitors to Dublin Airport an opportunity to experience at first-hand work by our emerging creative practitioners."