When I Leave These Landings
NCAD Gallery and Dublin City Gallery The Hugh Lane present 'When I Leave These Landings' by Jonathan Cummins
Thursday, 18th April - Friday, 31st May 2013
Opening view, Wednesday 17th April at 5pm at NCAD and at 7pm at Dublin City Gallery The Hugh Lane.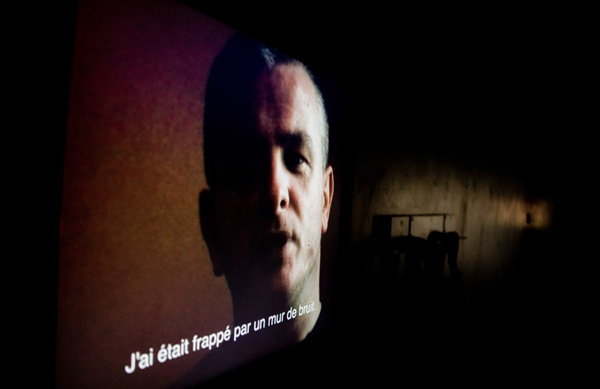 Detail from the installation When I Leave These Landings (2004 - 2009), Centre Culturel Irlandais, Paris, 2009. Photo: Chris Barr.

In April and May 2013, the National College of Art and Design (NCAD) and Dublin City Gallery The Hugh Lane will collaborate on the presentation of When I Leave These Landings – an exhibition by artist/film maker, Jonathan Cummins, which will run from 18th April - 31st May 2013 (NCAD) and 18th April - 2nd June 2013 (Hugh Lane Gallery).
The exhibition comprises three film-based installations, Go Home (2010–2013) and Out The Road (2012) will be exhibited at The Hugh Lane while When I Leave These Landings (2004–2009) will be shown concurrently at NCAD Gallery. Rooted in a simple act of sustained conversation, these inter-connecting works address the impact of extreme ideological conviction on self, family and society.
This significant new body of work of sensitive material has evolved from Jonathan Cummins' role in the NCAD's art programme in prison. The work engages with four anti-agreement political prisoners during their time in prison, for a period of time after their release and when they go home. The conversation eventually extends to the families of the men. Produced over several years, these intimate artworks trace lives lived and in so doing reflect on difficult subject matter.
There is real difficulty in encountering extreme points of view, on an individual but also on a societal level. The defensive response of simplifying and therefore discounting the 'other' point of view is common and understandable. Yet, if we want to move away from conflict within a society, it is crucial that we find ways to sustain an encounter with the complexity of other points of view, especially when those points of view are radically opposed to our own. This is particularly true of the Irish context when conflict, in the context of Northern Ireland, has (mostly) been transformed into a post-conflict era as a direct result of such dialogues and conversations.
The Impossible Conversation, a series of public conversations and symposium, will take place alongside the exhibition, to anticipate and explore questions which will be raised by the exhibition content. This programme of Conversations will run up to and during the exhibition and culminate in a symposium with international speakers on 11th May at Dublin City Gallery The Hugh Lane. For more information please see www.ncad.ie/gallery-event/view/the-impossible-conversation
The Conversations programme and symposium are convened by Dr. Siún Hanrahan (formerly NCAD) and Dr Aislinn O'Donnell, Mary Immaculate College, Limerick.
Exhibition curated by NCAD Gallery and Dublin City Gallery The Hugh Lane
Contact: Anne Kelly Curator NCAD Gallery Programme gallery@staff.ncad.ie and www.ncad.ie/about/gallery, www.hughlane.ie
NCAD Gallery 100 Thomas Street, Dublin 8.