Unfolding the Archive
Unfolding the Archive: Floating World artists respond to NIVAL and the F.E. McWilliam collections
Friday, 6th March - Thursday, 2nd April 2015
NCAD Gallery Opening Thursday, 5th March 2015, 6pm. NCAD Gallery Opening Thursday, 5th March 2015, 6pm. Exhibition opened by Vincent Woods, writer, broadcaster and presenter of Arts Tonight on RTE Radio 1. Exhibition continues 6th March – 2nd April 2015, Mon - Fri, 1 - 5pm.
Event link www.facebook.com/events/341352199401570/

F.E. McWilliam Gallery and Studio Opening Friday, 24th April 2015, 6pm.
Exhibition continues 25th April – 19th July 2015, Mon - Sat, 10am - 5pm daily.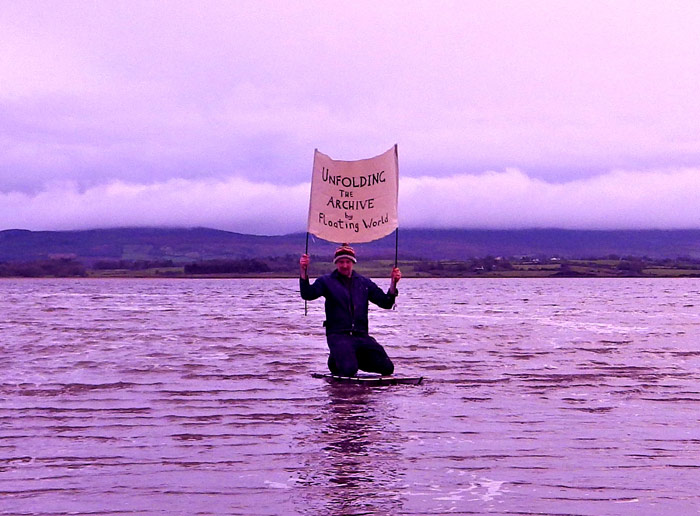 Image courtesy of the artist Andy Parsons.
Unfolding the Archive, an exhibition of new work by the international artists' group Floating World, is the result of a collaboration between the National Irish Visual Arts Library (NIVAL) and the F.E. McWilliam Gallery & Studio in partnership with the NCAD Gallery at the National College of Art & Design. The exhibition takes its title from the tangible starting point for engagement with an archive – the simple act of unfolding – and the practice of appraisal, valuation and interpretation that is inherent in this process.
Featuring new work by 11 artists from Ireland, the UK and Japan alongside a selection of archives from NIVAL and the F.E. McWilliam collection, Unfolding the Archive demonstrates the breadth of engagement and the broad range of methods and materials employed by artists to represent the relationship between their own contemporary practice and the act of archiving arts documentation. Alongside artists' books, which form the glue that holds the exhibition together, each artist will also respond to the collection in other art forms of relevance to their practice such as textiles, drawing, painting, sculpture, performance and video.
An illustrated catalogue with a commissioned essay by Karen di Franco, artist and digital archivist with Book Works, will accompany the exhibition. The Unfolding the Archive exhibition is guest curated by Donna Romano, Librarian at NCAD and Dr. Riann Coulter, Curator of the F.E. McWilliam Gallery & Studio.
About Floating World
Founded in 2003 by Andy Parsons and Glenn Holman, Floating World is a collective of artists based in Ireland the UK and Japan whose practices encompass painting, sculpture, video and performance. United by their use of the medium of artists' books to explore areas of common concern, a major preoccupation of Floating World has been to present artists books in a gallery based context and to encourage critical discourse around the medium. Recent projects have been specifically focused on democratizing the production and consumption of contemporary art.
Floating World is: Edwin Aitken, Simon Burton, Glynis Candler, Sarah Carne, James Fisher, Diane Henshaw, Glenn Holman, Hidehiko Ishibashi, Elizabeth Kinsella, Niamh O'Connor, Andy Parsons.
www.floatingworldbooks.com
http://floatingworldsprojects.blogspot.co.uk
About NIVAL
The National Irish Visual Arts Library [NIVAL] is a public research resource for the study of Irish visual culture from 1900 to the present day. Housed at the National College of Art & Design, NIVAL holds the world's largest collection of documentary information on Irish contemporary art. The library collects, stores and provides public access to an unparalleled collection of books, journals, exhibition catalogues and print and digital ephemera pertaining to all aspects of 20th century and contemporary visual art and design in Ireland. NIVAL's collection policy includes art from the whole island as well as Irish art abroad and resident non-Irish artists. NIVAL provides a secure and permanent home for artist-generated documentation of their work. In the role of archive/repository, NIVAL is building a public record of Ireland's visual cultural history. NIVAL is an initiative of NCAD and a Regularly Funded Organisation of the Arts Council of Ireland.
www.nival.ie
About F.E. McWilliam Gallery & Studio
Opened in September 2008, the F.E. McWilliam Gallery & Studio celebrates the work of the Banbridge born sculptor, Frederick Edward McWilliam. A contemporary and friend of Henry Moore, McWilliam made his name in London and established a reputation as one of the most important British sculptors of his generation. After McWilliam's death in 1992, his estate gifted the contents of his studio, originally situated in London, and a number of sculptures to Banbridge District Council. Featuring a purpose built gallery, a sculpture garden and a replica of the artist's studio, the F.E. McWilliam Gallery has a permanent display of McWilliam's sculpture, an archive of documents relating to his work, and a collection of works on paper. The Gallery encourages contemporary artists to engage with our collections and regularly exhibits the results.
www.femcwilliam.com
About NCAD Gallery
Established in 2009, the NCAD Gallery is the public face of the National College of Art and Design (NCAD). The Gallery supports contemporary practice and critical debate in visual arts practices and aims to reflect the diversity and strengths of the College by developing and promoting the future of art and design in Ireland via its exhibition and education programme.
Through collaboration and in partnering with a wide range of organisations and institutions in Ireland and further afield; its expansive visual arts programme of exhibition, projects, performance, workshops and events play a central role in developing local, national and international connections. The Gallery affords an opportunity for invited practitioners, curators and writers, students and staff to experiment with, develop and publicly display their work; providing a space for research and debate within the context of contemporary practice in the immediate environment of NCAD and wider visual arts sector.
NCAD Gallery 100 Thomas Street, Dublin 8, Ireland.
Contact Anne Kelly Curator NCAD Gallery Programme gallery@staff.ncad.ie

facebook.com/NCADGallery twitter.com/NCAD_Gallery