Ireland Glass Biennale 2017
The National College of Art Design Gallery (NCAD Gallery) presents the Ireland Glass Biennale 2017 exhibition.
Friday, 27th October - Monday, 13th November 2017
The National College of Art Design Gallery (NCAD Gallery) is delighted to introduce the Ireland Glass Biennale and to announce the inaugural Ireland Glass Biennale 2017 exhibition, Friday 27 October - Monday 13 November 2017.
Official Exhibition Opening Thursday 26 October 2017, 6pm - 8pm.
Exhibition Dates Friday 27 October - Monday 13 November 2017.
The Ireland Glass Biennale 2017 is a new exhibition to focus on excellence in contemporary glass work by international artist, designer and crafts practitioners working across the globe today. With an expert jury of selectors and open call to practitioners, the Ireland Glass Biennale is a significant new exhibition platform for glass talent hosted by a premiere national art and design institution in Ireland at the National College of Art and Design, Dublin.
Ireland Glass Biennale 2017 Exhibitors: Laetitia Andrighetto & Jean-Charles Miot (FR), Jonathan Ball (IE), Scott Benefield (UK), Emma Bourke (IE), Sinead Brennan (IE), Manuela Castro Martins (PT), Evy Cohen (FR), Vanessa Cutler (UK), Debbie Dawson (IE), Róisín de Buitléar (IE), Davin Ebanks (US), Karen Donnellan (US), Rachel Elliott (UK), Ursula Halpin (IE/AUS), J HIll's Standard (IE), Bryan Kekst Brown (US), Peadar Lamb (IE), Colette Langan (IE), Sophie Longwill (IE), Alison Lowry (UK), Loraine Lynn (US), Sarah Mc Evoy (IE), Michael Ray (IE), Anna Riley (US), Rothschild & Bickers (UK), Killian Schurmann (IE), Keith Seybert (US), Aoife Soden (DK), Suzannah Vaughn (IE), Ben Woodeson (UK), Peter Young (IE).
*** Please find the Ireland Glass Biennale 2017 exhibition list of artists and works reference at this link
Ireland Glass Biennale Members Jury 2017
Brian Kennedy, Independent curator working internationally predominantly in the craft and applied art area.
Jiyong Lee, Studio artist & associate professor of art at Southern Illinois University, USA.
Dr Anna Moran Historian of design & material culture, Lecturer, Department of Visual Culture, National College of Art & Design, Dublin (NCAD).
Associate Jury Members: Anne Kelly, NCAD Gallery Programme Curator, Dr Caroline Madden, Lecturer, NCAD.

Ireland Glass Biennale 2017 Anne Kelly Contact: irelandglassbiennale@staff.ncad.ie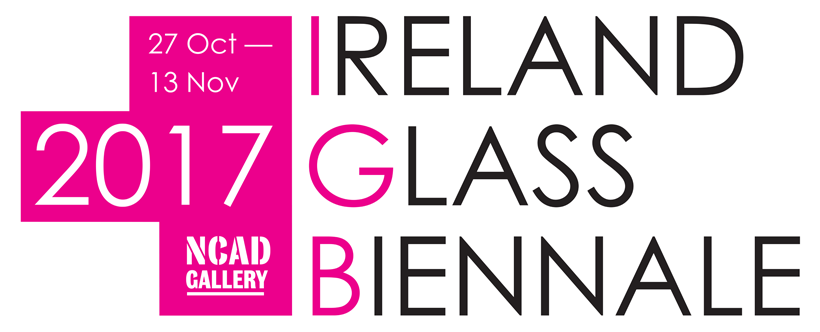 The Ireland Glass Biennale is primed to attract wide-ranging public and professional audiences, prescheduled visits from international collectors, commissioning bodies, curators and affiliated museums to coincide with the Biennale dates have been secured. Dedicated exhibition spaces include the NCAD Gallery and foyer, Harry Clarke Window Gallery and additional event locations to be announced. The open call invitation extends to practitioners from all contemporary art and design disciplines. Emphasis is on new work demonstrating the highest level of excellence: inclusive of practitioners working in the glass medium achieving creative imagination and technical skill, and works employing glass media as content or as a primary thematic element. The Ireland Glass Biennale also celebrates Design Week 2017, 2 - 10 November.

The Ireland Glass Biennial accepted proposals for exhibition 2017 Open Call until the deadline of Sunday 24th September 2017, midnight GMT. Please find proposal submission information below. Thank you.

Open Call Submission Guidelines
A) The Ireland Glass Biennale is a juried exhibition selected by invitation and open call. The exhibition is open to all practitioners working with glass media. Proposals are accepted that are representative of work being made in contemporary glass communities, the glass community at large, design and contemporary visual arts practice, documentary & film work. The proposed works can be a combination of glass and mixed media. Works may include but are not limited to installations, objects, performances, workshops.

B) Performances can be scheduled for the Ireland Glass Biennale exhibition sites or additional proposed sites. If this format is proposed, this must include a plan for a residual element that is also installed permanently while the maker/ artist/ designer is not present for the duration of the Ireland Glass Biennial. Note: open flame and all process specifications must be included in proposals.

C) Applicants may propose an activation project. This can include being present in exhibition locations during certain hours to present project material, showcase their making process or other interactive opportunities for visitors. The maker/ artist/ designer must include in their proposal an explanation of what work or residual elements will be installed permanently in the space while the maker/ artist/ designer is not present for the duration of the exhibition. This may be presented as event documentation.

D) To apply, format is by PDF. attachment only. Please submit: a proposal max words 800, your CV, 5 images, image list which includes: title, size, date, materials, making processes if pertinent, performance or workshop, instructions specific to your proposal that outlines your intent and install specifications for an exhibition in the Gallery spaces or otherwise. Sent to irelandglassbiennial@staff.ncad.ie with the subject line "Ireland Glass Biennale 2017".

E) Proposals are evaluated by a panel of curators and professionals in the field. All makers/ artists/ designers submitting a proposal will be notified of the jury's decision by October 5, 2017.

F) Selected maker/ artist/ designers are responsible for the safe packing & transport arrangements of works to the Biennale and will be contacted by the curator to discuss schedule and exhibition installation.

G) Please find Gallery map dimensions below (www.ncad.ie/about/gallery) & photographic reference material, location of the NCAD Gallery & Harry Clarke Building at this coordinates Link @ 53.3429281,-6.2811246


** Any questions or queries may be directed to the Ireland Glass Biennale personnel between the dates 24 August - 22 Setpember 2017 by contacting irelandglassbiennial@staff.ncad.ie.
Ireland Glass Biennale Members Jury 2017: Brian Kennedy, independent curator working internationally predominantly in the craft and applied art area; Jiyong Lee, studio artist and associate professor of art at Southern Illinois University, USA; Dr Anna Moran historian of design & material culture, Lecturer, Department of Visual Culture, National College of Art & Design, Dublin (NCAD).
Ireland Glass Biennial 2017 Curators and Associate Jury Members: Anne Kelly, Curator NCAD Gallery, Dr Caroline Madden, Head of Glass Programme, NCAD. Contact: irelandglassbiennial@staff.ncad.ie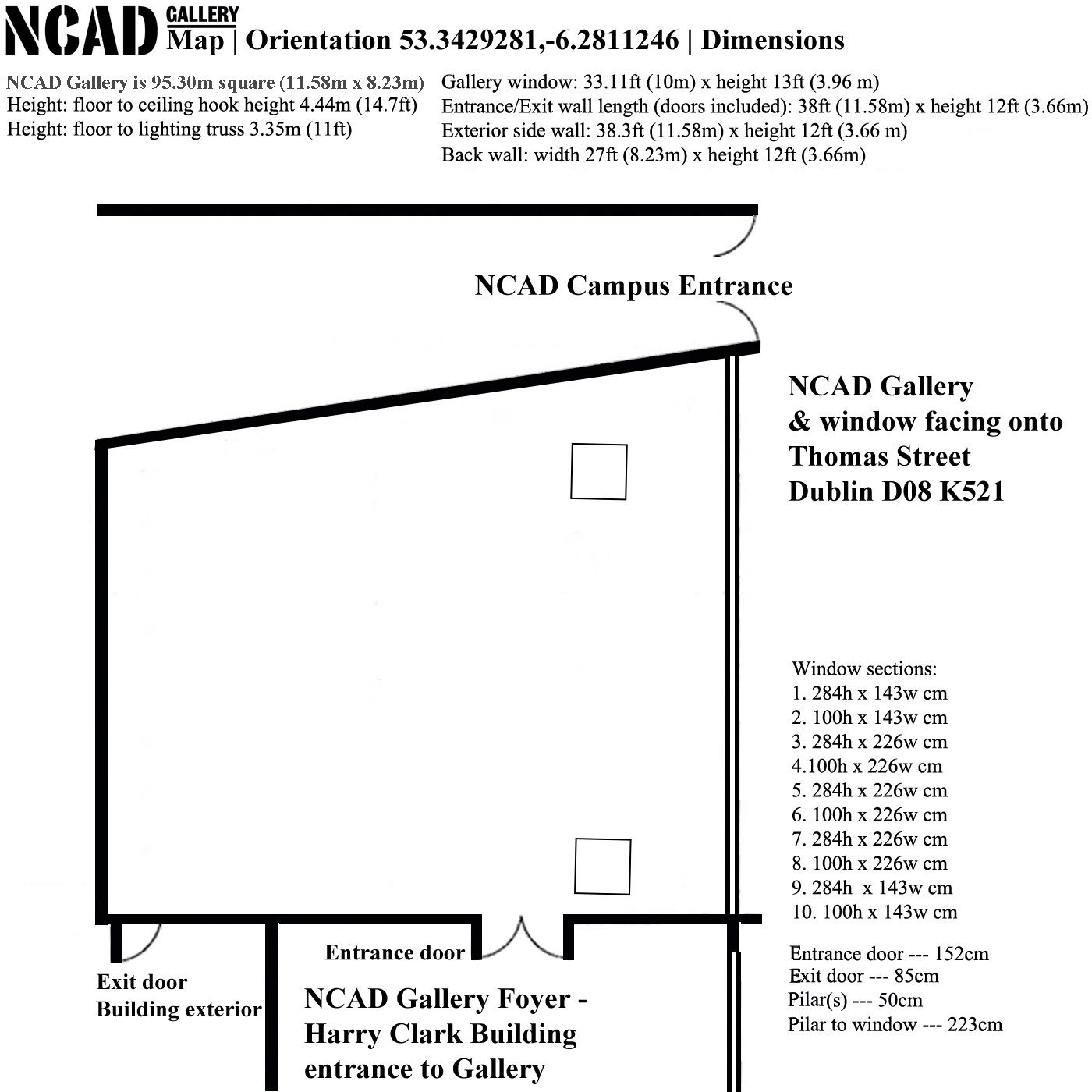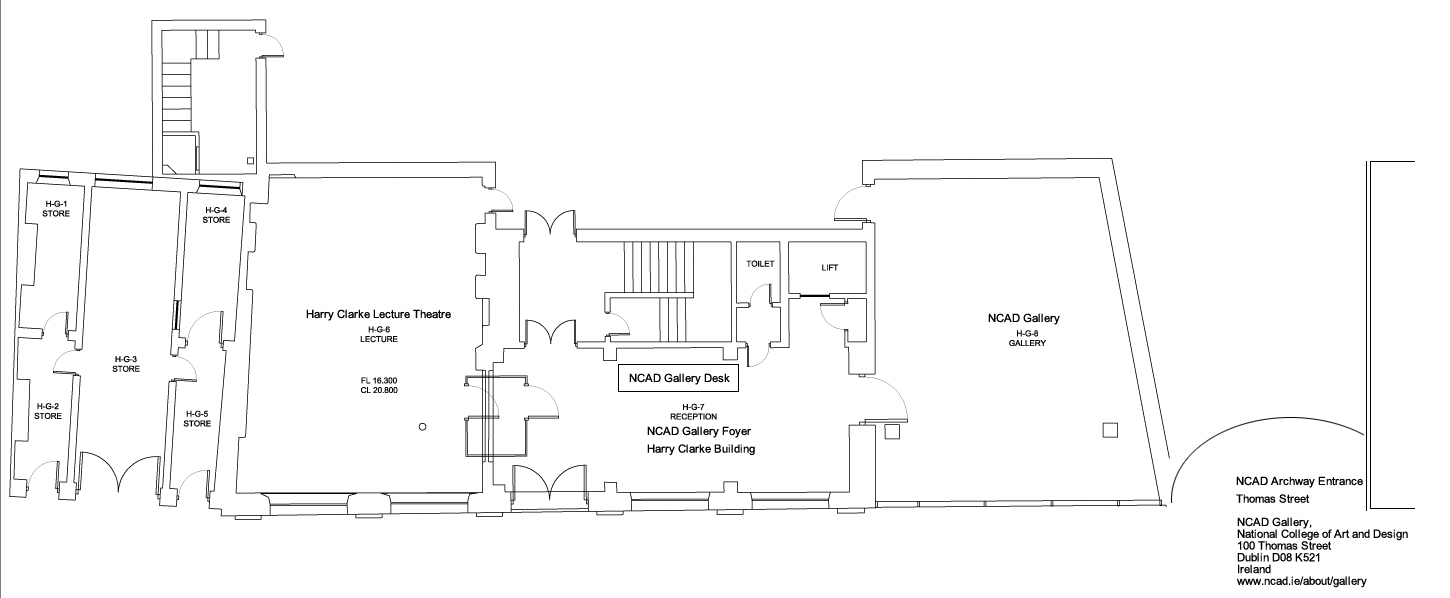 Anne Kelly Programme Curator NCAD Gallery contact: gallery@staff.ncad.ie
National College of Art & Design, 100 Thomas Street, Dublin, D08 K521, Ireland.
facebook.com/NCADGallery twitter.com/NCAD_Gallery instagram.com/ncad_gallery