Growing Closer
Fabian Strunden & Rian Coulter extend the progress and potential of the NCAD Community Garden Farm project through exhibition at NCAD Gallery.
Thursday, 15th January - Wednesday, 28th January 2015
As part of the student project exhibitions 2014/15, NCAD Gallery is pleased to present

Growing Closer Fabian Strunden & Rian Coulter extend the progress and potential of the NCAD Community Garden Farm project through exhibition at NCAD Gallery.
Exhibition opening view 5pm Thursday January 15th 2015.
Exhibition continues Friday 16th – Wednesday 28th January 2015.
NCAD Gallery opening hours Mon – Fri, 1-5pm. Admission is free.
Public Tour Event: NCAD Community Garden Farm / NCAD Gallery 'Growing Closer' exhibition.
Date: Tuesday 27th January 2015, 10am. Convene at NCAD Gallery.
Location: NCAD Gallery / NCAD Community Garden Farm.
All welcome, join our event www.facebook.com/events/333485883506729/
Public Lecture:'No-Dig' urban Farming by horticulturalist Charles Dowding introduced by Ciaran Cuffe
Date: Monay 9th Feb 2015, 6pm.
Location: Harry Clarke Lecture Theatre, NCAD.
As part of the 'Growing Closer' exhibition, NCAD Gallery invite visitors to join Fabian Strunden & Rian Coulter on a walk through and site visit of the exhibition and the NCAD Community Garden Farm; engaging the project beginnings, progress and potential. Visitors are asked to convene at NCAD Gallery at 10am, Tuesday, 27th January 2015. The tour will take approximately 40mins. All welcome, no booking necessary.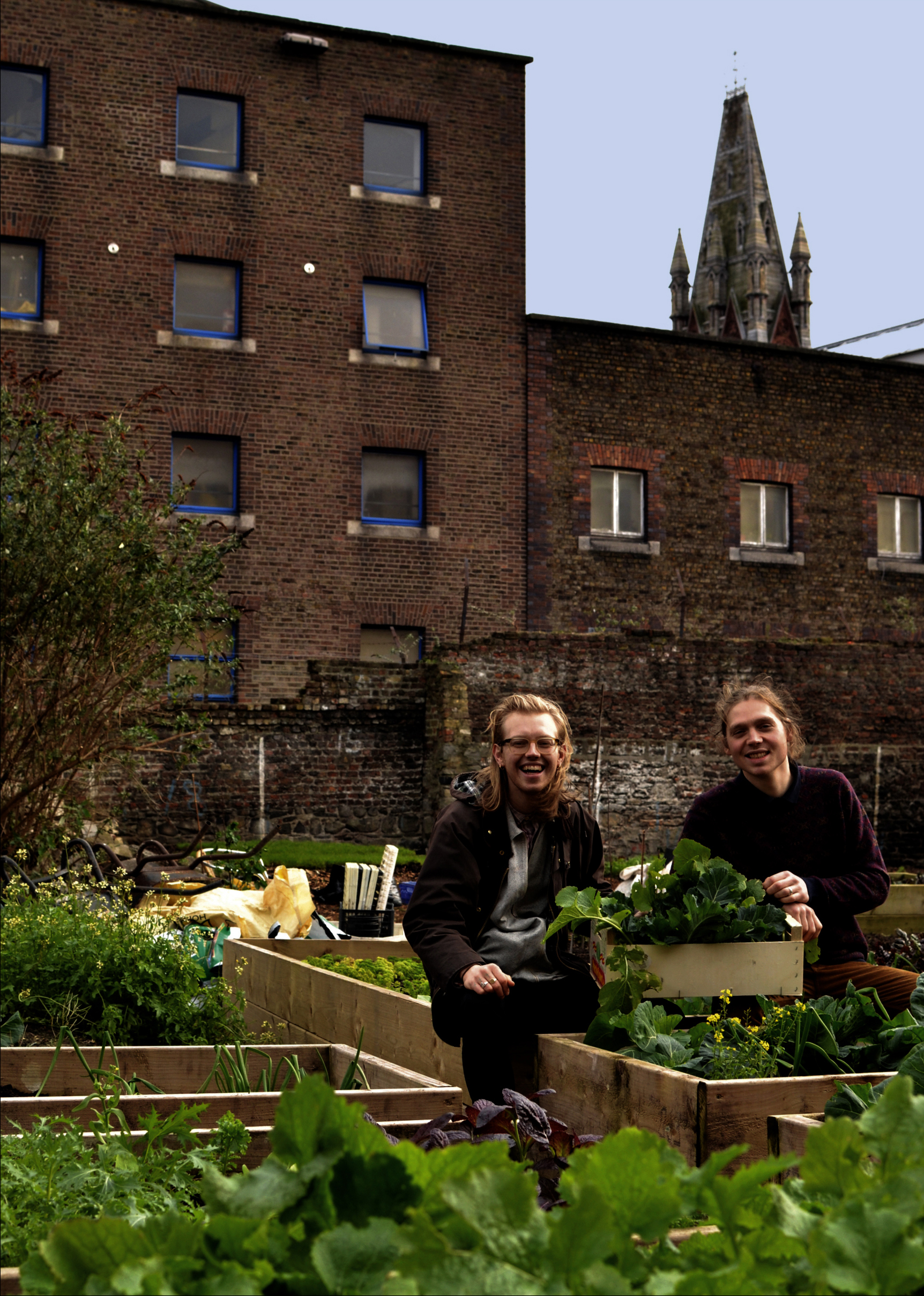 Image courtesy of the designer/artist.
"A country which cannot afford art or agriculture, invention or tradition, is a country in which one cannot afford to live." John Maynard Keynes
The NCAD Community Garden Farm was founded in January 2014 by the NCAD Students' Union in partnership with community gardener Tony Lowth. Since its inception, this initiative has sought to provide the skills, tools and space to turn raw materials such as land, compost, metal and wood into the resources needed for intensive growing. Stretching from Thomas Street to Oliver Bond Street, the brown-field site next door to the National College of Art and Design has been transformed into the largest food-growing garden farm in Dublin City Centre, producing seasonal vegetables, salads and fruit. With an emphasis on sustainable farming and community building, this farm prototype is a prospective model for farming as art & design/activism.

For Growing Closer, fourth year students and former students' union representatives, Fabian Strunden (Industrial Design) and Rian Coulter (Fine Print) unite the problem-solving focus of industrial design with the conceptual and aesthetic drive of fine arts; presenting the practical and social elements of building a city farm. The aim of the Garden farm is to harness the production and provision of organic food as a resource for educational, social and artistic application.
In Ireland's capital city of Dublin, The Liberties maintain a reputation as a great market district with an inimitable social complexion; determined by the vibrant atmosphere and diverse architecture, history and shops that occupy it. The main market street in the area, Meath Street, is home to an eclectic mix of butchers, bakers, greengrocers, tailors, doctors and hardware stores; well known for its strong reputation as an independent and dependable source of goods, gossip and goodwill. Recently, changing economic patterns have had a tangible impact on the activity and occupants of the street. This is apparent, predominantly, since the arrival of the multinational discount supermarkets. Whose product manufacturing evidently creates a strong disconnect between processed, over-packaged food without an understanding of their product source. The alternative: to grow fresh fruit and vegetables for personal / professional use or buy from independent farmers or greengrocers maintaining the integrity of the production and exchange.

The NCAD Community Garden enjoys the support of residents, activists, businesses and people from the area, in particular the Community Addiction Programme on Vicar Street. During the course of the exhibition, a series of talks, tours and workshops will take place in the Garden & Gallery with a focus on the continued cultivation of relationships between the NCAD, local residents and businesses in the Liberties.

Fabian Strunden & Rian Coulter wish to thank: Garden founder Tony Lowth, Dublin Community Growers, Meath Street Greengrocer and community activist Jack Roche, Stephen Coyne, Marion Kelly, Robert Moss, Magnus Mudrack, Gill Thorpe, Jennie Moran & Wagner Dos Santos of Luncheonette Canteen, Karen Mahon of Alupro Recycling, Anne Kelly Curator NCAD Gallery Programme, Tom McGrath, Martin Ovo, Paddy O'Kearney, Finola McTernan NCAD Access Officer, NCAD Students' Union, CMS Learning Centre Bridgefoot Street, and all who contributed. NCAD Community Garden Farm, Oliver Bond St. / Thomas Street, The Liberties, Dublin 8.
Contact: Anne Kelly Curator NCAD Gallery Programme gallery@staff.ncad.ie
NCAD Gallery 100 Thomas St, Dublin 8, Ireland.
facebook.com/NCADGallery twitter.com/NCAD_Gallery