Future Makers
Crafts Council of Ireland exhibition organised in partnership with the National College of Art & Design
Friday, 8th March - Friday, 5th April 2013
Future Makers
to be opened by Sean O Laoire, MOLA Architects and Chair of An Bord, NCAD
Opening view 6-8pm, Thursday, 7th March 2013. Exhibition opens 1pm- 5pm, Mon-Fri.
Admission free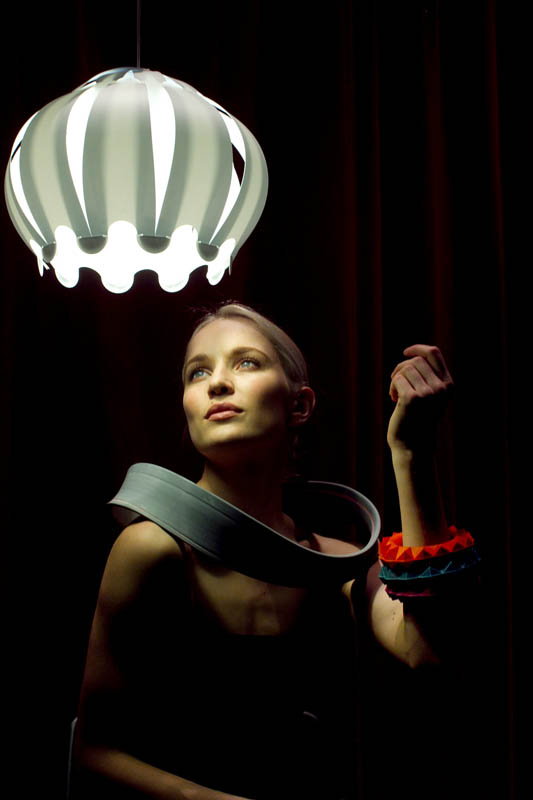 Image: 2012 winning work, Allium lampshade by Klickity, Geometric bangle by Theresa Burger, Porcelain neck piece by Jackie Maurer
Crafts Council of Ireland's Future Makers exhibition, curated by Angela O'Kelly, is organised in partnership with the National College of Art & Design. The exhibition of award winning craft and design work features pieces from students and recent practitioners from colleges all over Ireland, such as Natalie Coleman, Jackie Maurer, Cillian Ó Súilleabháin, Jennifer Slattery and much more. Many of whom are NCAD alumni, such as Enya Moore, Kate Murtagh Sheridan, and Theresa Burger. Future Makers exhibition showcasing excellence and innovation in contemporary craft disciplines. For more information please see futuremakers.ie and ccoi.ie
WORKSHOPS designED
Future Makers craft & design outreach workshops for secondary school pupils at the NCAD studios with design staff, residents and students.
Thursday,14th March. For more information contact mcternanf@ncad.ie

EVENT
Join Angela O'Kelly, curator of Future Makers exhibition at NCAD Gallery, for a talk on Future Makers Thursday, 21st March, 1.30pm – 2.00pm. Free event. Places allocated on a first come first served basis.
For more information please contact +353 (0) 1 6364390 or gallery@ncad.ie
Open Mon – Fri 1pm- 5pm, NCAD Gallery, 100 Thomas Street, Dublin 8, Ireland.
facebook.com/NCADGallery
twitter.com/NCAD_Gallery