Dr. Sarah Durcan
PhD (Birkbeck, University of London), MA (NCAD), MFA, (Winchester, University of Southampton), BA (NCAD)
Acting Head of Media Department, School of Fine Art
Fine Art
Phone: +353 (0)1 636 4339
Email: durcans@staff.ncad.ie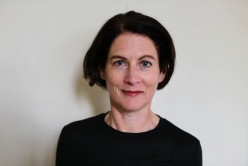 My current research focuses on intermediality in artists' moving image, exploring how intermedial exchanges between film, analogue and digital video produce different temporalities and mediatized memories. I have exhibited and published internationally with expertise in the area of contemporary art and theory particularly artists' moving image and also contemporary painting practices.
My current projects are:
'The Invisibles' film project, a Platform Commission for the 40 th EVA International 2023,
selected by Emily Jacir and Pádraic E. Moore. Taking a 'spectro-feminist' approach, The
Invisibles essay film focuses on Ella Young, a revolutionary Irish activist and mystic who
emigrated to California in 1925, forging her own spiritual citizenship.

Troubling Time a film project funded by an Arts Council Bursary Award, 2021. It experiments
with the hybrid aesthetics of photochemical film and digital media, and how memory is
expressed in time-based media of film and video. My practice is informed by discourses of
intergenerational memory, 'documentary fictions' and intersectional feminism.

My book Memory and Intermediality in Artists' Moving Image (2021) addresses the
preoccupation with memory in contemporary artists' moving image installations. It situates
artists' moving image in relation to the transformations of digitalization as hybrid
combinations of analogue film, video and digital video emerge from the mid 1990s onwards.

Previous projects include solo exhibitions at Limerick City Gallery of Art, Kevin Kavanagh
Gallery, Hallward Gallery, Dublin and selected group exhibitions include 'EVA International
Biennial', Limerick, 'C2', Crawford Municipal Art Gallery, Cork, '126 Presents', Galway Arts
Centre, Galway, Green on Red gallery, Dublin, Purdy Hicks gallery, London, 'Foreign Affairs',
Europäische Kunstakademie, Trier, Delfina Projects, London, 'Germinations: European
Biennial', Magasin, Grenoble.

Previous awards include: Arts Council Professional Development Award, 2020, fellowship
Virginia Centre for the Creative Arts, Virginia, USA, residency Tyrone Guthrie Centre, Co.
Monaghan, Royal Over-Seas League Award, London, EVA Open Awards (1999, 1995) and
Arts Council Bursaries (2003, 1994).
Intermedial Encounters: Experimental Film, Artists' Moving Image & Expanded Cinema, curated screening & discussion event with Kim Knowles, Jonathan Walley and Helen de Witt, BIMI, Birkbeck, London, June, 2021, funded by Culture Ireland.
Contributor: 'Performing Acculturation' panel discussion with Cairo Clarke, Sara Greavu and Sara Muthi, The Lab Gallery, Dublin City Council, April, 2021.
In Conversation with curator Michael Hill: book launch of Memory and Intermediality in Artists' Moving Image, hosted by Douglas Hyde Gallery, 2021.
Contributor: No Longer Peripheral, hosted by aemi in association with the DHG moving image event, November 2019, TCD.
Talk on Roee Rosen Exorcisms, Bealtaine Festival, Project Arts Centre, May 2019
'The Memory-Image', screening and discussion with Mark Leckey, curated in collaboration with aemi and the Irish Film Institute, January 2019
Book
Memory and Intermediality in Artists' Moving Image (London: Palgrave Macmillan, 2021)
Experimental Film and Artists' Moving Image series, co-edited by Kim Knowles and Jonathan Walley http://www.palgrave.com/gp/book/9783030473952
Book section

'Documentary Fiction in Pierre Huyghe's Streamside Day Follies' in Extended Temporalities: Transient Visions in the Museum and in Art ed. by Alessandro Bordina, Vincenzo Estremo and Francesco Federici, (Milan: Mimesis International, 2016), pp. 149-165.
Journal articles
'Memory, Forgetting and the Moving Image, Caterina Albano (2016)', Moving Image Review & Art Journal · Volume 8 · Numbers 1-2, Intellect Ltd, Volume 8, September 2019 pp.168-175 MIRAJ 8.1-2.
'Mediatised Memories in Mark Leckey's Dream English Kid 1964 – 1999 AD (2015)' in Moving Image Review Journal Special Issue 6.1/6.2: 50 Years of British Artists' Moving Image, ed. by Benjamin Cook and Lucy Reynolds, 2017
'Steve McQueen: The Go–Between' in Screening the Past, Issue 38, Dec., 2013, peer- reviewed journal of screen history, theory & criticism, La Trobe University, Melbourne, Australia.
Conference Presentations
Speaker, Steve McQueen Symposium, Yale Centre for British Art, New Haven, CT, USA, October 2022
Analogue-Digital panel, Shifting Ecologies of Photochemical Film in the Digital Era Aberystwyth University, UK, June, 2021
'The Echo-Chamber: The Return of the Avant-Garde in Moving Image Art of the 1990s and 2000s', Troubling Time conference, University of Manchester, June 2017
'Documentary Fiction in Contemporary Art', Visible Evidence 21, New Delhi, 2014

'Steve McQueen', White Cube/Dark Cube Symposium, Canterbury Christ Church University, Kent, 2014
Irish Screen Studies Seminar, Trinity College, Dublin, 2014

XI MAGIS Gorizia International Film Studies Spring School, Udine and Gorizia, Italy, 2013

Arts Council New Media Conference, Dublin Castle, 2008
Sarah Durcan was appointed MFA Co-ordinator, School of Fine Art, NCAD in 2000.
Before that she was a lecturer in the School of Fine Art and the School of Visual Culture, NCAD, 1998-2000.
She has been an External Examiner for the MA Fine Art at Limerick Institute of Technology and the BA Fine Art at GMIT, Galway.