Home »
Student Conversation - Gill Thorpe
Student Conversation - Gill Thorpe
"I suppose I'm constantly looking at what's going on around me."

On the end
Four weeks of printing and then its putting everything together for the show. At the start of the year I focused mainly on Cumann na Ban and their fight for the Irish Republic. I especially focused on their uniforms made using Irish tweed and how to contemporise them. I was looking at females in Irish history, because there's not really much information about them.
On her starting point
My real starting point however was the exhibition Disobediant Objects in the V&A, which I saw last summer. It was based around revolutionary work against governments and wrong doing in a country. There were little hand made weapons from Syria, a van based on an innocent man on death row, work from the Guerrilla Girls and screen printed banners from the Aids Protests in the 80's in America. This led me onto my thesis topic as well, which was on protests and women using textiles as forms of protest.
On her process
I stated by just writing down loads of ideas and using the creative columns on flickr to look at archival photographs and stuff like that. Also visiting and photographing places in Dublin that relate to the 1916 rising. I then went on some history walks around the city.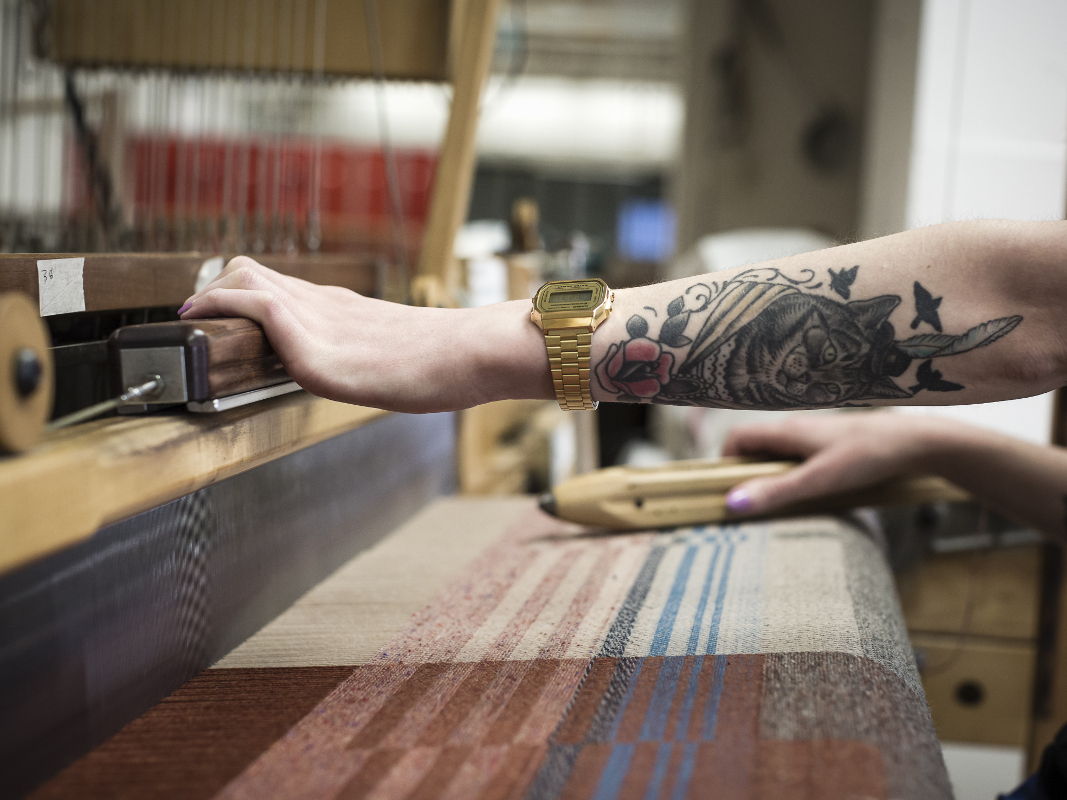 On her materials
I'm designing textile prints for bags, scarfs and jackets so I'm using different materials for each one. I have this material used in installation for houses and I'm also using furnishing fabrics for accessories. They're tougher, and a lint to the functional uniforms that the women use. I like the way they were nurses and couriers, secretly bringing messages around the city during the rising. I'm working on the final collection now.
On inspiration
We've a very strong class, there's a lot of distinct personal styles going on, which is good. When we are printing there's seven people printing at a time, so you can always see what people are doing and everyone likes to talk about what they're doing. I suppose I'm constantly looking at what's going on around me.
On life before NCAD
Before NCAD, I did a degree in Visual Communication in IADT and graduated in 2012. I then took a year out, volunteered in the print museum, assisted classes in the Ark and interned in the Library Project. I also did a Letterpress night course with Mary Plunket and a textiles night course with Mel Bradley. I like having boundaries for myself and to have set guidelines about what I'm supposed to do or where I'm supposed to go. Studying graphic design definitely helped me to develop how I work now.