Home »
NCAD Gallery Information
NCAD Gallery Information
NCAD Gallery hosts artists and designers, projects and residencies alongside talks, performances, films and other events related to the wider exhibition programme led by curator Anne Kelly. It is open to everyone.
NCAD map Location Coordinates
Link & above
NCAD Gallery Staff
Anne Kelly, Curator, NCAD Gallery | NCAD InPublic Programme
T + 353 (0)1 636 4390 E
gallery@staff.ncad.ie
Staff
Anne Kelly, cultural practitioner, is the curator at the National College of Art and Design, Dublin (NCAD, 2011-) where she operates the NCAD Gallery with particular emphasis on transdisciplinary integrated public programming aligned to institution-specific research directions, the commissioning of new work and fostering of collaborative creative partnerships. As well as, working cross-departmentally and lecturing on the School of Visual Culture elective programme. She is a National College of Art and Design, Dublin, BA Fine Art and Trinity College Dublin MSc Comp Sci Multimedia Systems graduate, and recipient of Arts Council of Ireland, CREATE: National Development Agency for Collaborative Arts, Culture Ireland and County Council artist practice funding awards.
Anne Kelly is a researcher on the European Union's Horizon 2020 Marie Skłodowska-Curie Actions (MSCA) Research and Innovation Staff Exchange (RISE) - ESR for MSCA Rise Research Action: Spatial Practices in Art and Architecture for Empathetic Exchange, 2020-2024. SpaceX-RISE responds to the troubling rise of populist nationalism and conflict in European societies by engaging new publics and forging a culture that embraces diversity, difference, and discursive exchange within cities, towns and urban sites.
NCAD Gallery Technician 2023-24
Christopher McMullan
NCAD Gallery Assistance Student Programme Members 2023 / 24
Aoife Ní Dhuinn NCAD Clancy Quay Studios Graduate Artist Programme
Thomas Kettle Fine Art Sculpture & Expanded Practice Final Year
Arlo Graham Fine Art Sculpture & Expanded Practice Final Year
Nicole Holbrook Fine Art Sculpture & Expanded Practice Final Year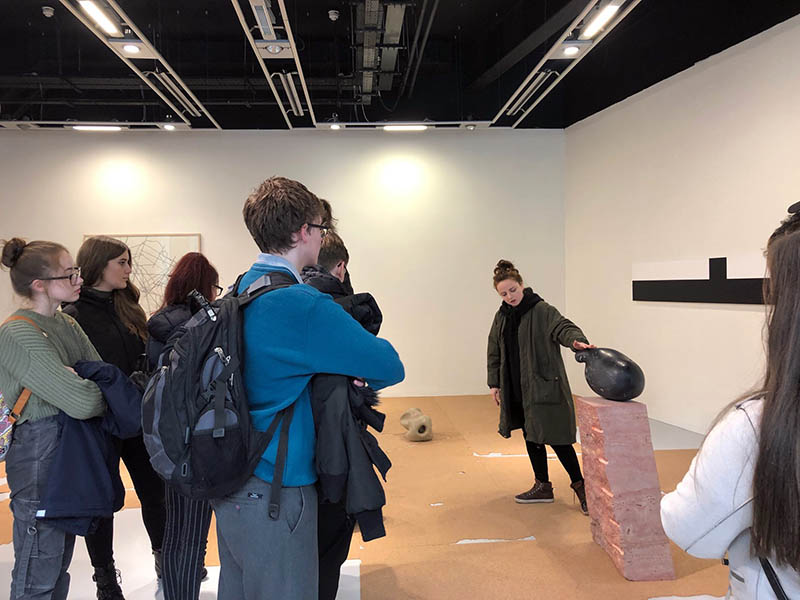 Image credit: In the Age of Conscious Makers, 2019-2020, exhibition talk with NCAD Curator, Anne Kelly hosting 40 fifth-year pupils from NCAD's linked access schools as part of Student Shadowing Day at the NCAD Gallery.

NCAD Gallery Mission Statement (National College of Art and Design Gallery)
Established in 2009, the NCAD Gallery is the public face of the National College of Art and Design, Dublin (NCAD). The NCAD Gallery, in accordance with the College's agreement with Dublin City Council, operates as a public venue as well as a College Gallery. The Gallery supports contemporary practice and critical debate in disciplines of art and design, and aims to reflect the diversity and strengths of the College through the continual development and promotion of its exhibition and education programme. The Gallery affords an opportunity for invited practitioners, curators and writers, students and staff to experiment with, develop and publicly present their work; providing a space for research and debate within the context of contemporary practice in the immediate environment of the NCAD, engaging the wider visual arts sector and public audiences. Through collaboration and in partnering with a wide range of organisations and institutions in Ireland and further afield, its expansive visual arts programme of exhibition, projects, performance, workshops and events play a central role in developing local, national and international connections.
Exhibition Policy
The NCAD Gallery exhibits a curated public programme selected by invitation. The NCAD Gallery Committee membership includes:NCAD Gallery Curator, NCAD Director and NCAD Faculty Staff. Professional practitioners may submit a proposal at any time throughout the year. Proposals may be made by individuals or groups and should address the nature of the Gallery space and its context within the College, the city and the art and design sector. The curator is available to advise prospective exhibitors in advance of finalising a proposal by contacting
gallery@staff.ncad.ie
.
Submissions Policy
The NCAD Gallery supports practitioner and organisation funding applications only after a proposal has been successfully reviewed by the Gallery curator. Funding applications are reviewed and made in collaboration with the gallery curator.
Documentation and Publications Permissions and Copyright Procedure
All NCAD Gallery exhibition & gallery publications are managed and produced by the NCAD Gallery curator as official published documents of the National College of Art and Design, Dublin. As official College documents publications are produced to a professional standard in accordance with College/Gallery procedure and procurement guidelines - all invited persons to produce written textual information, essays, review essays or any documentation for Gallery publications/ documents are managed and sanctioned by the NCAD Gallery curator. All requests for permissions for use of exhibition images and written material for inclusion in print or online documents are managed and sanctioned by the NCAD Gallery curator - this includes all images and texts published for any domain as recommended above. All further query may be directed to the NCAD Gallery Curator, Anne Kelly at
gallery@staff.ncad.ie.
.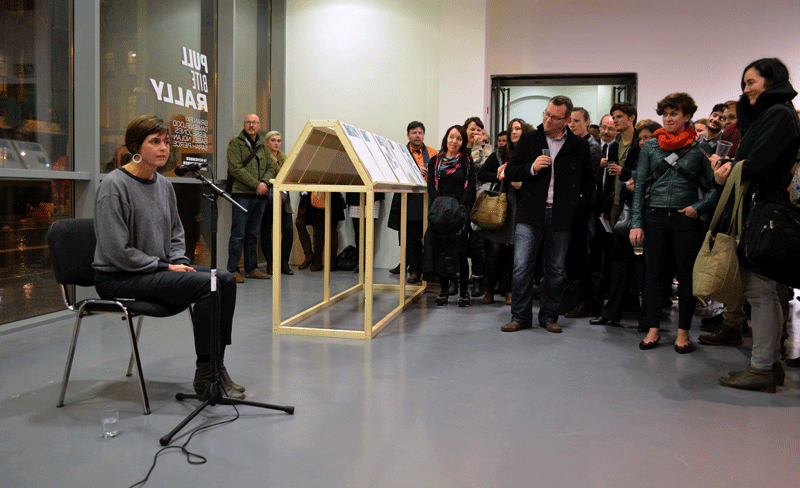 Image credit: Artist Sarah Pierce performs at the NCAD Gallery on the opening night of the exhibition collaboration with the Black Church Print Studio, Pull Bite Rally, 2014, curated by Anne Kelly. Photography: NCAD Gallery, 2014.

NCAD Gallery Assistance Student Programme Members 2022 / 23
Rebecca Kelly, Visual Culture +, 3rd Year - Gallery Placement Programme
Alexandra Devine Visual Culture Final Year - Gallery Placement Programme
Delany Bowes Graphic Design, 2nd Year
Jack O'Meara Textile Art & Artefact Final Year
Fallon Weaver Fine Art Painting Final Year
Aoife Ní Dhuinn Fine Art Media Final Year
NCAD Gallery Assistance Student Programme Members 2021 / 22
Kieva Leslie NCAD Visual Culture Final Year - Gallery Placement Programme
Sarah Penny NCAD Visual Culture Year - Gallery Placement Programme
Catherine Ward Studio + Fine Art Painting
Delany Bowes Year 1
John Kellegher Fine Art Paint Year 3
Tom Simms Product Design Year 2
NCAD Gallery Student Programme Members 2020 / 21
John Kellegher Fine Art Paint Year 2
NCAD Gallery Student Programme Members 2019 / 20
John Kellegher Year 1
Jonathan O'Grady Studio + Visual Culture
Tara Ennis Studio + Fine Art Media
NCAD Gallery Student Programme Members 2018 / 19
Niamh Hegarty Year 1
Katie Cotter Year 1
Aisling Ní Aodha Fine Art Paint & Vis Cult NCAD, Year 3
Colm Keady Tabbal Fine Art Sculpture NCAD, Year 2

NCAD Gallery Committee Members 2018 / 19
Anne Kelly (NCAD Gallery Programme Curator)
Mary A. Fitzgerald (NCAD Lecturer, Core Studies/ School of Fine Art, Print)
Diana Copperwhite (NCAD Lecturer, School of Fine Art, Painting)
Prof. Dervil Jordan (NCAD Head of School of Education)
Dr. Declan Long (NCAD Course Director MA ACW/ Lecturer, School of Visual Culture)
Angela O'Kelly (NCAD Head of Design for Body and Environment, School of Design)
Finola McTernan (NCAD Access Officer, School of Education)
Lily Cunningham, Caelainn Kerrigan NCAD Students Union President & Vice President