Home »
BA (Hons) Visual Culture
BA (Hons) Visual Culture
Are you fascinated by the spectrum of human creativity: art, design, architecture, film, fashion, new media and digital culture? Are you interested in the history and theory of the objects, processes and cultural institutions that comprise our contemporary world?
The BA in Visual Culture offers a unique opportunity to study the history, theory and analysis of art, design, architecture, fashion and screen culture in the setting of a leading art and design college. The programme is suitable for anyone with a broad interest in history, culture and society. Our Thomas Street campus, located in the heart of Dublin's Liberties, is a busy hub of studios and workshops, enabling Visual Culture students to study alongside Ireland's future artists, designers and makers.
You will be educated to become visually literate, expressive and articulate. On graduation you will have gained a broad range of critical and research skills associated with an arts degree. Our graduates work in arts and heritage management, in exhibition curation and education, in festivals and events organisation, and in the media.
A portfolio submission is not required; places are allocated through the CAO based on Leaving Certificate points.
What is Visual Culture?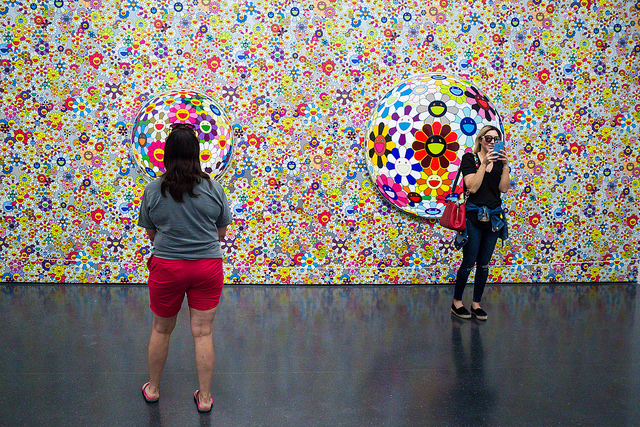 Visual Culture encompasses a wide range of subjects from Conceptual Art to mass advertising and from Bollywood cinema to underground fashion. It examines the ways in which artworks, moving and still images, spaces and objects of all kinds are shaped by society and, in turn, have marked effects on the societies that produce them.
Visual Culture is open to the study of different historical periods, but at NCAD we focus on the last two centuries, an era marked by rapid social, cultural and technical change. Visual Culture Studies has been very engaged with trying to expand our understanding of diversity in the world, as well as exploring the effects of globalisation. It is very open to the future, asking questions, for instance, about the impact of digital tools like smart phones on how the world is represented and by whom.
Visual Culture Studies has been enlivened by a deep engagement with theory: gender studies, psychoanalysis, as well as language-based theories like deconstruction as well as a fascination with materiality have all had a major impact on the way that we can understand and critique our image-saturated world.
How will I study?
The programme combines lectures, seminars (small group classes), workshops and one-to-one tutorials. Students also undertake study visits in Ireland and Europe, and a work placement in their final year. The programme draws upon a network of supporting institutions including the Irish Museum of Modern Art, the National Museum of Ireland, the Irish Film Institute, the Science Gallery, the National Gallery of Ireland, as well as many other dynamic arts organisations in Dublin. We also turn to the expertise of the skilled artists, designers and technicians who work at NCAD to understand how and why images and objects take the form that they do. Some classes are shared with studio based students who are developing practices as artists and designers. As your degree progresses, you will have increasing choice to select the subjects that you research and write about. We will support you to develop skills as a writer, researcher and thinker whether you chose to work on subjects closely connected to Irish culture today, or international and historic themes.
The programme is organised as a series of 12 week modules, described in outline below.
Year 1 has been designed to introduce students to key methods and concepts in the study of Visual Culture.
Introduction to Key Concepts in Art & Design – a programme of lectures and seminars shared with studio based students that introduce the most pressing issues in art and design today as well as key theories and concepts used to understand them.
Professional Practice: Mediation – an overview of the economies, sites of display, production and dissemination of contemporary visual culture.
Introduction to Visual Culture – an introduction to new approaches to things and images which have been developed in the recent years.
Materials, Processes and Technology – an introduction to the forms of knowledge which are found in materials and ways of making from traditional etching to 3D printing.
Histories of Art & Design 1 – an introduction to the concepts, methods and tools employed by art historians and design historians.
Technologies of Visual Culture – an exploration of the ways in which our world is mediated through different technologies of representation.
Contemporary Theories & Practices – in semester two students select two seminars from a dozen or more specialist electives on current themes and issues in art, design, film and technology. The range of themes is extensive, spanning from exhibition making to the role of the director; and from the psychology of space to photography.
Featuring a number of different options, Year 2 is shaped to allow you to develop your own particular interests.
Professional Practice: Institutions – taught in the setting of one or more of Dublin's key museums or archives, this module explores how knowledge is organised, stored and shared.
Histories of Art & Design: Varieties of Modernism ­– an examination of the key case studies from different fields in the history of modernism to test new thinking and approaches to Visual Culture.
Understanding Digital Cultures – an exploration of the ways in which our understanding of culture is being shaped by social media and other aspects of digital culture.
Professional Practice: Exhibition – through a series of workshops delivered by curators and museum professionals, students develop a curatorial proposal for an exhibition and produce a body of writing to disseminate it to a wide demographic of audiences.
Contemporary Theories & Practices – students select four seminars from a wide range of specialist electives on current themes and issues in art, design, film and technology. The range of themes is extensive, spanning from tactical media to the history of cross-dressing; and from the psychology of space to 19th Century Irish art.
Year 3 Optional Visual Culture+/Erasmus & BA Visual Culture International
Visual Culture+ is an optional year of study between the 2nd and final year. Students can choose from a range of study or placement options located either in NCAD, or in cultural organisations and community projects on its doorstep. You can choose to spend a semester (or two) fully immersed in one of the studio disciplines at NCAD, or to undertake a work placement in a cultural organisation in Dublin (or both). Visual Culture+ can also include a work placement abroad or a study abroad period through the Erasmus programme with internationally recognised institutions partnered with NCAD. Students who choose Visual Culture+ will complete a 4 year BA in Visual Culture or a year BA in Visual Culture (International).
Final Year encourages a more independent approach to study. Students are supported to develop a major writing and research project of their own choosing and to engage in different collaborative projects with art or design organisations in the city.
Work Placement – students undertake a twelve day work placement with one of NCAD's many partner institutions in Dublin. In the past students have worked in museums, galleries, civic arts offices, archives, auctioneers, heritage sites and advertising agencies.
Collaborative Practices – working in small teams, often with studio based art and design students at NCAD, students scope and realise a collaborative projects. Past projects have included pop up shops, exhibitions and events.
Contemporary Theories & Practices – students select two seminars from a wide range of specialist electives on current themes and issues in art, design and technology. The range of themes is extensive, spanning from phenomenology to women and the city in the 19th Century; and from fashion and film to sound art.
Economies of Culture – a series of seminars exploring the ways in which economics shape the production and consumption of different cultural forms from fashion to fine art.
Professional Practice: Situations Dublin – a research-orientated module which explores how Dublin has undergone political, cultural and economic change since the Celtic Tiger with an emphasis on the spaces and organisations which have shaped culture in the city.
Research Practices – a long format essay involving research. This might take the form of interviews with artists and designers; visits to archives (like the National Irish Visual Arts Library at NCAD); or a deep immersion in theory.
How will I be assessed?
Assessed course work may include group and individual presentations, text and image essays, curatorial projects, event development, self-publishing, and the development/adaptation of online platforms.
Other opportunities
Students can leave at the end of Year 3 with a BA (Hons) Degree or at the end of year 4 after taking up Visual Culture Plus; students who reach the appropriate standard may stay on for further postgraduate study in one of a number of MA programmes at NCAD:
The MA Art in the Contemporary World is a taught programme that examines contemporary art practices and their critical, theoretical, historical and social contexts.
The MA in Design History and Material Culture is a pioneering course that examines the history of design and material culture from the eighteenth century through to the present day.

Future Careers
NCAD offers a broad approach to the study of Visual Culture, focusing on the past, present and future of images and objects. It not only addresses works of art and design but also the ways in which they are represented in the media and through institutions like galleries and museums. As such, Visual Culture BA students acquire a broad understanding of the workings of contemporary culture. The programme offers professional practice modules in each year of study as well as meaningful opportunities to undertake placements and 'live' projects with public institutions and other partners.
As a consequence, Visual Culture graduates have a wide range of local and international opportunities open to them, including: arts administration (in contemporary and heritage contexts); publishing, journalism, critical writing; work in museums and private galleries; or pure art and design historical research and lecturing.
Graduates may also progress to further study at postgraduate level to refine their creative and critical abilities and approach. The School of Visual Culture offers a range of highly regarded Masters programmes, as well as a PhD programme.
The Visual Culture BA programme offer an opportunity to go on a 3-5 day study visit each year. In spring 2019 we went to Berlin. A copy of the programme and photographs by Pádraig Cunningham appear below.
Visual Culture Study Visit to Berlin, May 2019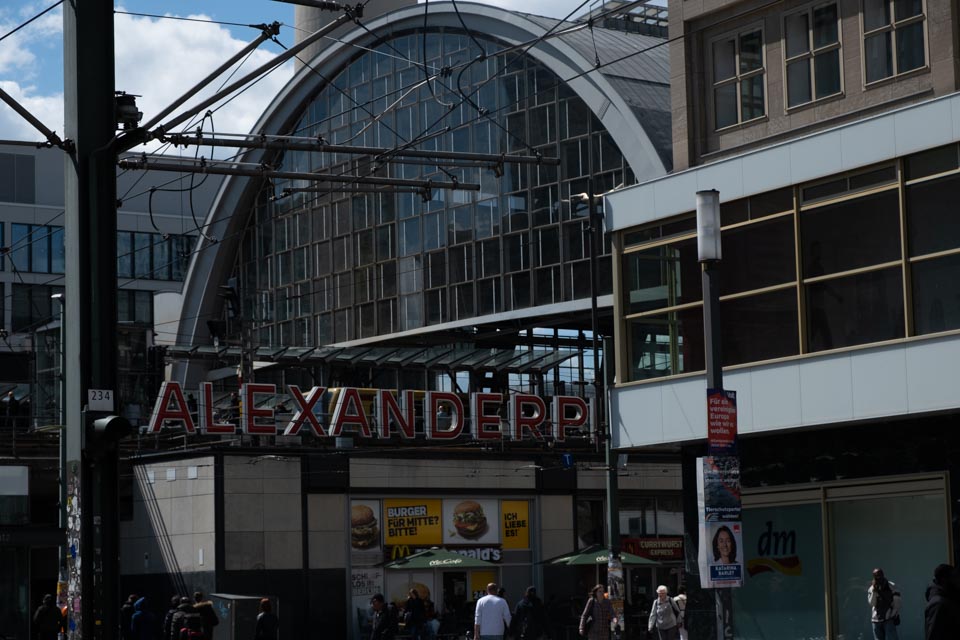 MONDAY 13th MAY
7.20 RYANAIR flight to Berlin (FR 8556) arriving 10.35 AM at Berlin Schoenefeld
We will take a local train to Ostbahnhof, the station nearest to our hotel.
Our accommodation is at Schulz Hotel, Stralauer Platz 36, 10243 Berlin.
Meet in reception of hotel at 11.30 to walk / take U/S-Bahn through the city to see Cold War landmarks - Karl Marx Allee / Alexanderplatz / Television Tower / Mauerpark / Hansaviertel
c. 16.00 Visit to Bauhaus Imaginista exhibition at Der Haus der Kulturen Der Welt, John-Foster-Dulles-Allee 10, 10557 Berlin.
bauhaus imaginista narrates the international histories of the Bauhaus. Since its foundation in 1919, the school was in contact with other avant-garde movements worldwide. bauhaus imaginistaproposes a rereading of the Bauhaus as a cosmopolitan project with global resonances: A major exhibition and two conferences trace transnational relations, correspondences, and narratives of migration, going beyond the years the Bauhaus was active as a school (until 1933). For the first time, the project tracks the translation of Bauhaus concepts into different political and geographical contexts.
There is a good piece in the current issue of Frieze on this show.

TUESDAY 14th MAY - LONG DAY!
c. 10.00 AM Neues Museum
The Neues Museum on Berlin's Museum Island was built between 1841 and 1859. Extensive bombing during the Second World War left the building in ruins, with entire sections missing completely and others severely damaged. Few attempts at repair were made after the war when the building found itself on the Eastern side of the Wall, and the structure was left exposed to nature.
In 1997, David Chipperfield Architects won the international competition for the rebuilding and sought to find ways of exposing this history in the design. It is a brilliant example of what is sometimes called 'The Poetic Museum'.
There is a slide show about the reconstruction on David Chipperfield's website. There is a good summary article on Dezeen here.
You can then use your museum pass to visit one of the other four venues on the 'Museum Island' – the Pergamon Museum, Bode Museum, German Historical Museum, Altes Museum, the Alte Nationalgalerie (including its VR response to German Romanticism – see here - as well as its major collections of C18th and C19th paintings)
LUNCH – this is a popular district with tourists and so can be pricey. Best options are to walk over to Hackescher Markt.
Meet at the entrance of the Neues Museum at 15.00 to head west.
c. 15.30 Hamburger Banhoff - Museum of Contemporary Art – details here. (Nearest station Hauptbanhof).
There are various displays but the main show is on Emil Nolde. A German Legend. The Artist during the Nazi Regime.
c. 18.00 Akademie Der Kunste Pariser Platz. There is presently a small installation of Eileen Gray – E.1027 Master Bedroom
19.30 We are booked in to visit the Reichstag Dome, an extension added to the German parliament by architect Norman Foster in 2004.

WEDNESDAY 15th MAY
10.00 am Jüdisches Museum (Jewish Museum) - details here. (Nearest station Kochstraße)
Designed by Daniel Libeskind, the Jewish Museum is one of the most celebrated works of architectural deconstruction of the late C20th. The architect sought to find ways of reflecting the presence and loss of Jewish society in Germany.
For a strongly argued piece on the problems of holocaust memorials and tourism, see here.
12.00 midday Berlinische Galerie (Alte Jakobstraße 124–128 10969 Berlin) - range of temporary shows plus permanent collection on Art in Berlin 1880-1980. Details here.
Lunchtime …
If you want, you can walk to Checkpoint Charlie from Berlinische Galerie to get lunch – 15 mins walk. Very touristy!
If you are interested in the history of the Third Reich and in particular the way in which it used violence against what it perceived as its enemies, you can visit The Topography of Terror exhibition at Niederkirchnerstraße 8, 10963 Berlin – 15 mins walk from Berlinische Galerie. It is free.
Between 1933 and 1945, the central institutions of Nazi persecution and terror – the Secret State Police Office with its own "house prison," the leadership of the SS and, during the Second World War, the Reich Security Main Office – were located on the present-day grounds of the "Topography of Terror"
16.00 In the Blink of A Bird, exhibition at nGbK, Oranienstraße 25, 10999 Berlin (Nearest station Moritzplatz)
The project »In the Blink of A Bird« was initiated by the artist collective Sis*. Working collaboratively, Sis negotiates themes of freedom of expression, bureaucracy, and immigration. In Turkey, print and radio media in particular are increasingly subject to regulations that restrict freedom of speech. To demonstrate the subversive potential of these media, the artists of the collective chose techniques from these fields for their work. More details here.
18.00 Performance at nGbK, Oranienstraße 25, 10999 Berlin, Post Truth Spa Center - seance02 by Turkish artist Şafak Çatalbaş.
Nearby … the daadgalerie (Oranienstraße 161) shows the works of international artists who have been given opportunities by the DAAD (German Academic Exchange Service) to come to Berlin to make their art. DAAD recipient in 2003, Mexican artist Minerva Cuevas is showing her work related to the history of children's play. See here and a piece on Cuevas here.

THURSDAY 16th MAY
11.00 AM Visit to 'Bauhaus and Photography. On Neues Sehen in Contemporary Art' and Alan Sekula exhibitions at the Museum für Fotografie (Jebensstraße 2, 10623 Berlin) – details here (Nearest station Zoologischer Garten)
The Bauhaus is not just a key figure in the history of twentieth-century design and art, but also of photography. How are the innovations that were made then still influencing the evolution of the visual language of today's photography and contemporary aesthetic concepts? What role does the photographic avant-garde of circa 1930 play for contemporary artists? This exhibition juxtaposes works by artists such as László Moholy-Nagy, Lucia Moholy, Man Ray, Jan Tschichold, Hedda Walther, Florence Henri, Hans Robertson and Erich Consemüller with groups of works by Thomas Ruff, Dominique Teufen, Daniel T. Braun, Wolfgang Tillmans, Doug Fogelson, Max de Esteban, Viviane Sassen, Stephanie Seufert, Kris Scholz, Taiyo Onorato & Nico Krebs, Antje Hanebeck and Douglas Gordon.
Lunch … the area around Kurfurstendamm has lots of cafes and shops.
The temporary Bauhaus Archive is nearby (while the building is being renovated) at Knesebeckstraße 1-2, 10623 Berlin. It looks more like a shop than a museum presently but the building itself designed by Paul Schwebes in the late 1950s is worth seeing. More details can be found here.
Also, nearby is the Kaiser-Wilhelm-Gedächtnis-Kirche which was destroyed by the bombing of the city during the Second World War and was rebuilt by architect Egon Eiermann in the 1950s can be visited. It is a landmark of West Berlin, particularly before the fall of the wall.
OPTION 1
15.00 Museum Berggruen (Schloßstraße 1, 14059 Berlin) to see works by Pablo Picasso, Paul Klee, Georges Braque and Henri Matisse. More details here (nearest station Richard-Wagner-Platz)
The Charlottenburg Palace nearby is open until 17.30 and your museum pass will give you entry. It is the former home of Prussian kings and is has many lavish Baroque and Rococo interiors for those who like that kind of thing.
OPTION 2
15.00 The Applied Art Museum / Kunstgewerbemuseum (Matthäikirchplatz, 10785 Berlin) has many collections but the dress and fashion collection is particularly significant. The building is also a striking work of late modernism designed by Rolf Gutbrod. (Nearest station Potsdamer Platz – 10 mins walk)
Evening … Markthalle (Eisenbahnstrasse 42/43) is open late on Thursday evenings selling street food. This is about 15 mins walk from our hotel.

FRIDAY 17th MAY – FREE DAY
Suggestions of places to visit …
The Deutsche Kinematek is between exhibitions and so might not be worth visiting. If you are keen to see what is on, please look here.
Martin Gropius Bau
Niederkirchnerstraße 7, 10963 Berlin
U2 (Potsdamer Platz) and U6 (Kochstraße)
S-Bahn S1, S2, S25 (Potsdamer Platz or Anhalter Bahnhof)
This is a major temporary art and design exhibition pace in the city. These are the shows which are on:
And Berlin Will Always Need You Art, Craft and Concept Made in Berlin
Gropius Bau explores the concept of crafts and handmade processes in Berlin's contemporary art scene, taking its history as a former museum for decorative arts and educational institution as a starting point.
Museum in My Head – contemporary artists' books
Coinciding with the reopening of the Gropius Bau in March, the Walther König Bookshop curates an exhibition of artist books focusing on collecting and archiving. The artist book is acknowledged as an art object in and of itself that produces special forms of knowledge and creation. Many of the books were published by the Verlag der Buchhandlung Walter König, whose bookshop is a long-standing partner of the Gropius Bau.
The Black Image Corporation - Theaster Gates
With The Black Image Corporation, Theaster Gates has conceived a participatory exhibition which explores the fundamental legacy of Johnson Publishing Company archives. Featuring more than four million images, they have contributed to shape the aesthetic and cultural languages of African American identity …
The Museum of Capitalism (Köpenicker Str. 172, 10997 Berlin) – here.
Contemporary art galleries
Dublin is an ideal setting for the study of Visual Culture. As the national capital, it is home to many of Ireland's major galleries and museums such as the Irish Museum of Modern Art, the National Museum of Ireland with its main specialist collection of decorative art at Collins Barracks. Major touring exhibitions from around the world come to the National Gallery of Ireland and the city's Hugh Lane Gallery.
There are also many small museums with unique collections and lively exhibition programmes such as the Little Museum of Dublin and 14 Henrietta Street, a museum which takes visitors on historical journey through everyday life of the rich and the poor in the city in the last two centuries. The Visual Culture programme has strong links with these institutions and our students are encouraged to research their collections. Many also provide placement opportunities.
There is a thriving arts scene in the city with exhibition openings and talks every week in its many galleries and artists run spaces (many of whom are graduates of NCAD). The curatorial programmes of the Project Arts Centre and the Douglas Hyde Gallery regularly feature the work of major international artists. NCAD contributes to this lively community with its own gallery and public talks. Key publications are also published in the city including Paper Visual Art.
Specialist cinemas screen the best films from around the world including the Irish Film Institute, also home of the Irish Film Archives. Based in Dublin AEMI supports artists' moving image work.
Design is also well served in Dublin by professional groups who organise talks and other social events including the Irish Architecture Foundation and the Offset conference. The city's Science Gallery has been an important host of design exhibitions in recent years, many exploring mind-stretching themes like the future of food or the design of homes for life in inhospitable environments like space.
Please see the Study at NCAD section for full application details.
Duration
3/4 Years BA
Places
20
Applications

CAO Course Code

AD215 Visual Culture

Entry requirements

Leaving Cert: 6 Subjects (2 X H5 and 4 X O6/H7)

Subjects must include English, Irish and one of the following: a third language or Art or Design & Communication Graphics (DCG)

FETAC: 5 Distinctions Full Award

CAO Points
325
Portfolio requirement
None
Degree awarded
BA Visual Culture / BA Visual Culture ( International)
All Undergraduate applications for Year 1 entry and Advanced entry through the CAO.
Year 2+ Advanced Entry Application Information