Student Conversation - Michael O'Doherty
"My experience so far has been nothing short of fantastic."
Michael on his recent paintings
My last series of paintings were titled 'Road Rage'. The final art work consisted of a tryptch of three solid MDF circular paintings which were finished in a high gloss sports car paint coating. In short the carvings represent the mangled metal of cars in collision. In my work so far, the approach I take follows a sequence whereby I start by viewing the physical site/object influencing my work and I record the physical representation in a series of photographs. This forms the basis of my linear drawings from which I develop abstract shapes and finally the sculptural structure of the paintings. In the finish, I try to utilise materials which are representative or relevant to the subject matter e.g. car spray paint for the Road Rage series.
On research
The importance of foundational research and personal exploration is what I have primarily learned. In looking at artists from Picasso to Koons, I am observing what I view as a developing methodology for success in the contemporary art world. However, I think this is very much a personal journey of exploration and understanding that no one can teach you. What's interesting is that all of these artist bar none, were passionate about their work and didn't require 'success' in their time in order to feel successful.
On influences
The key influence of all of this was to encourage me to draw on all of my life and work experiences and to develop a way of working that comes from the essence of me, the carpenter, the worker, the builder. My personal journey from a young lad hungry to learn how to build and construct and to draw and entertain to a mature, draughtsman, master carpenter. This is reflected in my use of construction and design, materials, carving and paint work. I still understand I need to sharpen and professionalise my approach.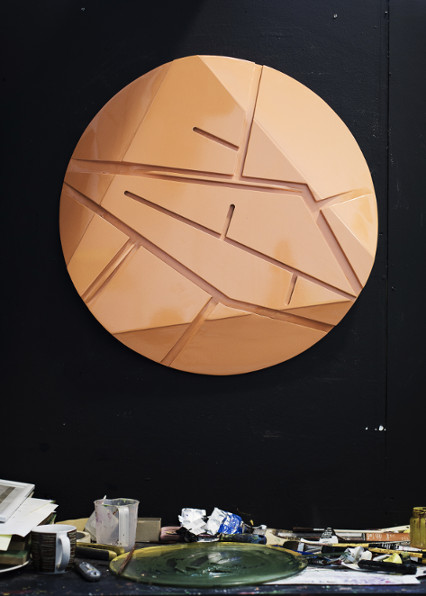 On his NCAD experience
My experience so far has been nothing short of fantastic. As a mature student, coming from a background of 28 years in the construction industry, I really never dreamed I could end up living the dream. NCAD has given me many opportunities to grow and develop both as a person and artist. The blend of tutors, lecturers and co-students has been paramount to my experience.
On his next steps
What I am aiming for now is to create an outstanding end of degree show which will ensure the first steps in establishing myself in a professional capacity in the contemporary art world.