Home »
Student Conversation - Daniel Roden
Student Conversation - Daniel Roden
"Making is really what drives me, I've always been a maker."
On inspiration
The starting point for my degree collection was the illustration of Mark Davies and his work for Disney, especially that of Cruella DeVille. I really liked those big amorphous outerwear shapes. I'm also very interested in contrasting natural textures and I suppose I was very much drawn to the colour green. In haute couture fashion green is considered a superstitious colour to use, so that kind of intrigued me. I wanted to just focus on that colour and then push it with regards to contrasting textures. I've got everything from very light feathers all the way through to some heavy wools, leathers and different skins.
On process
I looked at silhouette in isolation and then I looked at the colours and the textures in isolation as well. For me it's nice to have the silhouette developed in isolation to the material, it allows me to push the materials a bit further without having to worry about what the silhouette is doing.
On research
Purely by chance, I visited this vineyard, Chateau la Coste, which is owned by an Irish guy, Paddy McKillen. Frank Gehry was asked to design an amphitheatre for the site. It was so out of place in one way because it was surrounded by all these vines, but in a way I really liked that contrast. He used very hard, architectural shapes in a vineyard and that inspired me to look at weaving feathers. Weave being something very geometric and feathers are so natural. Making is really what drives me, I've always been a maker. I'm not the kind of person who will have a fully worked out concept and then make. It will always be evolving with the making, because making is really how I explore the design. I may have an overarching concept, but once I start making things, it changes. The process is important but you're really working towards a specific end product. Fashion is so much about the end product.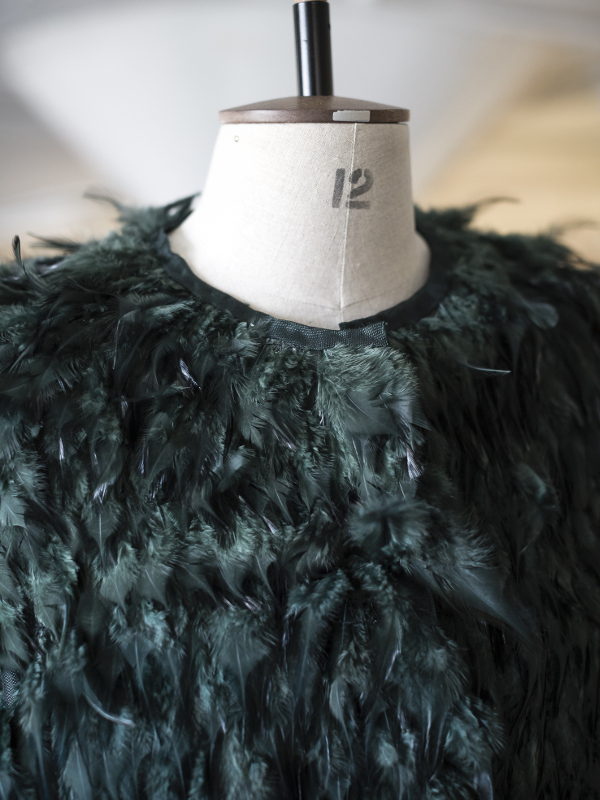 On interning with Philip Treacy
Last year I was interning with Philip Treacy, I had an incredible time, he's a real maker. What really drew me to him was yes, he makes hats but there are no limits with him, you know, a hat can be anything. And it was such a maker's environment.
On the consumer
I don't really design for a specific person, but then again there probably is a specific person that would wear it. When the collection is much more developed and the styling comes into it, the shoes, accessories, jewellery, how a jacket might hang, or will it be wrapped tight? That's really when I really start to consider the consumer.