Home »
Student Achievements - Sabhin OSullivan
Student Achievements - Sabhin OSullivan
'Say yes to every opportunity and really make the most of every new relationship you build along the way.'
Name: Sabhín O'Sullivan
Discipline: Product Design
Location : Meath
Design Competition Awards
Shortlisted for Royal Society of Arts Student Design Awards 2020 with 'Ardú'
Winner of the NCAD Staff Choice Award 2020
Finalist in the Engineers Without Borders Challenge 2018 with 'Culture Kits'
Shortlisted for the design of ESB's Free Electrons Trophy 2018 with 'Path'
Semi-finalist in Accenture's Leaders of Tomorrow Competition 2018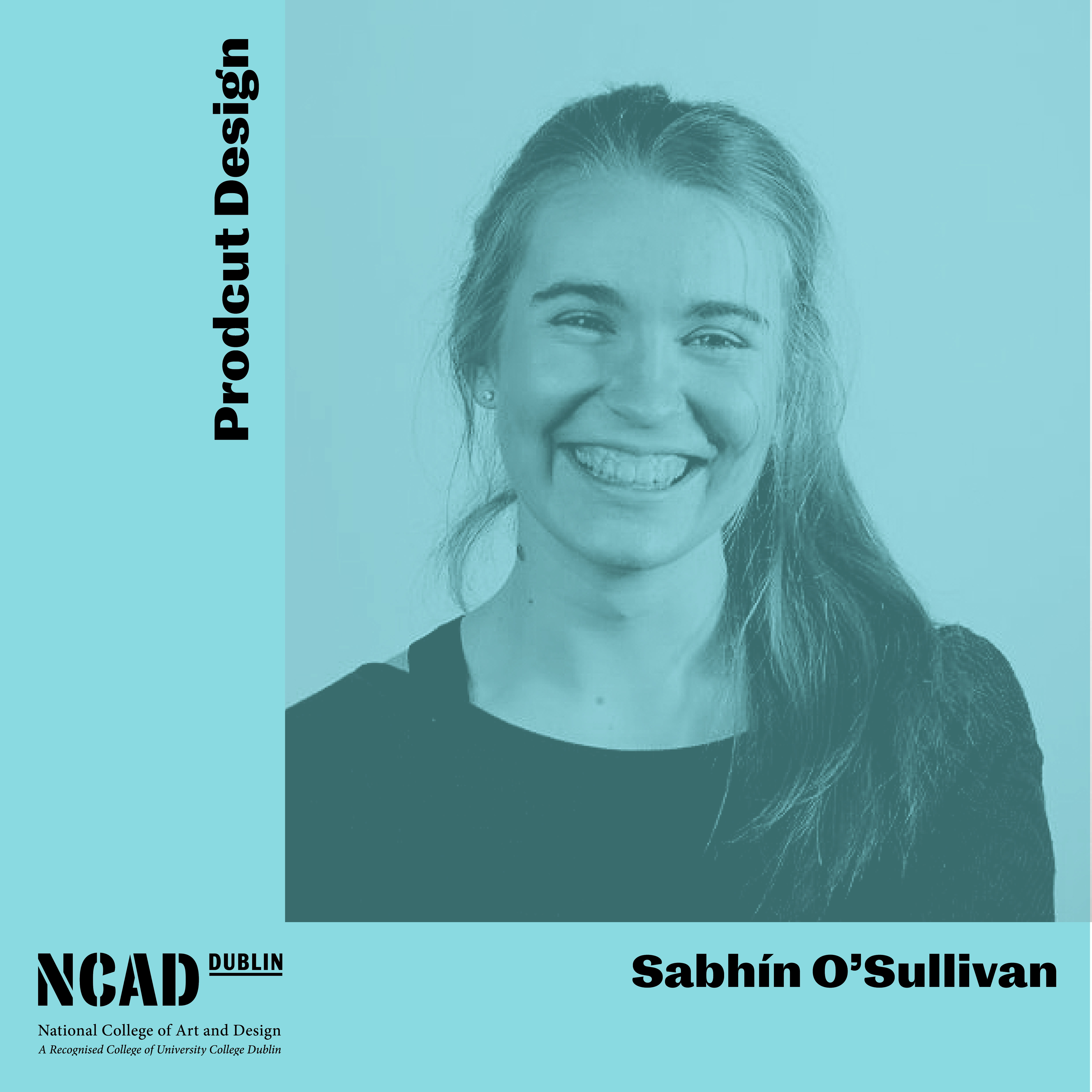 What career path did you want to follow as a child?
I wanted to be anything and everything as a child; I wanted to be a singer, a nurse, a ballerina, a teacher, an artist… but never a product designer. I had never even heard of product design until I was in my first year at NCAD, and I am so glad I found it. Now I honestly can't imagine myself doing anything else.
Why did you decide to study at National College of Art & Design?
I visited the campus at one of the open days and instantly felt at home - this was the kind of environment I belonged in. I didn't even know what I wanted to study, but I knew I would enjoy it as long as I was here. My art teachers, at Loreto Secondary School Balbriggan, also had a huge influence on my decision to study at NCAD and I would never have ended up here without them, particularly Ms White and Mr Kilgariff.
Tell us a bit about your award-winning design projects.
I worked on Ardú, with my classmate Jack Canavan. It is an online platform that tackles the issue of unemployment among asylum seekers by providing free courses and mentorship programmes to women living in direct provision centres. Approximately 85% of asylum seekers in Ireland are unemployed; 63% of those who do have employment have unrecognised third-level qualifications and are forced to work in low-paying jobs below their skills level. Ardú aims to change this by matching asylum seekers to professionals working in Irish industry who mentor them through an online course. At the end of the course, the professionals become a reference on the asylum seeker's CV, proving that they are capable to work in this field. The project has caught the attention of the Department of Justice who is now considering funding the project and want Ardú to represent Ireland in a European-wide competition.
What is the one experience – during all the time you have invested in competition entries – that has informed you most in your career preparation and work to date?
Networking is so important. The more people you speak to, the more opportunities you'll get. We spoke to a huge number of people during the development of Ardú; it was through all the connections we made that the Department of Justice heard about us. Never underestimate the power a single phone call can have.
If you were chatting with current NCAD students today about entering design competitions, what is the one piece of advice you would offer?
Do a project you are passionate about. It's cheesy but the work really is cut in half if you're doing something you care about. Say yes to every opportunity that comes your way and really make the most of every new relationship you build along the way. It can be extremely tough at times because putting yourself out there opens the door to rejections and criticism. But there's no better feeling than opening the email that says you've won something, so it's all worth it in the end!
Portfolio Links:
https://www.sabhinosullivan.com/
Follow NCAD
NCAD Twitter @NCAD_Dublin
NCAD Instagram @ncad_dublin
NCAD Facebook @NCAD.Dublin
Contact NCAD