Home »
Student Achievements - Linas Staniukynas
Student Achievements - Linas Staniukynas
'Even as students, we are producing work that competes with people in the creative industry and we should be a lot more confident about it'.
Name: Linas Staniukynas
Discipline: BA Interaction Design
Location: Dublin
Design Competition Award
Project: Grace 'Life is better with friends'
Highly Commended at RSA Awards
Finalist at Design and Art Direction Awards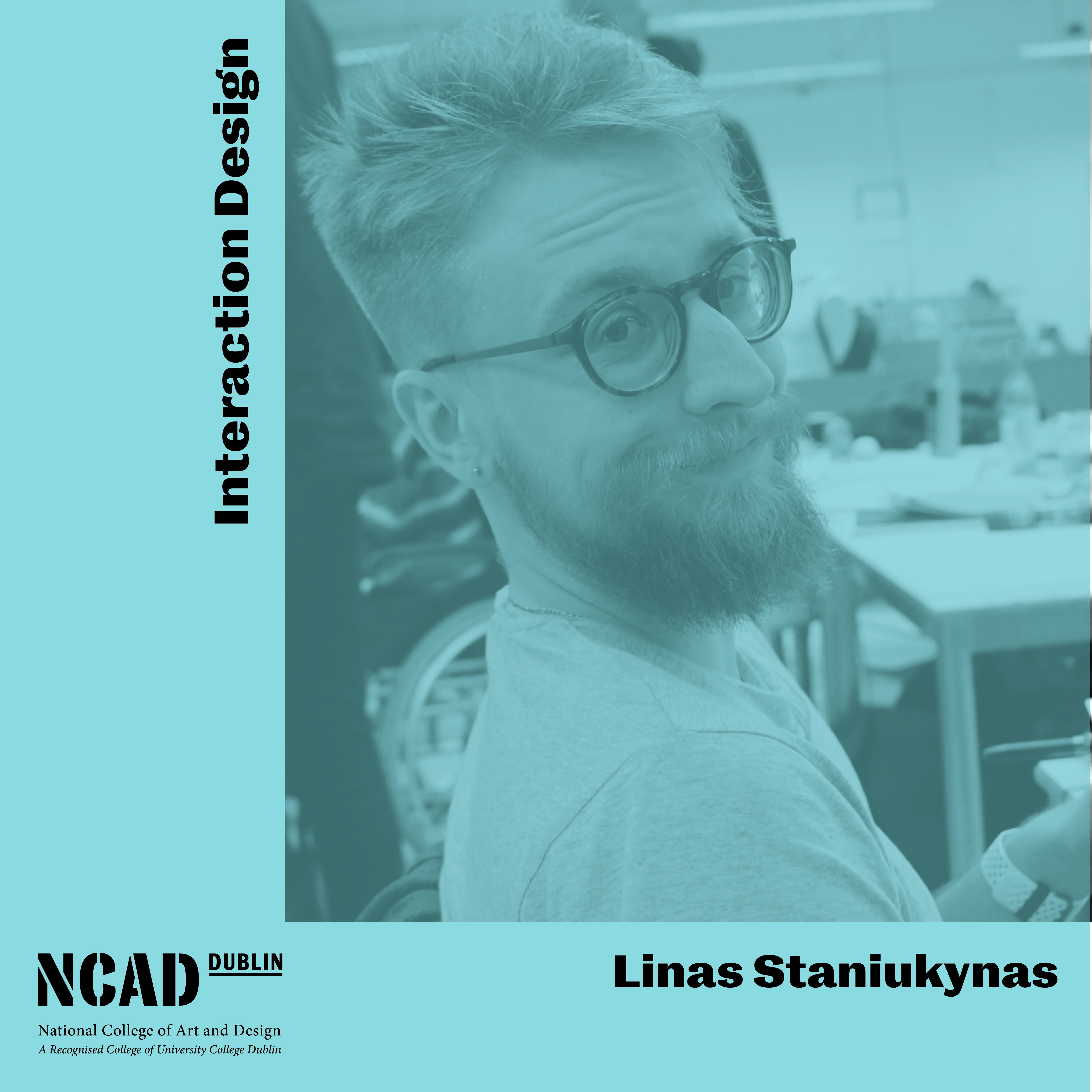 What career path did you want to follow as a child?
I can't remember, I know I could never decide what I was going to do as I was finishing up secondary school. Maybe a game designer? Maybe a chef? I don't know why I thought that was a good idea since I barely cook. Maybe an artist?
Why did you decide to study at National College of Art & Design?
I enjoyed art in school, so I applied for NCAD. Disappointingly, I didn't get in first time round. So, I did a portfolio PLC course and got in the following year. Being able to try out different types of art and design in first year helped me decide what I wanted to do. I thought I had zoned in on product design, but then we were told about a brand-new course called interaction design. It sounded like it combined a few of my interests.
Tell us a bit about your award-winning design project.
The brief, which my classmate and co-designer Kipras Pasakinskas and I chose from the Royal Society of Art Awards competition, was to design a way to enable people to live longer and have a better life when they get older. Speaking to older people and health professionals was instrumental in the formation and development of our design, Grace.
Social isolation is a huge problem for older people; there are plenty of services and activities to help but are hard to find. Social prescribing is a relatively new service. It aims to help people by connecting them to different activities and groups. We were inspired by L.A.M.P, the Liberties Asset Management Project, a community focused initiative investigated and developed by NCAD product design students, a number of years ago, with information about the local community, business, services and activities in the Liberties district.
From our experience of using the L.A.M.P database, much was out of date or irrelevant. Kipras and I saw an area for innovation. An AI can handle the tedious task of keeping everything up to date by using a natural language processing technology to communicate with service providers.
Design for ageing can be a heavy topic. If anyone wishes to learn more about it, you can find out more in my portfolio. Even better, reach out to me. I would be happy to tell you about our project.
What is the one experience – during all the time you have invested in competition entries – that has informed you most in your career preparation and work to date?
One experience stands out during the D&AD competition. Our design class was in a Zoom meeting with seven professionals, in either the start-up or scale-up categories. We shared our concept and design presentations, and they shared theirs. We saw that our work wasn't too far off the standard of the professionals. In some cases, we thought ours was better. It demonstrated that, even as students, we are producing work that competes with people in the creative industry and we should be a lot more confident about it.
If you were chatting with current NCAD students today about entering design competitions, what is the one piece of advice you would offer?
Before you enter a competition, ensure your project is solid. Speak to the people you are designing for and who know more about the field than you. If you can, bring ideas or concepts to discuss. If you have permission, record the conversations. You have got to put in the work. Come in early. Stay in late.

When you do submit your entry (which has been reviewed by yourself and your peers), and if you do happen to get shortlisted, then practice your presentation, until you are completely comfortable. Ask friends and tutors if you can present to them and ask for feedback.

If you have a complex project, keep it simple and easy to understand, and most of all, try to tell a story. That's what people like to hear.
Portfolio Links:
Follow NCAD
NCAD Twitter @NCAD_Dublin
NCAD Instagram @ncad_dublin
NCAD Facebook @NCAD.Dublin
Contact NCAD