Career Guidance
The NCAD Careers Service aims to equip students with the skills, resources and confidence to independently manage their creative careers. The service is available Monday, Tuesday and Thursday (September - June) to support students and recent graduates with their career needs.
2022/23 Career Themes
Career sessions will be scheduled on campus and over zoom (for graduates) over the academic year will follow the below themes. Keep an eye on the Careers Service Newsletters for details:
Career Basics - Writing your CV & Cover Letter (in person, October & February)
Promoting your Profile - LinkedIn Profile / Interview Preparation (in person, November & March)
Learning - LinkedIn Learning / Community Experiences (in person, December & April)
Well-being and Inspiration - Resource sharing (newsletter, January & May)
Contacting the Careers Service:
For general career queries or to share an opportunity or resource for our Careers Newsletter, email careers@ncad.ie.
Student Services:
Student in-person or zoom appointments are available on Tuesdays and Thursdays during term time and can be booked through the online appointment calendar here.
For CV and cover letter feedback, please sign up for a 15 minute appointment and share your CV, cover letter and job description (optional) in advance with careers@ncad.ie. For other career discussions, please complete this short form and feel free to sign up for 30 minutes (2x 15 min slots).
Graduate Services:
Graduates can avail of the Careers Service for 12 months following graduation, please complete the booking form here or follow the QR code below.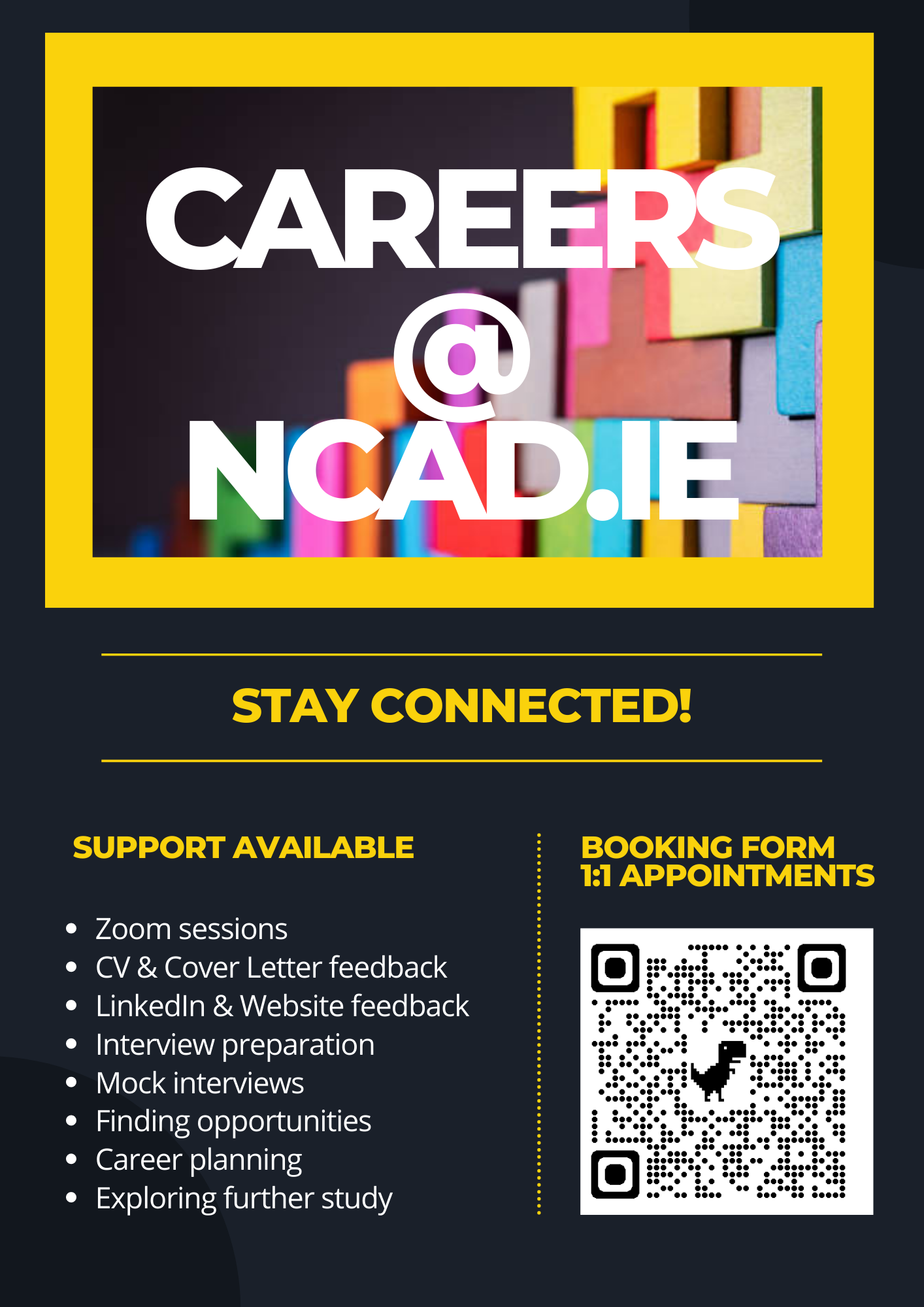 Careers Resources
Careers Service Information Session Recordings:
CV & Cover Letter Writing, Interview Preparation, Rock Your LinkedIn Profile
Graduate Careers - General
Graduate Careers - Creative
The New Now - Graduate Portfolio Platform
Business Guidance & Support
Design & Crafts Council Ireland
Employability Support
Employability Skills for Autistic Students and Graduates
gradireland > LGBT candidates and interview success
Inspiration
Design & Crafts Council Ireland - Podcast Series: Design your Life
Expand your Horizons
Further training/courses
Central Application Office (CAO)
Travel, volunteering, further education and training opportunities
USIT
gradireland > How to find a job in the United States
Volunteering