OBEO
Obeo is the first spin out company, funded through Enterprise Ireland's Commercialisation Fund, to come out of NCAD's start-up incubator, Origin8.
Obeo is the quick clean solution to food waste recycling. Obeo is a compostable box for kitchen food waste that works with the brown bin. It brings food straight from the kitchen to the brown bin with no mess, no fuss and no cleaning. Simply fill Obeo with all household food waste. When full Obeo, along with its contents, goes directly into the brown bin and a new box is opened. Obeo is a stand-alone unit and so removes the need for the plastic kitchen caddy. Obeo's wet strength paper stays strong even when faced with wet food waste. Sold in packs of 5, each box lasts 2-3 days. Obeo is made from compostable materials that are certified to EU standard EN13432.

The founders of Obeo, Kate Cronin and Elizabeth Fingleton, aim to help households separate their food waste so it can be diverted from landfill by utilising the brown bin service. Obeo was developed to help Ireland and the UK become 'zero waste to landfill' economies.
Obeo is a timely product. Food waste recycling is high on Government agenda evidenced by rising landfill charges and the introduction of mandatory use of brown bins. The founders see an opportunity to provide residential and commercial customers worldwide with a suite of well designed compostable products which have the user's need for convenience at their core.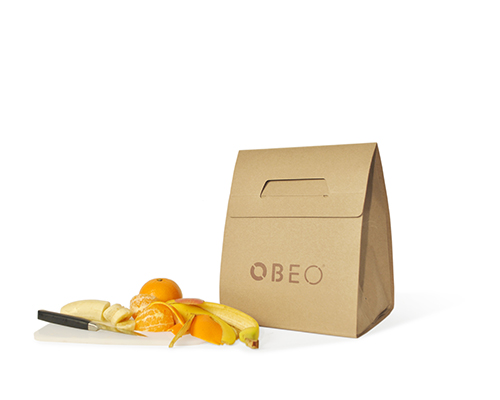 Click here to find out more about OBEO.