Home »
Student Conversation - Sarah Mooney - Wiegersma
Student Conversation - Sarah Mooney - Wiegersma
"The ceramics department is a comfortable place for me, it's a good place for me, it's positive, it's making."

On her subject of research
My name is Sarah Mooney-Wiegersma and I'm in the second year of my Masters in Fine Art and Ceramics. My final project is about memory and how we deal with memories. We remember something in a certain way but it may not be accurate, so we cushion it to make it more palatable for us to move through life. I was thinking about objects and coming from ceramics, how we relate to those objects and how memory isn't an accurate thing. Ceramics however, is a material that will not be broken down. It can break, you can smash it, but it cannot be broken down, it cannot dissolve the way metal can erode away, so that's important to me.
On memory
One thing I inherited when I was really young was a charm bracelet, it's a kind of a universal thing in Holland, where my mum is from. It was hers when she was a little girl. The idea of the charm bracelet is that you get one on a special occasion, you get a charm and you attach it on and every year you get a different one. I began to look at the charms, but it all seemed very busy, all these little objects, so I took a step back and started to look instead at the chain. They can be looked at as something that ties you down but it can also be looked at as something that is protecting. I came to NCAD as a mature student and graduated in 2010. I was very interested in Georgian Dublin and I started to make centrepieces of parks and fountains. I think I'm now more aware of putting my emotion on display. I am much more connected to the work and that's really what I wanted to get out of the MA. To be much more aware and make it more meaningful. I think it's always meaningful when you make something.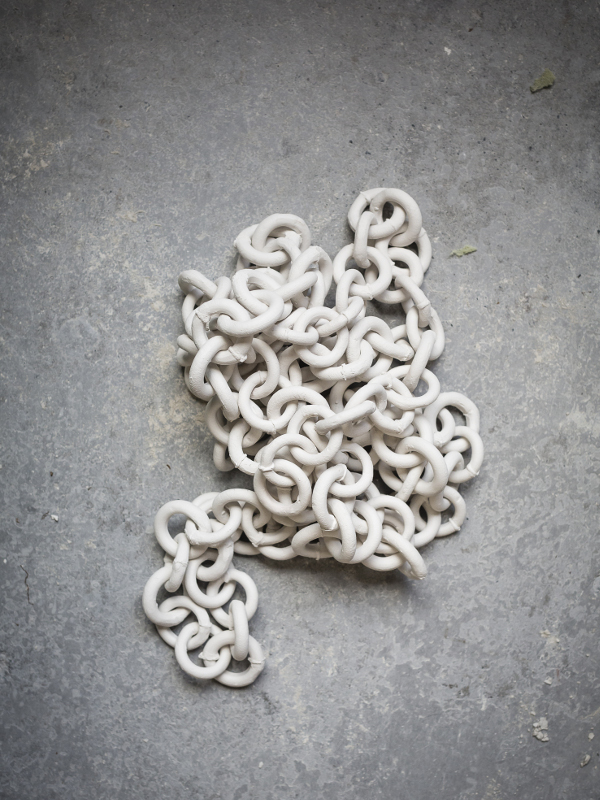 On process
With the undergrad work I felt connected to it as a maker, but not emotionally connected. I ended up just repeating pieces and I felt a pressure to continue because of their success. When I started I wanted my work to change but I still wanted to have lots of little things on plinths, whereas that's not important to me now. Not with this work. I'm now using clays and different materials that I wouldn't naturally gravitate towards, but the materials and processes I'm using are more to do with the research and the narrative that I want to give. I have these specific moulds that are to do with the old work and I now feel I could take a hammer to them.
On comfort
I feel much better about my work. Being here has reminded me how to research again. I think as a practising artist, when you're out in the world, you do things you need to do to get stuff done. The ceramics department is a comfortable place for me, it's a good place for me, it's positive, it's making.