Home »
Alumni Stories - Susanne Wawra
Alumni Stories - Susanne Wawra
According to my mother, I said 'I want to paint'. I can't remember saying this, but I know well that I was happiest when painting and drawing.
Name: Susanne Wawra
Current Career: Visual Art
Graduation Year: 2016
Discipline: Painting
Location: Dublin
We caught up with NCAD graduate and artist Susanne Wawra, to chat about some of the highlights of her career since graduating.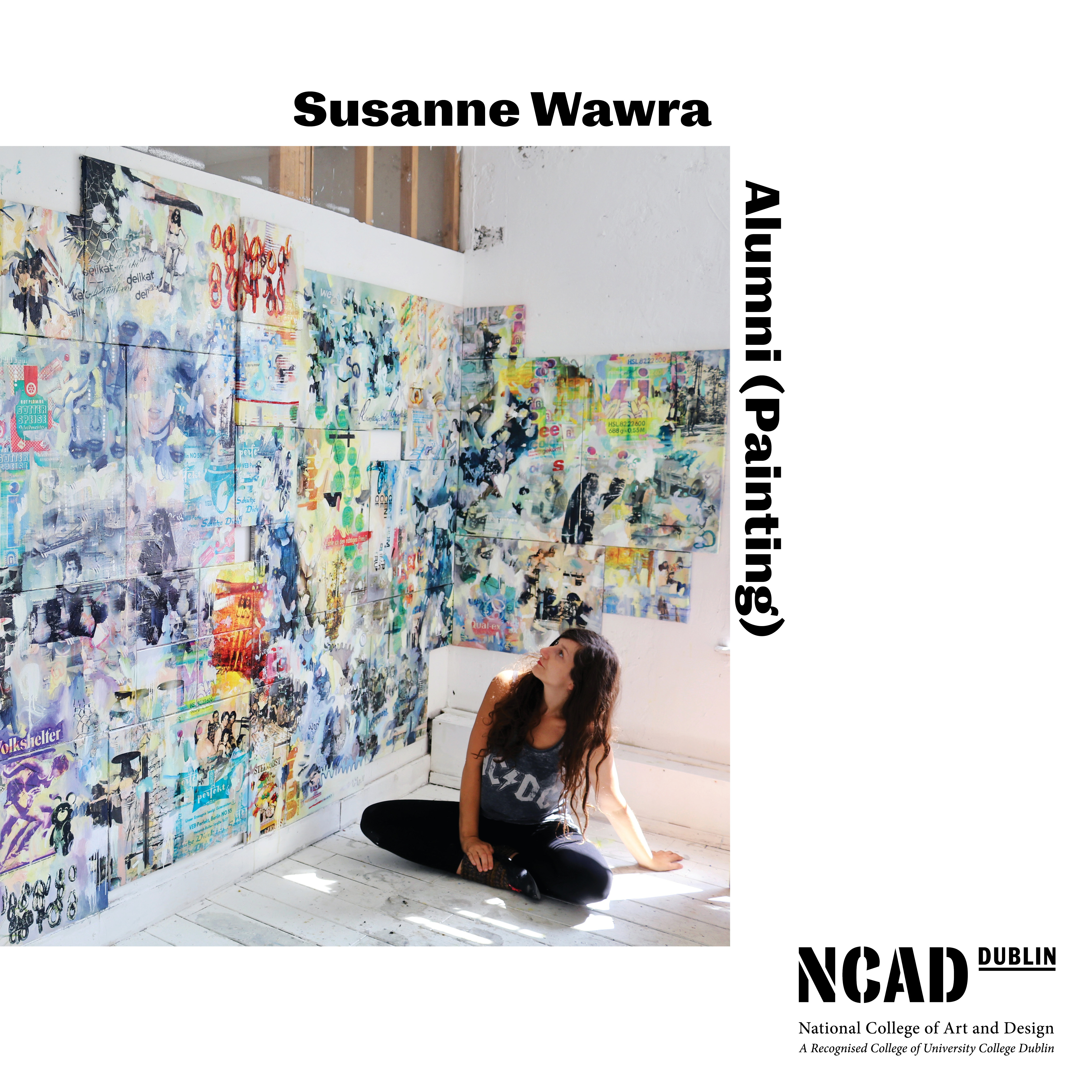 What career path did you want to follow as a child?
According to my mother, I said 'I want to paint'. I can't remember saying this, but I know well that I was happiest when painting and drawing.
Why did you decide to study at National College of Art & Design?
After receiving a Masters in English and Communication and Media at Leipzig University (Germany), I moved to Dublin for a job in 2007, like so many European graduates. A few years in a corporate career showed me that it wasn't for me; something was missing.
I took some CEAD evening classes. It was absolute bliss and I felt nourished by the experience. My tutors advised me to consider a full-time degree, but initially, I thought I was too old (I ended up starting the painting degree at the age of 33). But after that first taste in CEAD, all excuses failed me. I found myself completing the NCAD portfolio brief to test the waters, and that was that. I only applied to NCAD because I fell in love with the place.
How did you develop your career towards your current job / practice?
I had the immense luck of winning the Talbot Gallery and Studios' Most Promising Graduate Award 2016. I received a one-year studio residency in Dublin City Centre, in a fantastic artists' space with very engaged and dedicated artists at different stages in their career. Having this studio was key in everything that has happened since.
Some highlights of my career include showing in 'A Vague Anxiety', curated by Seán Kissane at IMMA (2019), presenting at the VAI GetTogether, exhibiting at The LAB, TULCA and Luan Gallery Athlone (2018), getting listed in The Irish Times '50 People To Watch in 2017', as well as working with the Olivier Cornet Gallery (ongoing).
Developing my art career has been, and continues to be, a split between reaching in and reaching out. Reaching in involves the excessive making of work, experimenting, and immersing myself in art. Reaching out involves applications to open calls, inviting curators to studio visits, visiting VAI events and workshops, teaching art, as well as engaging with the German Academic field in Ireland.
What is the one experience – during your time at NCAD – that has informed you most in your career / work to date?
I can't say it was one experience, but for me, there was one mentor, Susan MacWilliam who hugely influenced me, providing professional practice seminars, and was my main studio tutor in third year. Susan has been pivotal in helping me to learn the questions I need to ask to develop and advance my work.
Having the privilege to learn from professional artists is the most beneficial aspect of the Fine Art programmes at NCAD. In my experience, there is a lot of learning and teaching, giving and receiving, in the field of art.
If you were chatting with current NCAD students today, what is the one piece of advice you would offer?
At the core is finding and exploring your interest, even if it is just an inkling, something that arrests and frees you at the same time - challenges you. It might be messy, unclear and frustrating at times, but that is part of the process. Self-doubt is normal and helpful.
Put yourself out there, submit to zines and shows. Be an artist from day one, instead of thinking you'll become one, one day.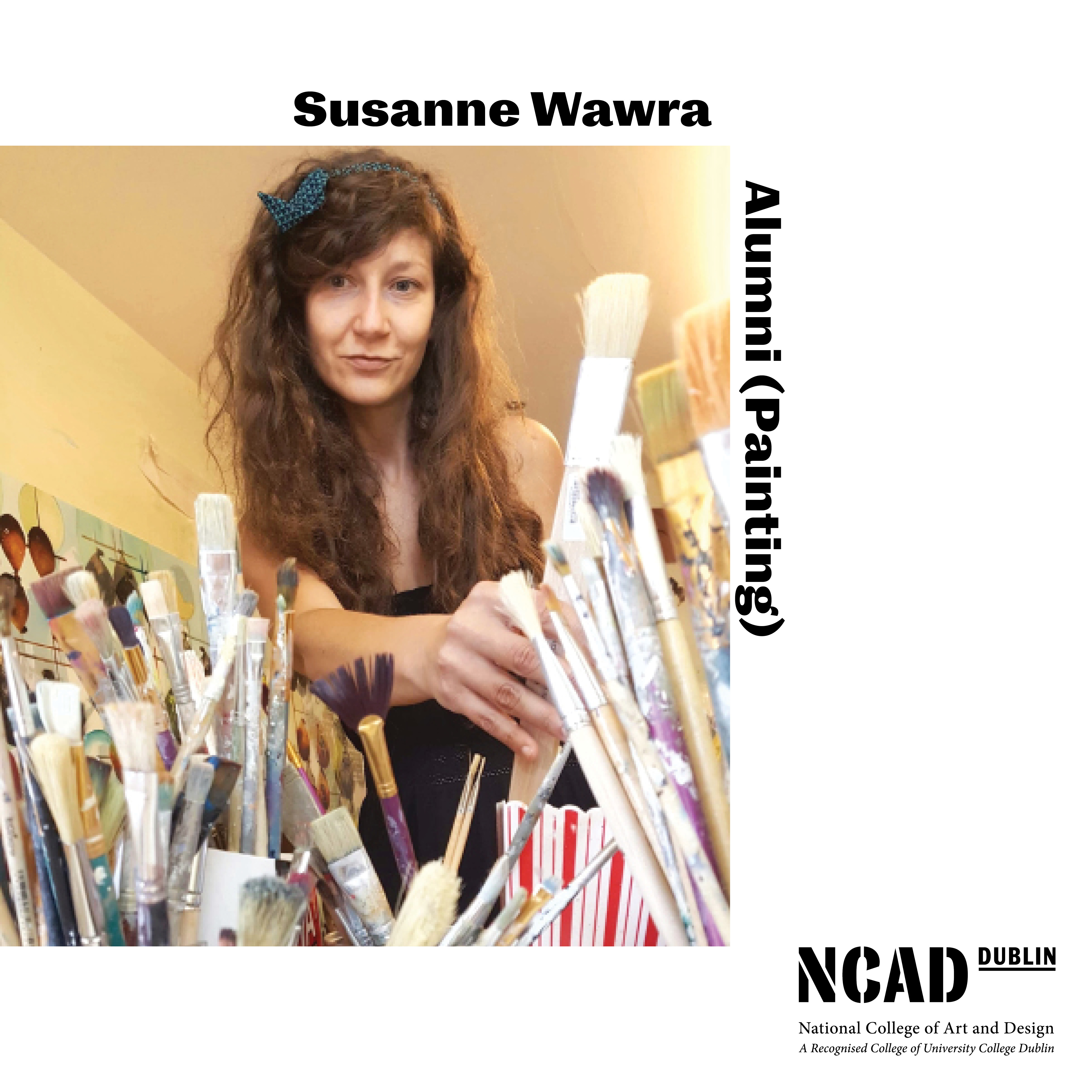 Given the global turmoil and change, accelerated by the COVID-19 pandemic, what – in your opinion – are the opportunities for those in creative industries?
In these times, the first opportunity we are given is that we are all pushed to rethink, reframe and re-understand our practice and perspective.
We are able to engage with wider audiences and address crucial topics in our contemporary experience online. You can make your mark, just don't forget the pen on paper, being a body in a real space.
Portfolio Links:
https://www.oliviercornetgallery.com/susanne-wawra
https://www.instagram.com/susannewawra
Follow NCAD
NCAD Twitter @NCAD_Dublin
NCAD Instagram @ncad_dublin
NCAD Facebook @NCAD.Dublin
Contact NCAD