Home »
Alumni Stories - Sorcha O Raw
Alumni Stories - Sorcha O Raw
'You're not going to art college to learn how to be an artist, you're going to learn how to be creative, and you can apply that to anything.'
Name: Sorcha O'Raw
Current Career (Field): Membership Co-Ordinator at the Institute of Designers in Ireland (IDI), Embroidery Artist
Graduation Year: 2017
Discipline(s): Textiles and Visual Culture
Location: Dublin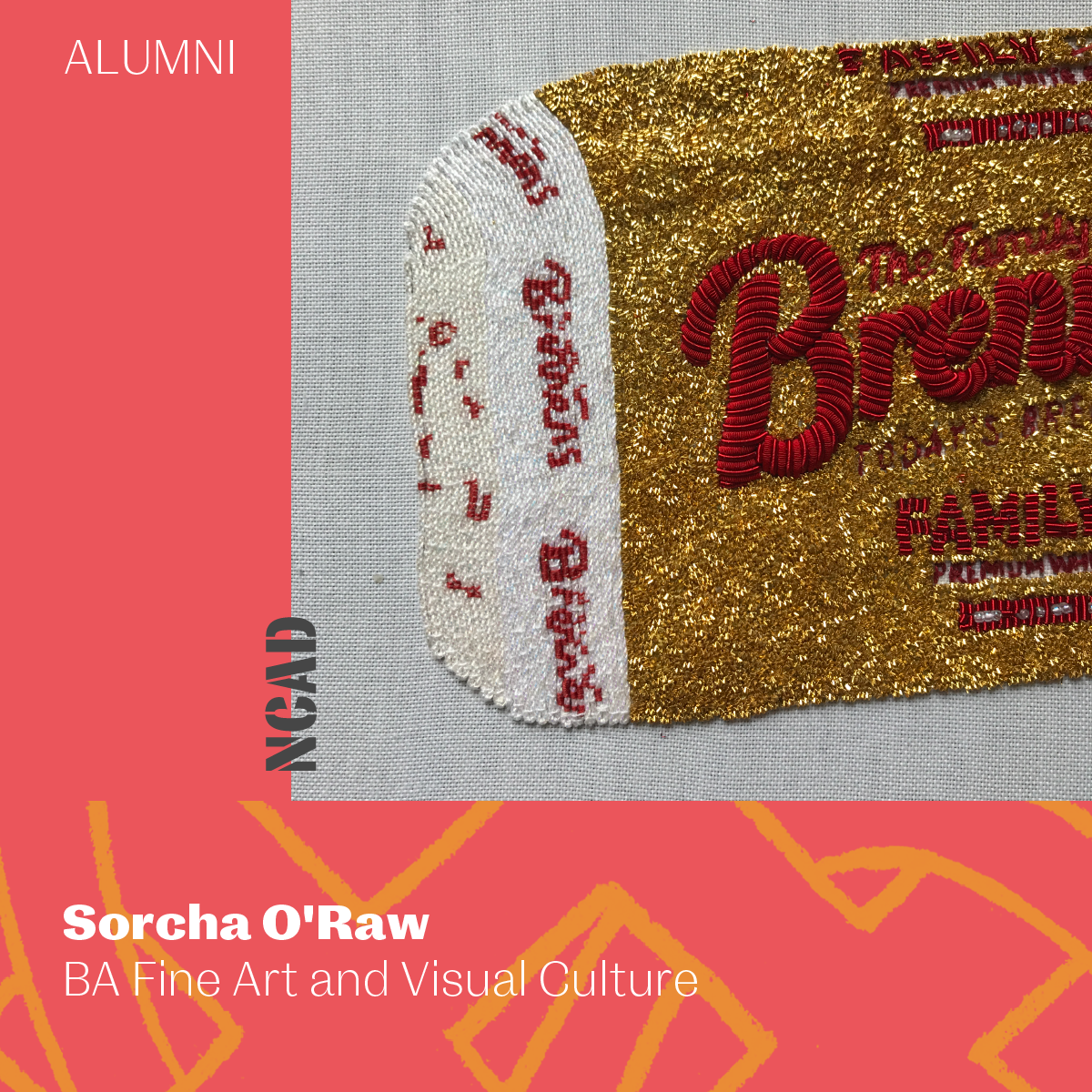 What career path did you want to follow as a child?
I always had my heart set on working in the creative field. In no particular order, I wanted to be an: actor, lawyer, artist, photographer, cinematographer, special effects make-up artist, jewellery maker, costume designer.
Why did you decide to study at National College of Art & Design?
I was 'the arty kid' in school so it was just kind of assumed that I would go to art college. My favourite subjects were always Maths and Art and I could never have gotten the points to do Maths, so I never considered it.
I thought I wanted to study costume design but I wasn't sure, so I went with NCAD as the courses were broad and I knew I could spend first year trying out a range of different areas before I had to decide what I wanted to specialise in.
How did you develop your career towards your current practice?
My mam is a great maker, she taught me how to knit and sew. I had been making clothes since I was about 11 so I arrived to NCAD with that skill and interest, but with no idea what I wanted to do with them. I discovered embroidery while doing my portfolio for applying to NCAD, but I thought what I was doing was just 'drawing with thread', I didn't call it 'embroidery' because I didn't connect it with the kind of dainty, feminine stuff I thought of as embroidery (this realisation would become the basis of my thesis).
I developed my personal artistic practice in college, but I also realised that I didn't want to be an artist all day, every day. Being an artist is a lot of working on your own and I liked working with people and helping other creatives, so I wanted to incorporate that into my career. I knew what I didn't want to do, but it took some trial and error after college to figure out what I did want to do. This eventually led me to the Arts Management and Cultural Policy Masters in UCD and my current role as Membership Coordinator at the IDI.
My personal practice as an embroidery artist is still a huge part of my life, I'm happier doing it in my own time and not relying on it to earn a living, though the trade-off is having less time to do it.
What is the one experience during your time at NCAD that has informed you most in your work to date?
Art college gave me the freedom to explore myself in a way that I'd never had before. I figured out the kind of art I wanted to make and why.
I also discovered that I enjoyed the academic side of art. In school, Art History was dry, boring and dreaded. In art college, I discovered design, feminist art history, social history and costume history. The academic side greatly informed my artistic practice.
If you were chatting with current NCAD students today what is the one piece of advice you would offer?
I really struggled when trying to figure out what I wanted to do in the future, I experienced a lot of anxiety around it. If you're feeling the same way, please know you're not alone, you don't have to be a traditional kind of artist if it doesn't feel right for you. NCAD is only the beginning. I hated hearing this advice at the time, but it really is so true: 'you will figure it out, and you're not a failure for not knowing the answer right now.'
Given the global turmoil and change accelerated by the COVID-19 pandemic, what in your opinion are the opportunities for those in creative industries?
My parents were really supportive of me going to art college, my dad said 'you're not going to art college to learn how to be an artist, you're going to learn how to be creative, and you can apply that to anything'. I think the creative muscle you develop at art college is a real advantage in responding to Covid. Artists have responded in amazing ways, finding new ways to share their work and connect with audiences.
Portfolio Links:
https://www.instagram.com/sorchaoraw/
Follow NCAD
NCAD Twitter @NCAD_Dublin
NCAD Instagram @ncad_dublin
NCAD Facebook @NCAD.Dublin
Contact NCAD