Home »
Alumni Stories - Sophie Longwill
Alumni Stories - Sophie Longwill
'The first time I blew a glass bubble was magic, and I was totally hooked. I had been intending to study sculpture but something about the material narratives of glass really captured my attention and I had to learn more.'
Name: Sophie Longwill
Current Career: Artist; Company Director of Longwill Studio
Graduation Year: 2016
Discipline: Glass
Location: Cork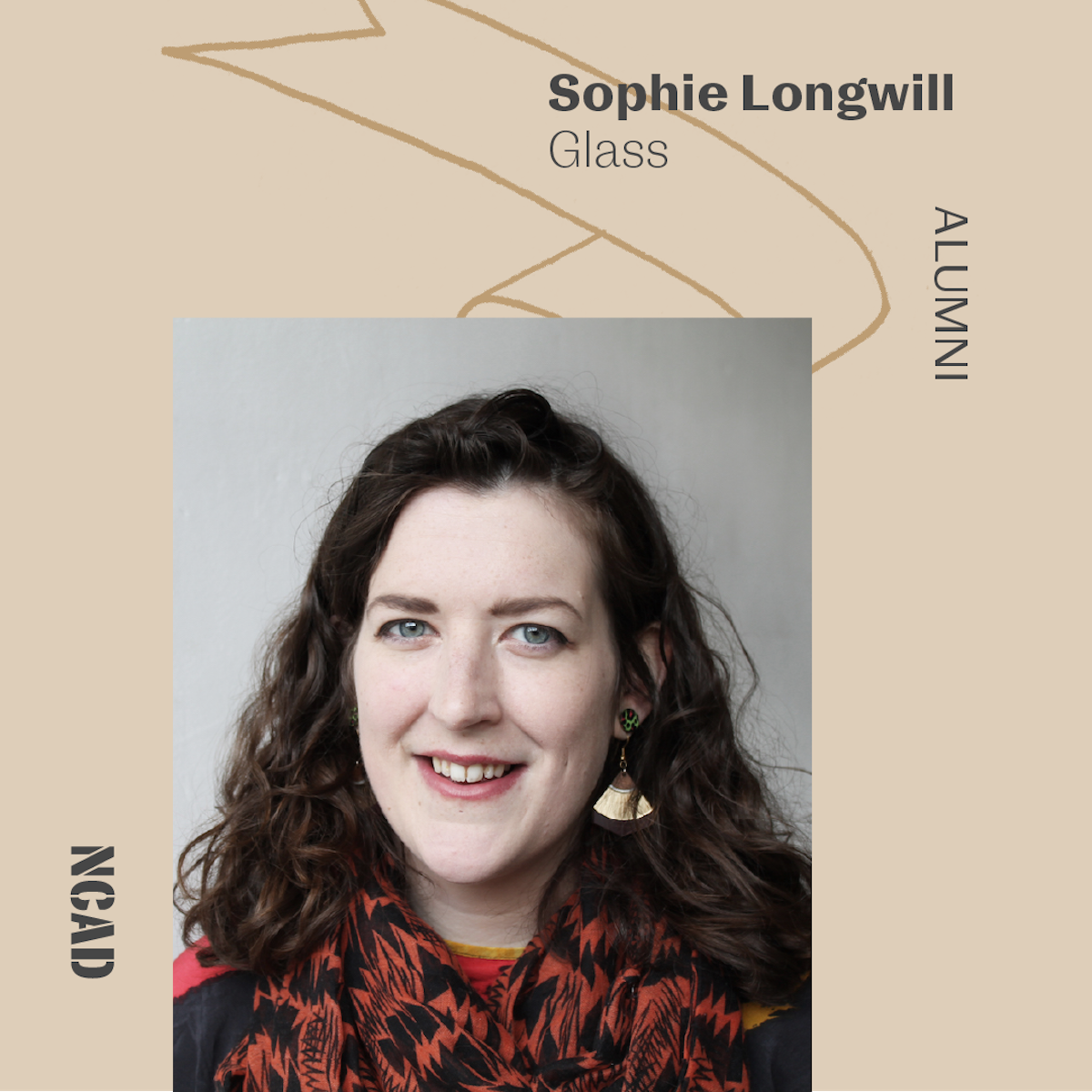 What career path did you want to follow as a child?
I was curious about many careers as a child, but art was a constant fascination. I have a creative family and I remember the sense of wonder when we would visit exhibitions together, that feeling is something I strive to invoke in my own artistic practice. I have always had a drive to create things, as a way to make sense of the world.
Why did you decide to study at National College of Art & Design?
NCAD has always had an excellent reputation and I knew it may afford me extra opportunities if I studied there. In fact, I liked it so much, I was a student twice! I studied Industrial Design initially in 2008; but dropped out around the time my father passed away. I had an interlude studying a variety of crafts at Grennan Mill Craft School in Kilkenny and then returned in 2012 - 2016 to study a joint degree in Glass and History of Art & Design.
How did you develop your career towards your current practice?
The year I graduated I had my work selected for several significant awards and exhibitions, such as the RDS Craft Awards in Dublin and the Stanislav Libensky Awards in Prague. This gave me the drive to continue developing and exhibiting my work. I got a studio space with MART Dublin, with my friend and fellow glass graduate Eva Reddy, but after a fire in the building I lost a lot of my work. Some of my family had moved to Cork, so I relocated and was able to set up a small glass kiln for myself at home. I also had access to the National Sculpture Factory which is where I work now. I started my company, Longwill Studio, last year and developed a retail range to fund the larger scale sculptures which I continue to exhibit internationally.
What is the one experience during your time at NCAD that has informed you most in your work to date?
The first time I blew a glass bubble was magic, and I was totally hooked. I had been intending to study sculpture but something about the material narratives of glass really captured my attention and I had to learn more. I have been completely in love with it as a material ever since, it is endlessly fascinating and challenging.
If you were chatting with current NCAD students today what is the one piece of advice you would offer?
Make the most of the facilities and endless knowledge of the tutors while you can; and use this time to play, experiment and explore as many ideas as possible. Also, get great photos of your work and apply for every opportunity; there are so many for students and recent graduates. Even if you don't think you stand a chance of getting it, it's always worth a shot!
Given the global turmoil and change accelerated by the COVID-19 pandemic, what in your opinion are the opportunities for those in creative industries?
Creatives are naturally resilient and used to a challenge; we must be, in order to survive. There are always opportunities if you think creatively, which is something that studying at NCAD really trains you for. I believe this year has highlighted the incredible passion and skills of those who work in creative industries, and how vital we are in making life more enjoyable, especially in a time of crisis. There are opportunities present in changing how we make work, exhibit and connect with an audience. Sometimes great change is needed, even if it appears negative, as a way to make space for something new to emerge.
Portfolio Links:
https://longwillstudio.com/
https://www.instagram.com/longwillstudio/?hl=en
https://www.facebook.com/LongwillStudio
https://twitter.com/sophie_longwill
Follow NCAD
NCAD Twitter @NCAD_Dublin
NCAD Instagram @ncad_dublin
NCAD Facebook @NCAD.Dublin
Contact NCAD