Home »
Alumni Stories - Sinead Brennan
Alumni Stories - Sinead Brennan
'Experimenting with a new technique or following an obscure research path could inspire a whole body of work.'
Name: Sinéad Brennan
Current Career: Artist, Educator and Studio Co-Founder Glint Glass Studio
Graduation Year: 2012
Discipline: Glass
Location: Dublin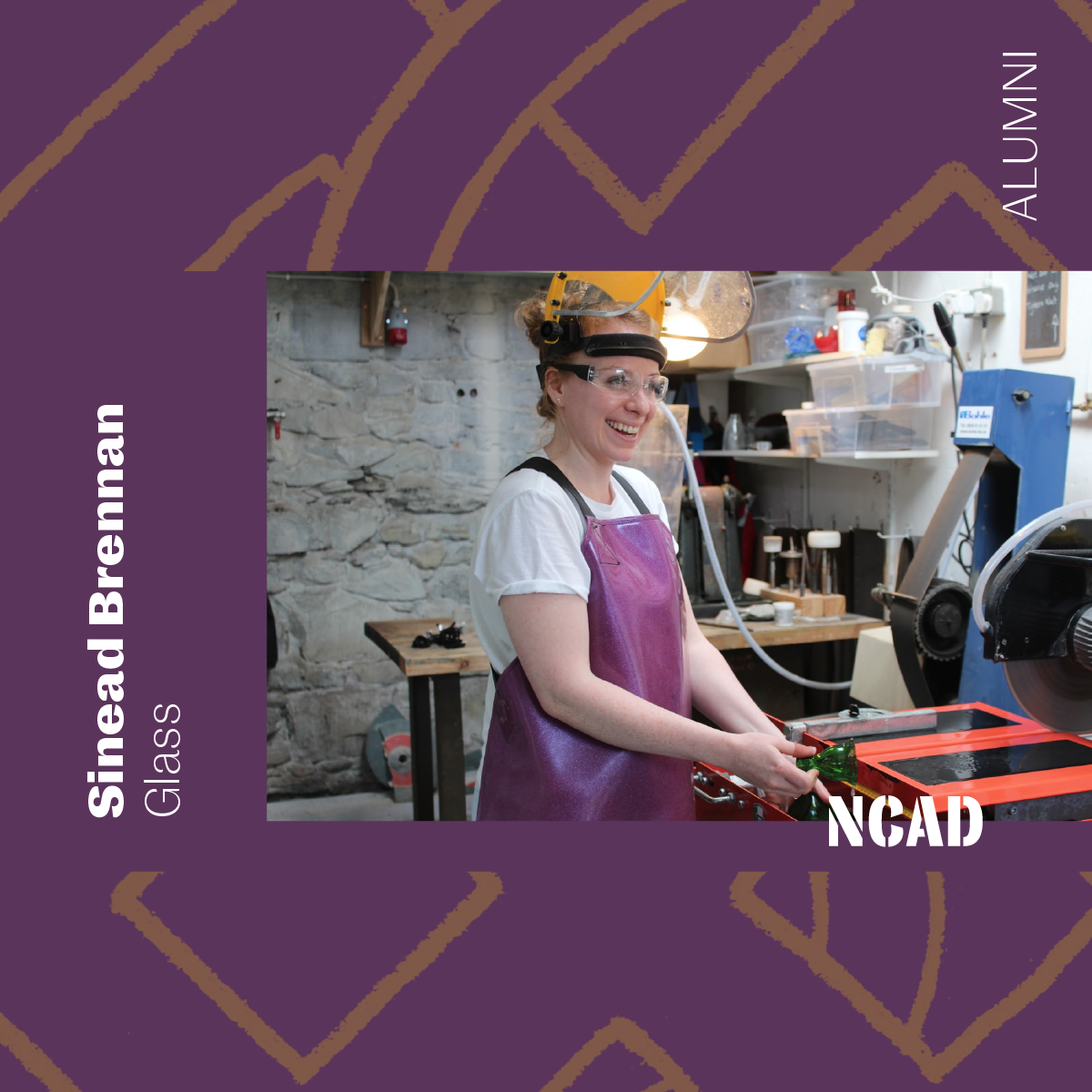 What career path did you want to follow as a child?
I loved drawing and creating from a very young age. It was my favourite subject in school. However, it wasn't until I got to secondary school, with encouragement from my art teachers, that I started to consider it as a career.
Why did you decide to study at National College of Art & Design?
I began my portfolio in Transition Year with the hope of getting into NCAD. The college's reputation and the range of exciting projects and disciplines offered in first year made it so appealing. I worked really hard and strived to get in and I am so grateful that I did.
How did you develop your career towards your current practice?
After graduating in 2012 with a degree in art and design history and glass, I carried out internships in glass studios in Waterford, Amsterdam and London. I returned to NCAD in 2013 to study for my PDE and have worked as an art educator, as well as being an artist, ever since. In 2016 I set up a glass studio in Dublin with fellow artist Róisín de Buitléar. Glint Glass Studio is an open access studio with its own product line and educational programme.
What is the one experience during your time at NCAD that has informed you most in your work to date?
I can't say one experience in particular informed my work to date. It was my time studying under Dr. Caroline Madden that has had a lasting impact on my practice. The glass department offers an engaging programme. There was a strong focus on glass making skills and I had the opportunity to learn from many exciting guest lecturers, however Dr. Madden always encouraged me to develop my ideas and concepts and design beyond my skill set.
If you were chatting with current NCAD students today what is the one piece of advice you would offer?
Don't hold back. Immerse yourself in all your projects. Experimenting with a new technique or following an obscure research path could inspire a whole body of work.
Given the global turmoil and change accelerated by the COVID-19 pandemic, what in your opinion are the opportunities for those in creative industries?
As artists and designers, we're adaptable and equipped with the skills to evolve and problem solve, necessary and advantageous at uncertain times like these.
Portfolio Links:
https://www.sineadbrennanglass.com/
Follow NCAD
NCAD Twitter @NCAD_Dublin
NCAD Instagram @ncad_dublin
NCAD Facebook @NCAD.Dublin
Contact NCAD