Home »
Alumni Stories - Rachel Marsden
Alumni Stories - Rachel Marsden
"At times of great turmoil, we tend to question and rethink the way we live, making design more relevant than ever."
Name: Rachel Marsden
Current Career: Service and Systems Designer
Graduation Year: 2018
Discipline: MFA Design
Location: Dublin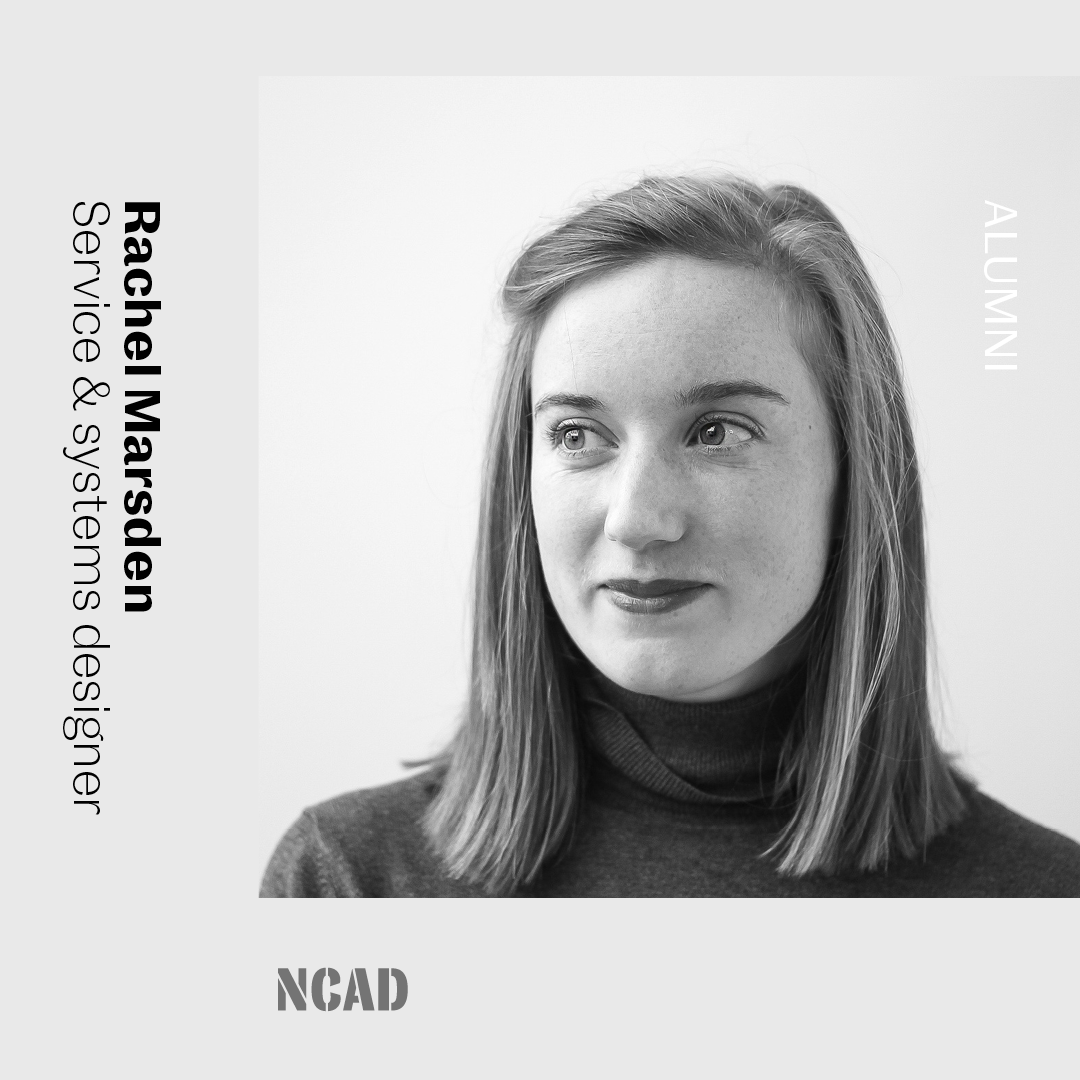 What career path did you want to follow as a child?
I never had one particular path in mind, but I always loved drawing and making things. I grew up in a very creative household, so it felt natural for me to pursue a career linked to art and design.
Why did you decide to study at National College of Art & Design?
While I was living in London, I did a foundation course in textile design. I really loved it and wanted to continue my studies, but I couldn't find an MA that seemed to fit. At the time, NCAD had just advertised a new MFA in multidisciplinary design and textile design was listed as one of the core modules. Funnily enough, I was so taken with the first module in speculative design that my entire direction changed, and I haven't gone back to textiles since!
How did you develop your career towards your current practice?
I've taken a pretty scenic route. My undergrad was in History of Art and French and then I moved to London where I worked for an artist for three years. We were making large scale installations and sculptures, so it was very hands-on, as was my textile foundation course at the time. I've always gone back and forth between art and academia and sometimes found it hard to find the right balance. My MFA felt like the first time I could really combine these things and now I'm really lucky to have this on a daily basis in my job.
What is the one experience during your time at NCAD that has informed you most in your work to date?
Probably the moment one of my tutors pointed out to me that the work I was doing was closely aligned to service design. Coming from an art history and textile design background, I'd never heard of service design. It was great to realise that, not only was this an established field, but there were some amazing studios in Dublin with a strong service design practice.
If you were chatting with current NCAD students today what is the one piece of advice you would offer?
Take the time to explore and really figure out what your strengths are; then play to them. There are so many amazing things going on at NCAD, it's easy to get distracted by what others are doing and to get pulled in multiple directions. This is great while you're figuring out what your practice is really about but, at some point, it's good to start honing your skills and really establish your own voice.
Given the global turmoil and change accelerated by the COVID-19 pandemic, what in your opinion are the opportunities for those in creative industries?
I think people need creativity in their lives more than ever at the moment. The problems we are dealing with as designers are increasingly complex, so it's a great time to seek out new challenges and continue developing methods that embrace this complexity. At times of great turmoil, we tend to question and rethink the way we live, making design more relevant than ever.
Portfolio Links: https://www.artsthread.com/profile/rachelmarsden/
Follow NCAD
NCAD Twitter @NCAD_Dublin
NCAD Instagram @ncad_dublin
NCAD Facebook @NCAD.Dublin
Contact NCAD