Home »
Alumni Stories - Miriam Wade
Alumni Stories - Miriam Wade
"The projects we did with external companies really gave a great insight into the commercial aspect of jewellery design."
Name: Miriam Wade
Current Career: Goldsmith and Jewellery designer
Graduation Year: 2011
Discipline: Goldsmith and Jewellery
Location: Westmeath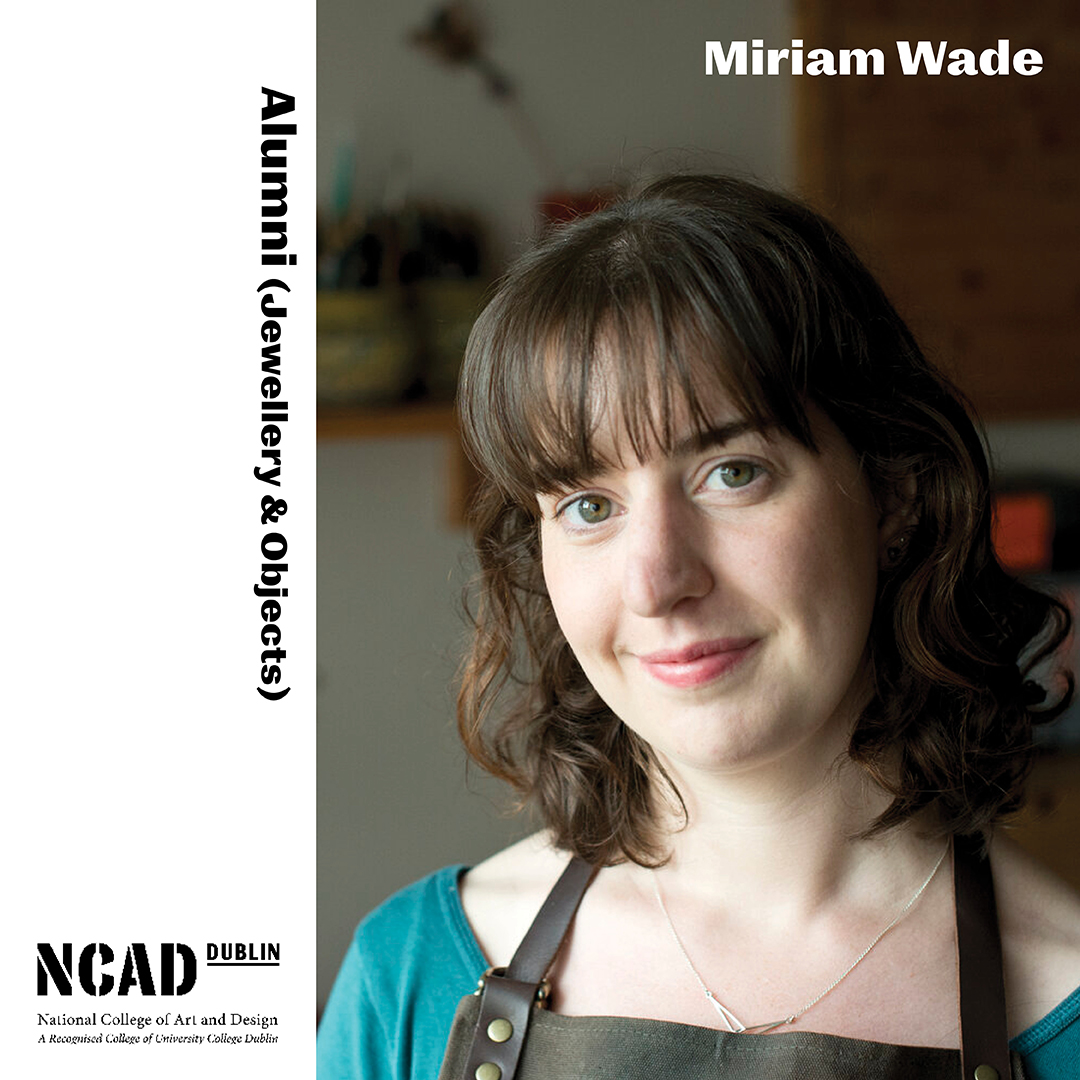 What career path did you want to follow as a child?
I always knew I wanted to go to art college. I didn't have any particular career path, I just wanted to be creative. It was only when I was a little older that I considered being an art teacher. One day, when I was sitting with my mum in her studio watching her at her jeweller's bench, I made up my mind and decided I wanted to make jewellery. My mum is an NCAD graduate too.
Why did you decide to study at National College of Art & Design?
I wanted to study craft design and metalwork, and there were very few colleges that offered this course. I wanted to stay close to home and knowing that NCAD was a great college made it the best option for me. It offered a great variety of disciplines that I could study but, I knew that jewellery design and metalwork would be the areas I would choose to specialise in.
How did you develop your career towards your current practice?
After my four years in NCAD I had great design skills and metalwork skills but, I knew I had to refine them further for goldsmithing. I applied for the Design & Arts Council Ireland's Jewellery and Goldsmithing Skills and Design Course, which takes on twelve students every two years and trains them in traditional goldsmithing techniques. I was accepted and moved to Kilkenny to begin my training. I graduated from the course in 2013 and went to work in the trade for six years. Over those six years, I gained experience with a few jewellery manufacturing companies. I also designed and developed my own jewellery collection to sell in shops. It was in the last three years that I started taking on commissions for bespoke engagement rings, wedding rings and other jewellery pieces. I grew my business while working part-time, and only recently decided to go full-time and expand my own business further.
What is the one experience – during your time at NCAD – that has informed you most in your work to date?
I think that the projects we did with external companies really gave a great insight into the commercial aspect of jewellery design.
If you were chatting with current NCAD students today, what is the one piece of advice you would offer?
I would advise them to take time and gain experience working in their chosen field for a company, especially if they want to set up and run their own business. This experience is invaluable, and you can learn so much.
Given the global turmoil and change, accelerated by the COVID-19 pandemic, what – in your opinion – are the opportunities for those in creative industries?
I think people will be more inclined to buy Irish and handmade. They love to support small creative businesses. I have found the support for small businesses amazing, so many online platforms have been set up in the past months to help advertise small businesses.
Portfolio Links:
Follow NCAD
NCAD Twitter @NCAD_Dublin
NCAD Instagram @ncad_dublin
NCAD Facebook @NCAD.Dublin
Contact NCAD