Home »
Alumni Stories - Michelle Murphy
Alumni Stories - Michelle Murphy
'It took a couple of months to transition from designing physical products to digital interfaces. Although I had to learn new tools, much of my training around the design process at NCAD remained relevant.'
Name: Michelle Murphy
Current Career: UX Design
Graduation Year: BA Industrial Design 2011
MSc Medical Device Design 2014
Discipline: Industrial Design, Medical Devices
Location: Zurich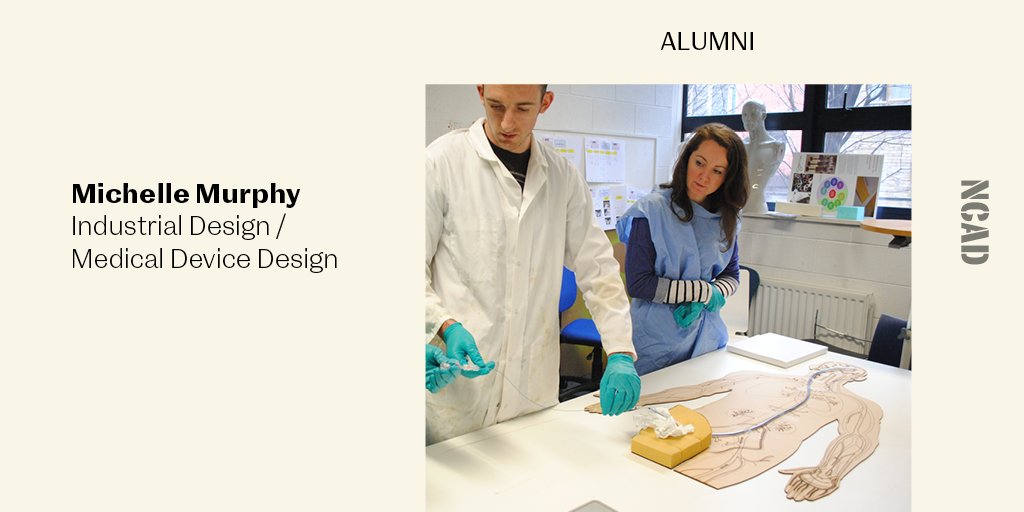 What career path did you want to follow as a child?
I was always interested in design of all types, but particularly fashion, as a child.
Why did you decide to study at National College of Art & Design?
It seemed like the best third level option for studying art/design and allowed for focusing on a broad range of subjects before selecting a discipline.
How did you develop your career towards your current practice?
I initially studied fine art, leaving after two years, and taking some time out to realise I needed to follow a career in design. Upon completion of industrial design, it became apparent that there were many opportunities in Ireland in the medical field. I did an MSc in Medical Devices at NCAD and immediately found a UX job for a Dublin consultancy, with an initial focus on medical applications. It took a couple of months to transition from designing physical products to digital interfaces. Although I had to learn new tools, much of my training around the design process at NCAD remained relevant.
What is the one experience – during your time at NCAD – that has informed you most in your work to date?
There was not one single experience per se.; but learning the critical design thinking process has been invaluable.
If you were chatting with current NCAD students today, what is the one piece of advice you would offer?
Enjoy the course and remain focused on your goals.
Given the global turmoil and change, accelerated by the COVID-19 pandemic, what – in your opinion – are the opportunities for those in creative industries?
We are relying more heavily on digital tools. During lockdowns people are forced to quickly adapt to remote working, online shopping, health and fitness online classes, remote appointments, and socialising via virtual events. Many of these newly formed habits will remain after the pandemic.
Follow NCAD
NCAD Twitter @NCAD_Dublin
NCAD Instagram @ncad_dublin
NCAD Facebook @NCAD.Dublin
Contact NCAD