Home »
Alumni Stories - Lucy van Lonkhuyzen
Alumni Stories - Lucy van Lonkhuyzen
We caught up with Lucy van Lonkhuyzen, National College of Art & Design graduate and production designer, to chat about her career, and work on internationally acclaimed television drama Normal People. 
Name: Lucy van Lonkhuyzen
Current Career: Production design
Graduation Year: 1996
Discipline: Metals (Jewellery & Objects)
Location: Ireland
How have you ended up in your current job?
After graduating I wanted to travel and work overseas; at first, I worked for a jewellery studio in San Francisco, and then in similar jobs in Australia. After returning to Ireland, I took up a place on an RTE trainee program for production designers. The three-year programme proved to be an incredible on-the-job learning experience. Working mainly on drama and light entertainment shows, I was part of a multidisciplinary team of specialists. I already had some Photoshop and Illustrator experience from college and began learning hard skills like AutoCad in order to work with teams of carpenters, metal fabricators and lighting designers. These specialists require accurate technical drawings to create the sets and build the furniture, as well as ensuring that the lighting creates the appropriate backdrop for filming. I quickly realised I was good at production design; my personality and soft skills helped me get things done efficiently. I'm always working with suppliers, hustling to strike a deal to stretch budgets; it's a high-pressure environment. Then, in the early noughties, I left RTE and went freelance.
What did you learn - during your time at NCAD - that helped prepare you for your career?
A design degree teaches you the process of design and that, in order to do the job professionally, you should be prepared to put the time in. From the initial research, to the development of mood boards, creating detailed specification drawings and 3D models for the team, there's a sequence of steps you must take. All this work requires a process but importantly, it also requires a high level of grit and determination too. My work can be relentless. So, I fall back on my college experience and the endless hours of studio practice that are required.
What sort of research and preparation is required for production design in a TV series like Normal People?
I was invited to pitch for the job with Director Lenny Abrahamson and created several production design mood-boards. My research mainly involved focusing on Irish life; I draw a lot of inspiration from researching Irish photography; the use of lighting and composition in photography is always a significant source of reference in my work. Thankfully, my research was well-received. I was invited back for a second interview, before being offered the job. My experience working in the industry has heightened my intuition and I'm closer to knowing instinctively what will work and what won't.
How did the idea of filming a scene for Normal People at NCAD happen?
My husband, film location manager Eoin Holohan, was struggling to find a perfect location in Dublin for the Swedish Apartment scene. I remembered my days in the old Granary Building as a foundation art student and felt it might make a great location for the shoot. So, we approached NCAD Buildings Manager Nick Andrews. After an initial site visit, I developed an apartment design and specification list not only for my team but for Nick too. NCAD lighting and temporary studio partition walls had to be removed before the film crew moved in during August 2019 to build the set. We even created a fully functioning bathroom that required the installation of a temporary water tank. Working with Nick Andrews and NCAD was a great experience. The set build took less than two weeks, and all filming was completed in two days.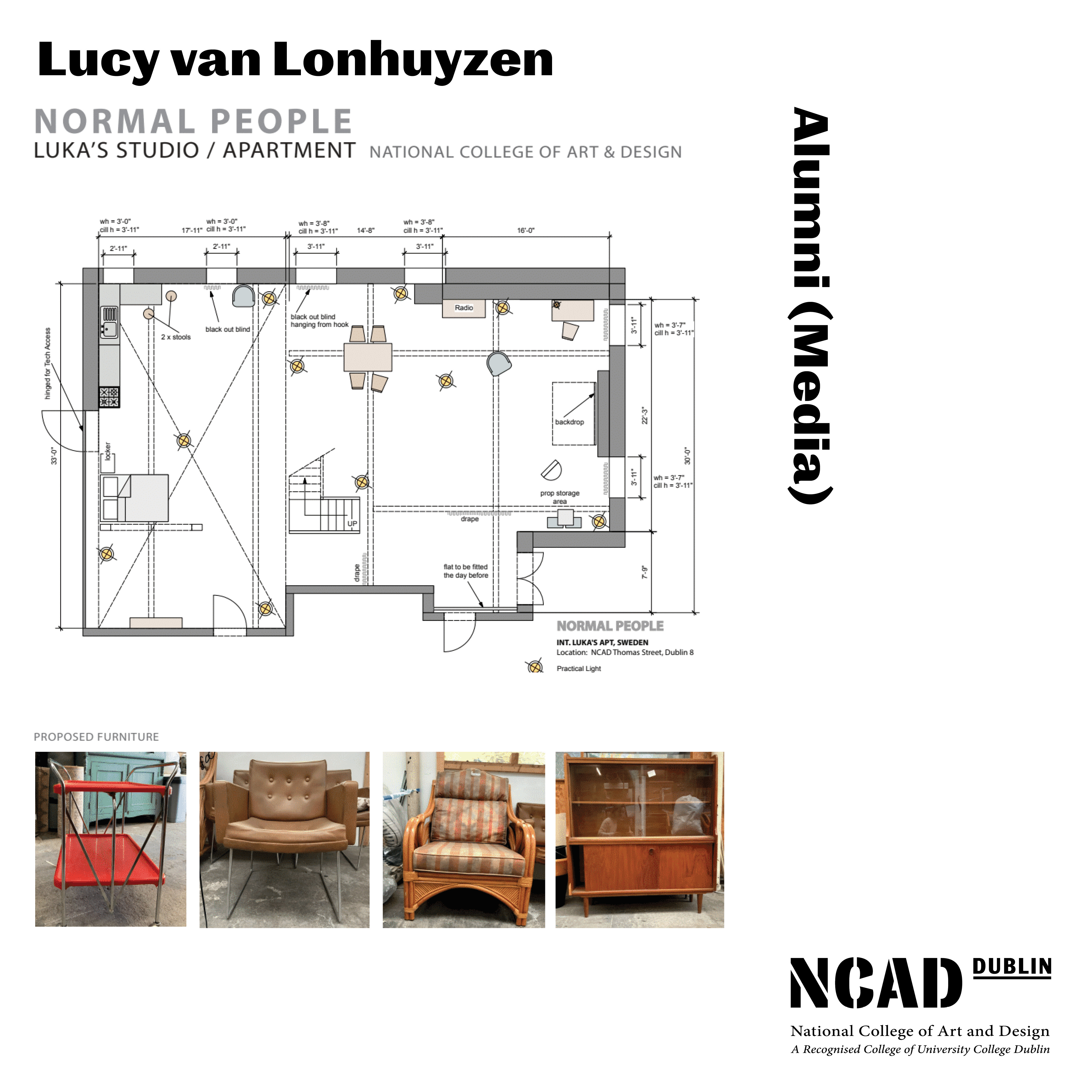 What plans do you have for the future?
Reviews of my production design on Normal People have been really positive, which is exciting. While I wouldn't say the phone is ringing off the hook due to the pandemic, I'm now suddenly receiving calls from overseas. As I work without an agent, this is a breakthrough. Right now, filming on my current job Valhalla has ceased due to lockdown. In the meantime, I'm up-skilling and re-skilling by taking online courses in 3D modelling packages such as Rhino, Vectorworks and Sketchup.
Follow NCAD
NCAD Twitter @NCAD_Dublin
NCAD Instagram @ncad_dublin
NCAD Facebook @NCAD.Dublin
Contact NCAD