Home »
Alumni Stories - Laura Weber
Alumni Stories - Laura Weber
'We are lucky enough to work in a visual business and I think that presents huge opportunities.'
Name: Laura Weber
Current Career: Designer / Owner at LW Pearl Atelier and LW Pearl Brand
Graduation Year: 2012
Discipline: Design, production, textiles
Location: New York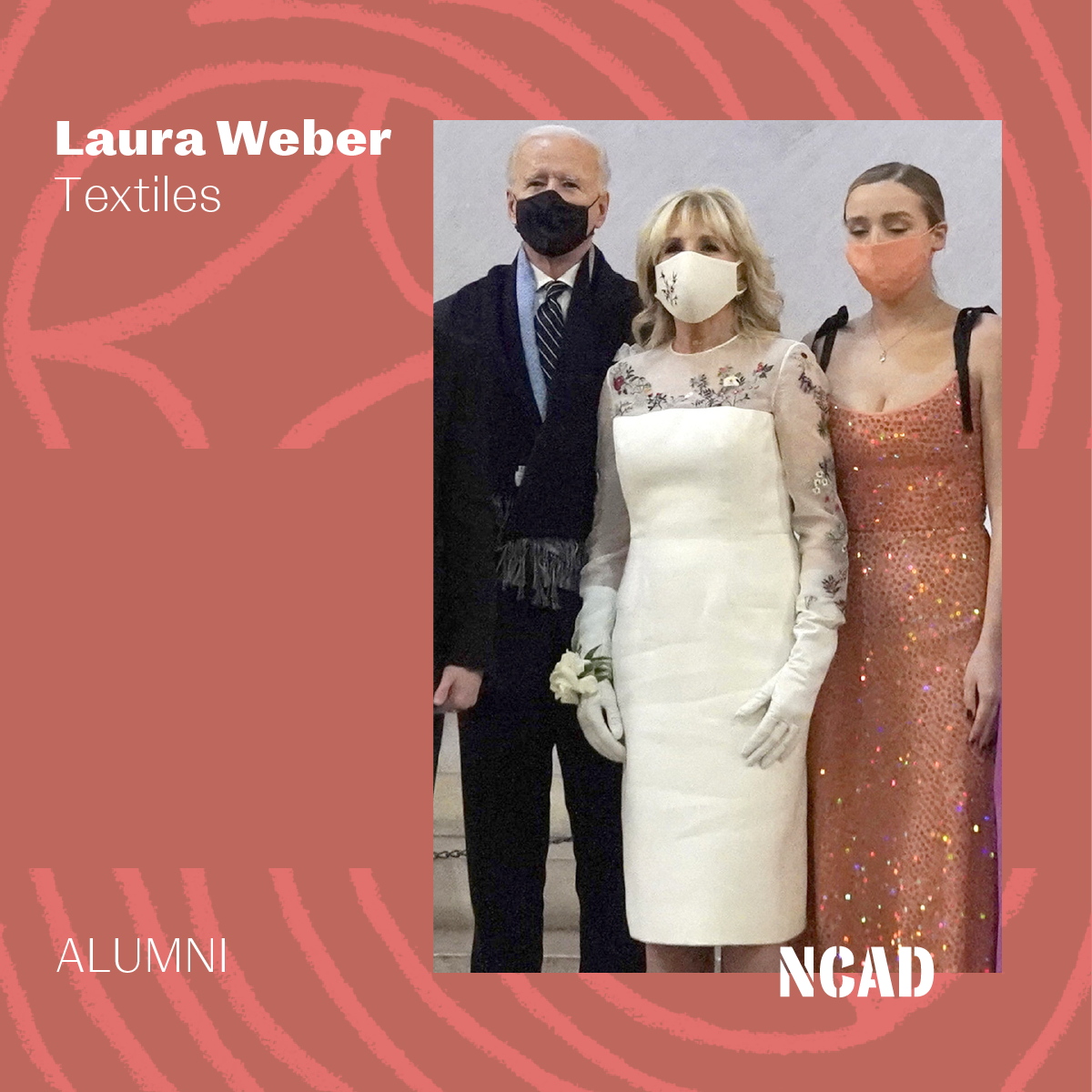 What career path did you want to follow as a child?
As a child, I was always doing crafts and sewing. Like a lot of children, I always loved crafts at school but I also did a lot of my own crafting at home. Luckily, our family childminder was interested in craft too, and she was definitely an early influence on me.
Happily, I now get to work doing what I love every day. How lucky am I?
Why did you decide to study at National College of Art & Design?
It really was a fairly clear choice for me. I knew it would allow me to develop my skills, both creative and business, as well as ensuring I would be able to work in a creative field after graduation. I wasn't sure exactly what I wanted to do but I knew NCAD was the right platform for me to develop my creative talent. Those years gave me the time to develop my creativity, skills, imagination and expression.
How did you develop your career towards your current practice?
During college I got the opportunity to work in London, gaining experience in the business side of design. Primarily, I was working on the business management of London Fashion Week, which I did for four seasons. This work placement gave me valuable training in how to run a business, from project management and working to tight deadlines to marketing and accounts.
Throughout this time, however, I missed the hands-on creativity of designing and making, so I opted for a new business in a new location – New York. I arrived with no job and no home but I was lucky enough to find a job quite quickly in the Garment District. I worked there for almost six years but I always wanted to run my own business, so I branched out on my own and now own and run LW Pearl Atelier and LW Pearl Brand.
Very recently, my company was invited to embroider First Lady Jill Biden's presidential inauguration wardrobe, designed by Gabriela Hearst. This involved embroidering an individual flower for each of the 50 US states. We included a quote from former President Benjamin Franklin on the lining of the First Lady's coat, to acknowledge her role as an influential educator. The quotation said: "Tell me and I forget. Teach me and I remember. Involve me and I learn." We also made a State of Delaware face mask for the First Lady. Eventually, this work will be displayed as part of the First Lady's permanent collection at the Smithsonian Museum.
We have now been in business for over 18 months and I am truly grateful for the incredible experiences I have had so far.
What is the one experience during your time at NCAD that has informed you most in your work to date?
I think working with my amazing peers. We still stay in touch and talk on a WhatsApp group to this day. Design is such a collaborative process. I really learned a lot from my fellow designers and that is still true in my current business. I am lucky enough to have a very talented team of stitchers and embellishers here in New York, which of course has a great legacy in textiles, and we work really hard at bringing the true meaning of collaboration to the next level.
I also learned so much from my lecturers at NCAD – the open and sharing environment there really helped me to prepare for my work life.
If you were chatting with current NCAD students today what is the one piece of advice you would offer?
Follow your curiosity. As designers, we are influenced by so much around us – colours, stories, landscapes and people. I am a naturally curious person and I think this fires my imagination and creative voice. Even when I am on the streets of New York, I try to take my pods out and fully immerse myself in sounds and the visual environment.
Given the global turmoil and change accelerated by the COVID-19 pandemic, what in your opinion are the opportunities for those in creative industries?
We are lucky enough to work in a visual business and I think that presents huge opportunities. I am more active digitally – on social media, planning my website and working on video content. No matter our budgets, we can all make 20-second videos of our work or work-in-progress to show a client or potential client. This presents great opportunities for Irish designers and creatives to show their work, get inspiration or find talent – all online. It's a very exciting time in design.
Portfolio Links:
Instagram @lwpearl
Follow NCAD
NCAD Twitter @NCAD_Dublin
NCAD Instagram @ncad_dublin
NCAD Facebook @NCAD.Dublin
Contact NCAD