Home »
Alumni Stories - Laura Caffrey Irish Design Shop
Alumni Stories - Laura Caffrey Irish Design Shop
'The core year really appealed to me, with the opportunity to try out several different disciplines before deciding on which field to specialise in'.
Name: Laura Caffrey
Current Career: Craft retailer and designer/maker.
Graduation Year: 2002
Discipline: Metalwork
Location: Dublin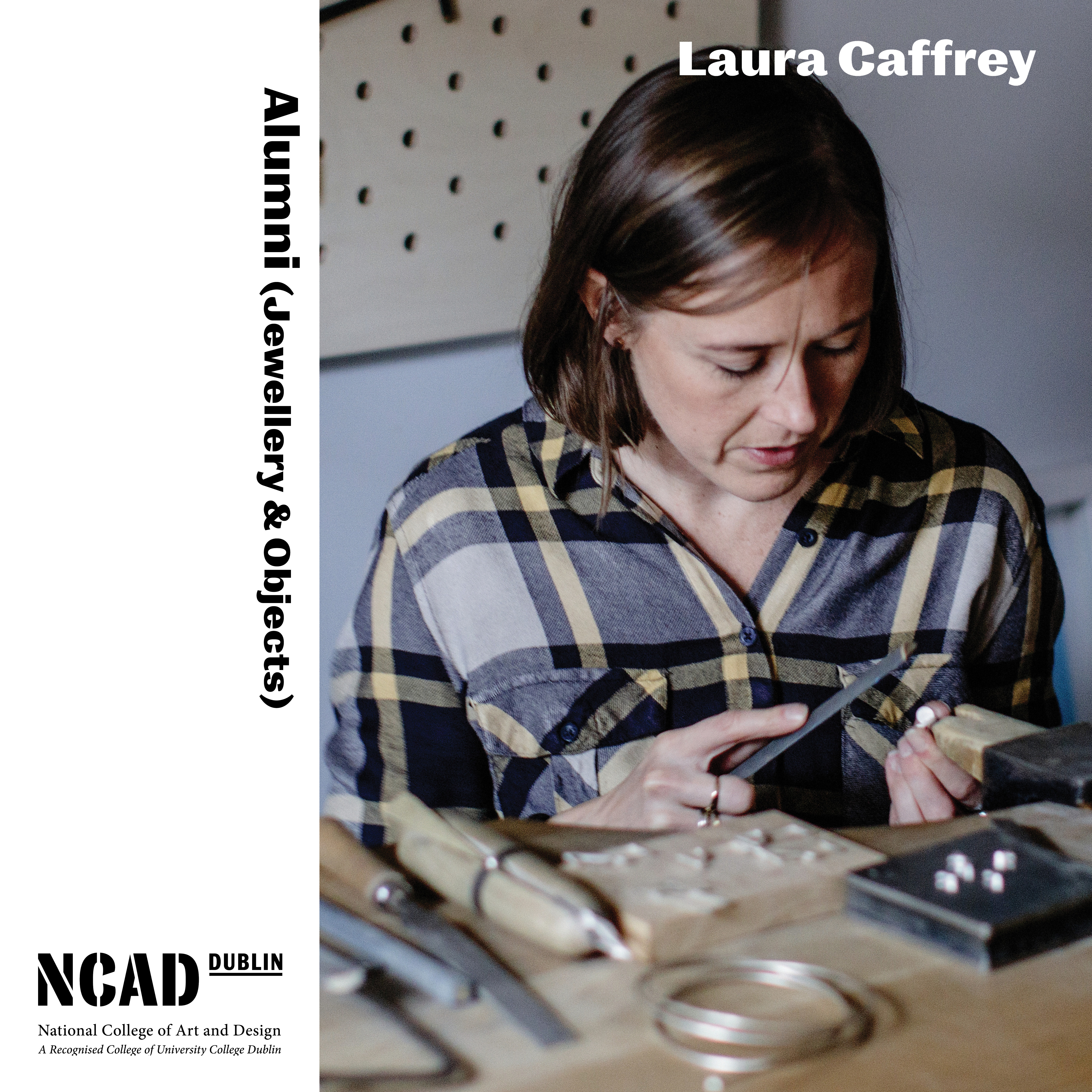 We caught up with Laura Caffrey, NCAD graduate and co-founder (with Claire Grennan) of the Irish Design Shop, to chat about her business and career.

What career path did you want to follow as a child?
I always wanted to be an artist as a child; I thought it looked like the most wonderful thing to spend your days painting pictures. My parents encouraged my creativity, and I was lucky to attend creative summer camps at Pine Forest in the Dublin mountains, where I also completed a portfolio course, surrounded by the rolling hills, and immersed in nature.
Why did you decide to study at National College of Art & Design?
NCAD was always my first choice as it was considered the best art college in the country. My parents were not convinced that there was a career path to be made from art though, so all my other options were for practical business courses. The core year really appealed to me, with the opportunity to try out several different disciplines before deciding on which field to specialise in. Coming from an all-girls school with little opportunity to experiment with woodwork or metalwork, I didn't know anything about the medium I ended up working in.
How did you develop your career towards your current job / practice?
The development of my career was pretty organic. On leaving college, I applied for many jobs in the fields of jewellery, design and metalwork, with no success. There didn't seem to be as many opportunities as there are these days, and only a small pool to choose from. So, I got a job to pay the bills. I invested in some small hand tools and a workbench, and started making my own jewellery, experimenting with materials and techniques. There were a few small craft markets popping up around the city at the time, so along with a couple of other graduate friends we started selling our work directly to customers, learning on the job what worked and what didn't.
We set up a workshop in a shared studio space, investing in tools and equipment together, sharing and learning new skills from each other, from books or attending workshops. Between the studios and the markets, we were immersed in a creative community, none of whom had a platform to sell their work commercially. This inevitably led to the establishment of Irish Design Shop.
What is the one experience – during your time at NCAD – that has informed you most in your career / work to date?
It was the people I met at NCAD, rather than any one experience, that has informed my career. From the tutors and visiting lecturers who I found inspirational, to the friends I made there, not least Clare (Grennan) who ended up being my business partner (read Clare's alumni story here). I was not always the best student, and certainly not the top of my class, but the support we received after graduating helped us get established and meant we never lost touch with that community.
If you were chatting with current NCAD students today, what is the one piece of advice you would offer?
Take full advantage of all the opportunities and amenities that are available to you during your time at the college, and most of all, enjoy it.
Given the global turmoil and change, accelerated by the COVID-19 pandemic, what – in your opinion – are the opportunities for those in creative industries?
There are so many opportunities available to people in creative industries these days, many that have come out of the pandemic. There are new ways to show your work and to reach a much wider audience through the internet; and new platforms are allowing creatives to earn an income, going back to the age-old tradition of patronage.
Being creative in today's world is necessary, and employers are more willing to hire a creative person who can think outside the box in more diverse careers. A creative career might not necessarily lead to being a fine artist.
Portfolio Links:
Follow NCAD
NCAD Twitter @NCAD_Dublin
NCAD Instagram @ncad_dublin
NCAD Facebook @NCAD.Dublin
Contact NCAD