Home »
Alumni Stories - Kitsch Doom
Alumni Stories - Kitsch Doom
'My film, 'The Clothes Wear You' has won four awards for best experimental film in New York Film Awards, Los Angeles Film Awards, Festigious Los Angeles and FilmCon. and I'm thrilled to be able to say that!'
Name: Kitsch Doom (Isabella Delaney)
Discipline: MFA Fine Art - Media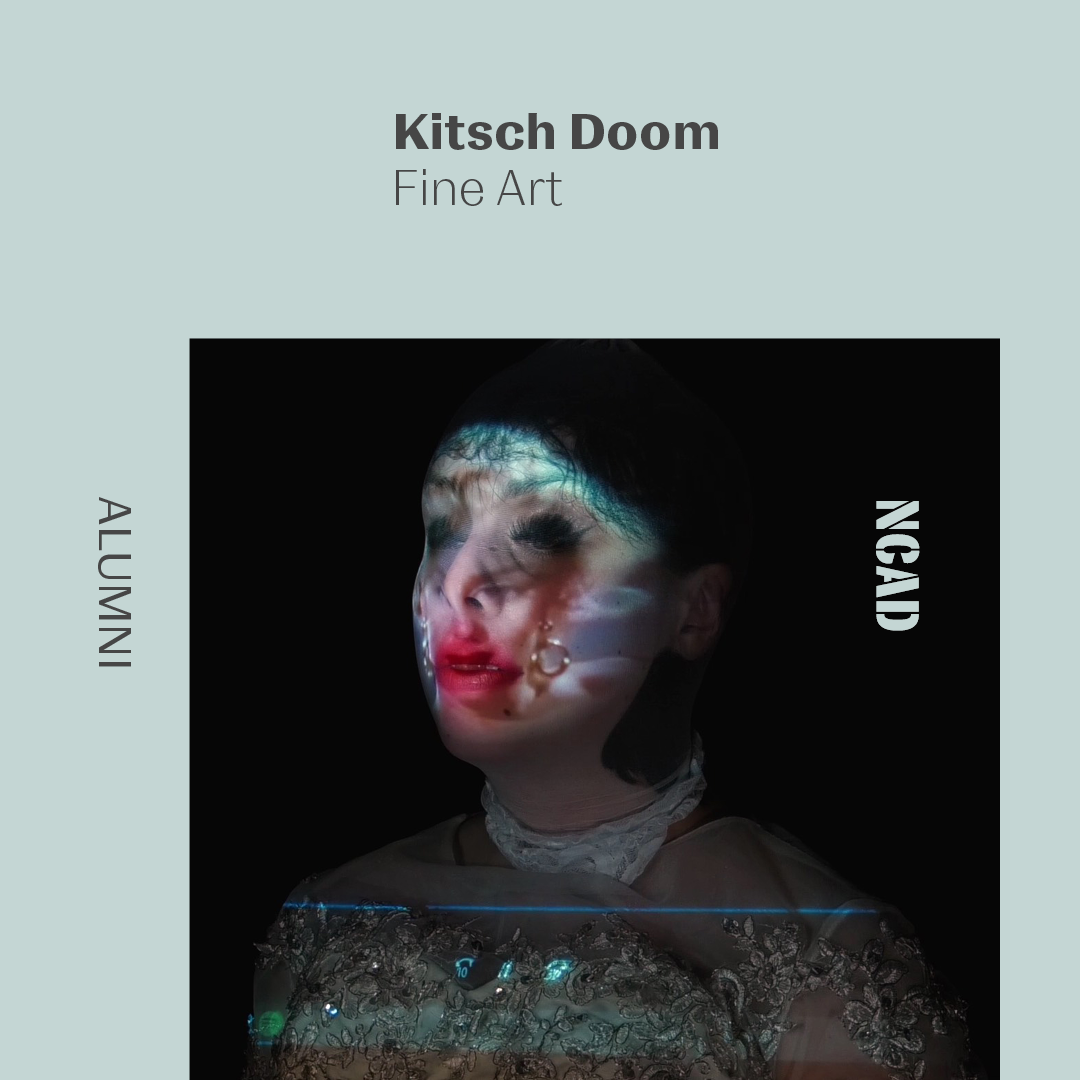 What career path did you want to follow as a child?
As a child I always knew that I wanted to be an artist. Creating characters was something I always did. I loved to make people laugh and to pretend to be someone or something else. Transporting others and myself into another reality for a while was so freeing. Through my art I've come to realise the truest form of yourself is really who you were as a child. It's so important not to forget that.
Why did you decide to study at National College of Art & Design?
I always had the dream to be an artist. I always heard great things about NCAD and I knew a lot of very talented artists had studied there. I wanted to go to a college that would push me to be the best artist that I could be. I also wanted to meet other talented creatives to connect with and collaborate with.
I tried to get into NCAD for fine art three times and finally got in the third time. I guess I couldn't take no for an answer! After all that, I'm proud to say that I finished my bachelor's degree with a First-Class Honours.
In June 2020, you won Best Experimental Short at the Top Shorts Film Festival, New York for your film "The Clothes Wear You" – a video performance featuring your character Meryl Daze. How work did that particular work develop?
"The Clothes Wear You" has won four awards for best experimental film in New York Film Awards, Los Angeles Film Awards, Festigious Los Angeles and FilmCon. and I'm thrilled to be able to say that! I'm glad that I took the leap to apply for film festivals during this time.
This particular piece of work started out with the search of a new character. I had just finished my BA and was straight into an MFA at NCAD. I wanted to make a new character that represented how traditional roles and expectations can almost steal or mask parts of our identity. So I thought up the character who stars in the film, Meryl Daze. Meryl is a hybrid of a bride and a burglar. I also wanted Meryl to be like a living version of one of my prints. For my BA I studied printmaking and made large prints combining different printing techniques, like digital printing, lino printing, copper etching and water colour. My prints show a layering of identity. I start with a digital print of an old Hollywood actor that represents the origin of archetypal characters seen in the media. So, Meryl's character is based off of Marilyn Monroe and she dreams to be like her. That's where the idea to collage Meryl's face and Marilyn Monroe's using projection came about, it all started with the multi-layered prints as a foundation.
How did you hear about the opportunity to enter your work in the Top Shorts Film Festival and how do you keep up to date on other opportunities like this?
I always check out the VAI website for jobs and opportunities. Instagram is great as well, in fact, most of my opportunities to collaborate have come via social media. I am also constantly searching online for opportunities in Ireland but also internationally. I stumbled upon the website Film Freeway which is a great website for filmmakers who'd like to submit their work to various film festivals.
What is the one experience at National College of Art & Design that has informed you most in your career preparation and work to date?
I chose to do the joint Critical Cultures course during my BA. I learned so much theory at these extra classes, that continue to inform my practice today. Especially, Denis Kehoe's seminars on drag and gender. These classes created a huge turning point in my work. His seminars were the reason why I started to dress in drag and started to make characters of my own to do with gender stereotypes. It was a real-life lightbulb moment. If I never went to his classes, I'm not sure what my art would look like now or what I would be doing instead. Learning about drag and gender in depth for the first time, and simultaneously learning the layering process of printmaking turned out to be the exact combination I was searching for in my work.
If you were chatting with current NCAD students today what is the one piece of advice you would offer regarding their work?
This time is precious. What you get out of college, is what you put into it. If you're serious about becoming an artist then you have to be willing to put the work in. And not only that, but you also need drive and a way to keep that momentum.
Be confident and believe in yourself. Don't compare yourself or compete with others, compete with yourself and be the best you can be. Don't take other's opinions of your work to heart, just take what you need from them. Never give up creative control.
Portfolio Links:
https://www.instagram.com/kitschdoom/
Follow NCAD
NCAD Twitter @NCAD_Dublin
NCAD Instagram @ncad_dublin
NCAD Facebook @NCAD.Dublin
Contact NCAD