Home »
Alumni Stories - Keith Fitzsimons
Alumni Stories - Keith Fitzsimons
'I owe my current job to the choice of topic for my major project. I put a lot of time into deciding on my topic, and even switched a few times. But in hindsight, I'm glad I gave it the deliberation it deserved.'
Name: Keith Fitzsimons
Current Career: UX/UI Designer
Graduation Year: 2020
Discipline: Product Design
Location: Dublin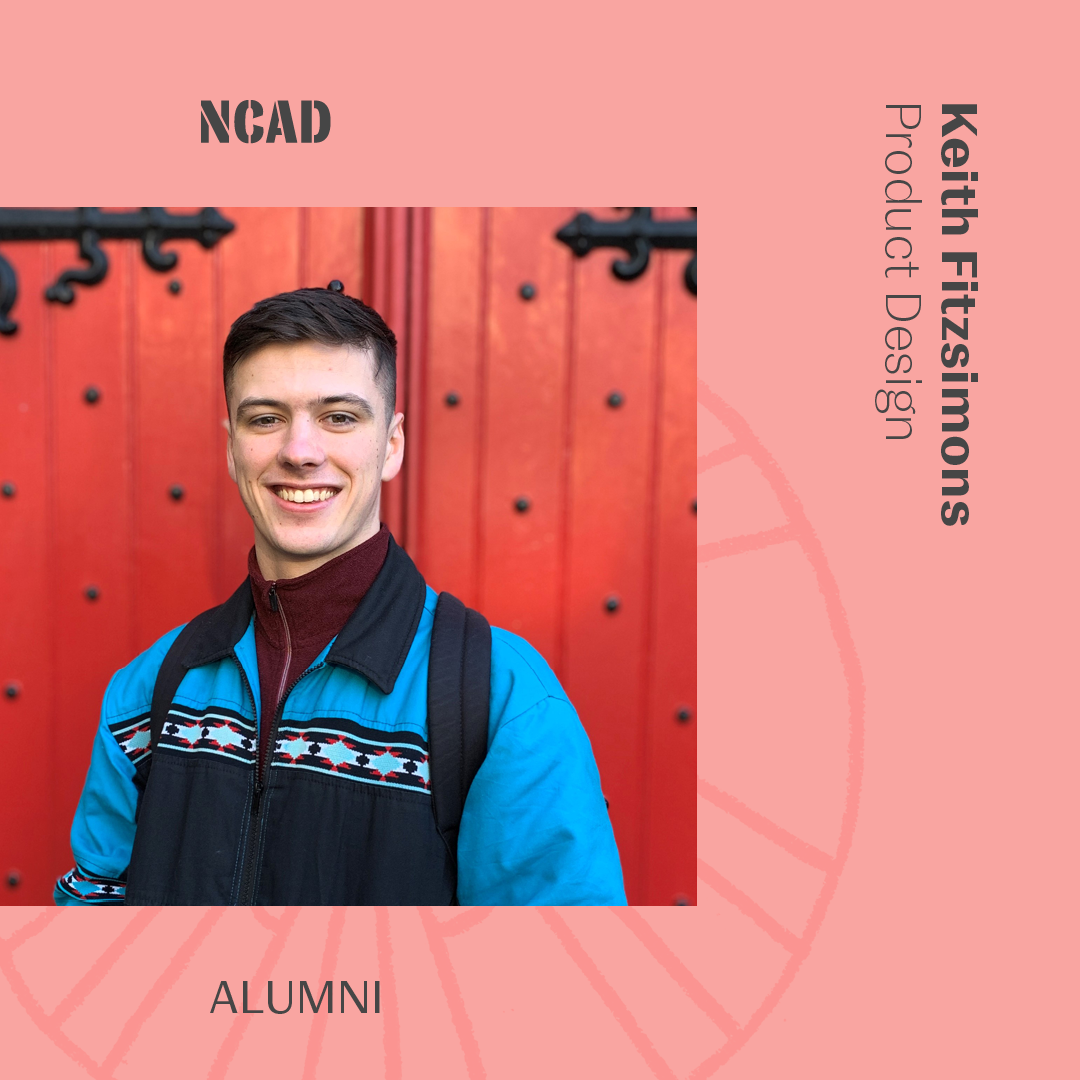 What career path did you want to follow as a child?
I always struggled to think what I wanted to be when I grew up. I loved drawing and making things as a kid, but never saw myself as an artist at all. My brother is an architect and my grandad was a carpenter, so these two disciplines always interested me somewhat. Once I found out about product design, I knew it was what I wanted to do.
Why did you decide to study at National College of Art & Design?
I spoke to product design tutor Caoimhe McMahon at a small stall at a UCD open day, and this was the first time I realised product design even existed as a course or profession. It was exactly what I was looking for; a practical and hands-on course that was more about creating than sitting in a lecture hall. I then went to an open night the following week. I had never seen NCAD before that, and the energy and feel around the college sealed the deal for me. The close-knit feel of the NCAD campus really appealed to me.
How did you develop your career towards your current job?
I owe my current job to the choice of topic for my major project. I put a lot of time into deciding on my topic, and even switched a few times. But in hindsight, I'm glad I gave it the deliberation it deserved. I chose to design for people with cystic fibrosis, as I always loved projects that had a medical focus throughout my time in NCAD. As I was wrapping up my major project, I began applying for jobs, and one of the tutors, Enda O'Dowd, had told me about a company who were creating remote monitoring solutions for people with respiratory diseases like CF, called patientMpower. I contacted the company as I thought I could be a good fit, considering the subject of my project. Thankfully they took me on, and it has been a fantastic experience so far. I encourage others to pick something they're interested in for their major project, and then look for companies that are doing similar work.
What is the one experience during your time at NCAD that has informed you most in your work to date?
There's no specific moment, so I'll say Studio +. I was part of the NCAD Design Bureau for Semester 1; and I went on Erasmus to Willem de Kooning Akademy in Rotterdam for Semester 2. I learned a massive amount from both experiences. The range of client projects in the Bureau helped me realise what I liked doing as a designer and where my strengths and weaknesses lie. The Erasmus exposed me to the high standard of work abroad, new skills and the different way that design is taught in the Netherlands.
If you were chatting with current NCAD students today what is the one piece of advice you would offer?
Try something new with every project. Not like a radically different approach or anything; but try to learn to make a promo video for your project, for example. Then for the next one, learn to make an animation of it, or a new rendering software, and so on.
Given the global turmoil and change accelerated by the COVID-19 pandemic, what in your opinion are the opportunities for those in creative industries?
There's nothing we can do to make any of this suddenly disappear, so try to be as adaptable and creative as you can be until it does. At one stage during lockdown, I was making models for my major project out of potatoes and fondant. It actually helped me in my form development, so do what you have to do during these wild times to continue making cool stuff!
Portfolio Links:
https://keithfitzsimons.myportfolio.com/
Awards:
Nominated for IDI graduate awards in three categories.
James Dyson Award National Runner-Up
Highly Commended Global Undergraduate Awards in Architecture and Design Category
Shortlisted at Global Design Graduate Show
Follow NCAD
NCAD Twitter @NCAD_Dublin
NCAD Instagram @ncad_dublin
NCAD Facebook @NCAD.Dublin
Contact NCAD