Home »
Alumni Stories - Kaz OConnell
Alumni Stories - Kaz OConnell
'My time at NCAD equipped me in a myriad of ways. I learned how to problem solve and research; I learned how to defend and explain my work. I learned how to think creatively and critically…Crucially I learned resilience.'
Name: Kasandra O'Connell
Current Career: Head of the IFI Irish Film Archive, Irish Film Institute
Graduation Year: 1991
Discipline: Fashion
Location: Dublin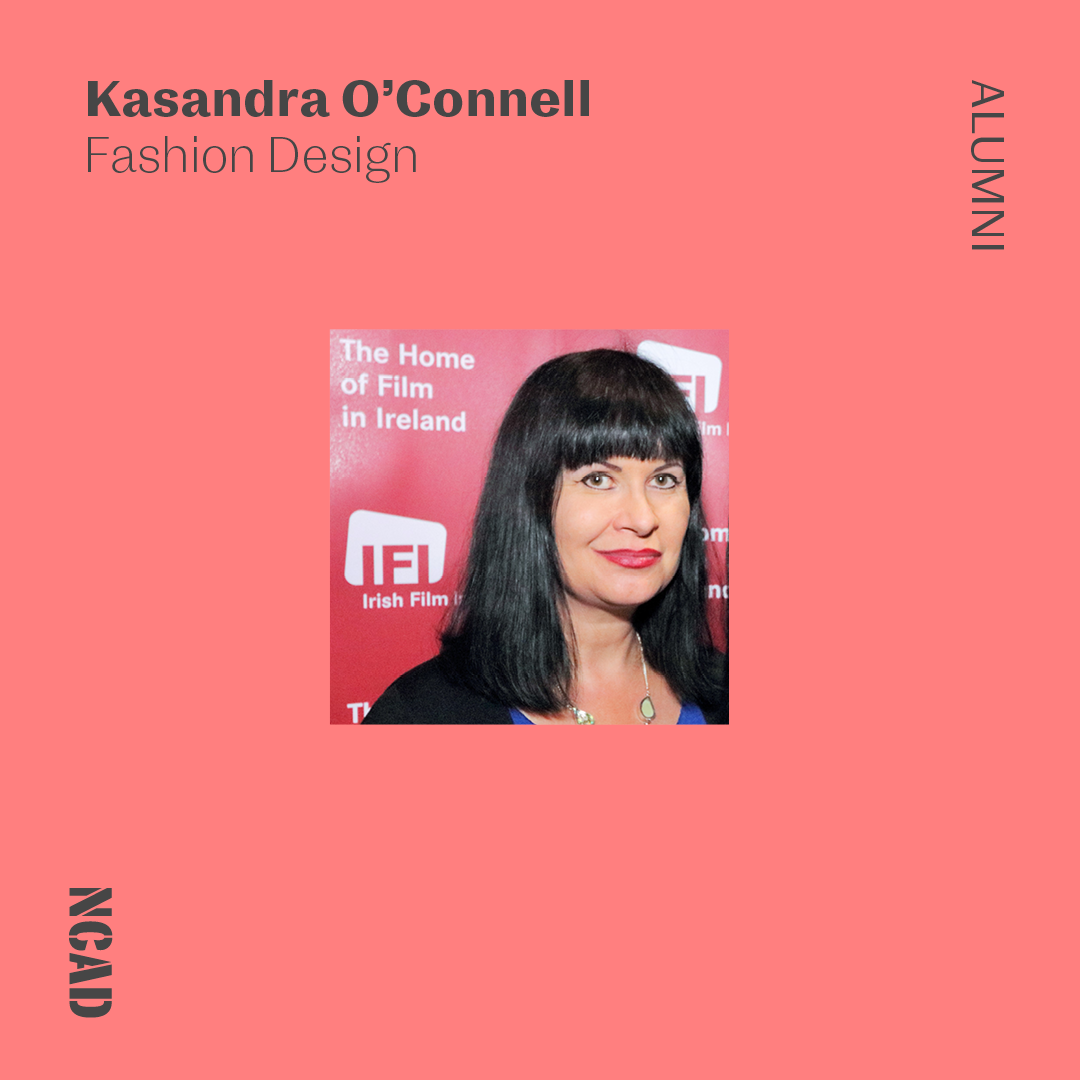 What career path did you want to follow as a child?
I always loved writing and drawing, so initially as a child I wanted to be a writer or illustrator. By the time I reached my teenage years I had no doubt that I wanted to work in fashion, as a designer, stylist or illustrator.
How have you ended up in your current job?
I graduated from NCAD during a recession and unlike many of my classmates, I didn't want to emigrate. After a few years working as a freelance designer and making and selling my own designs, I did a media studies course. We were required to do work experience and as I was interested in fashion and textiles, my tutor suggested the textile department of the National Museum. I went in on a six-week work experience and ended up staying in a variety of roles for five years. During that time, I realised I loved the collections management side of working with objects, but also wanted to be able to make collections accessible. I got further qualifications in museum studies and archiving, and after a brief stint managing a digitisation project in the National Archives, I got my current job in 2000.
What is the one experience – during your time at NCAD – that has informed you most in your work to date?
I don't think there is one experience I can point to, my time at NCAD equipped me in a myriad of ways. I learned how to problem solve and research; I learned how to defend and explain my work. I learned how to think creatively and critically, and I learned how to work to deadlines and be disciplined. Crucially I learned resilience. The fashion design department in the 1980s was very competitive and pressurised. Learning how to take criticism onboard and develop a tougher skin was a good lesson.
If you were chatting with current NCAD students today, what is the one piece of advice you would offer?
Be open to all parts of your NCAD education, even if you can't see a class's current relevance. I had no idea that my film studies and other 'complementary studies' classes would play such a large part in my career path. Try not to have a preconceived idea of where your course might lead you. I realised about halfway through my degree that I probably didn't want to be a fashion designer after all, which could have been very discouraging. But the skills and experience that I gained during my time at NCAD and the influence of people like Tony Fitzmaurice, Hilary O'Kelly and Nicola Gordon Bowe certainly prepared me for my current career.
Portfolio Links: www.ifiplayer.ie https://ifi.ie/archive
Follow NCAD
NCAD Twitter @NCAD_Dublin
NCAD Instagram @ncad_dublin
NCAD Facebook @NCAD.Dublin
Contact NCAD