Home »
Alumni Stories - Jonathan Theobald
Alumni Stories - Jonathan Theobald
'Bureau+ was definitely one of the most defining moments of my four years at NCAD. Working directly with clients allowed me to implement the skills I had built up to that point.'
Name: Jonathan Theobald
Current Career: Product Design / Illustration
Graduation Year: 2020
Discipline: Product Design
Location: Dublin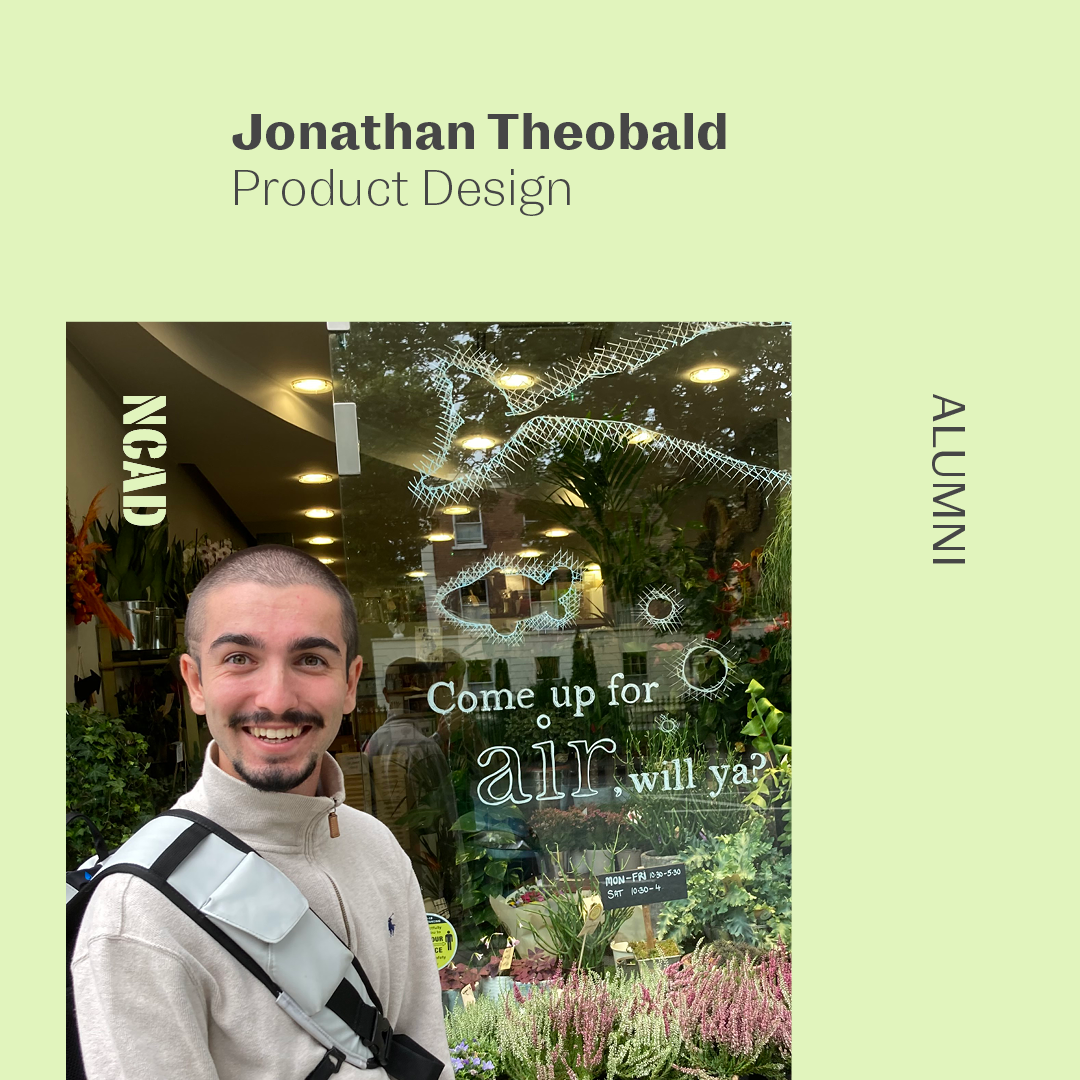 What career path did you want to follow as a child?
As a kid, I had many interests, but the idea of being an inventor or animator fascinated me. Having the power to turn an idea into reality and share it with others seemed so exciting.
Why did you decide to study at National College of Art & Design?
Seeing students collaborate across the studios, between different disciplines of art and design made it easy to choose NCAD. I was really interested in the conceptual perspective I could learn and introduce in my work, which was something I couldn't find in other colleges.
How did you develop your career towards your current practice?
Being open and embracing ideas and concepts from all sources was a really big help. Having this positive approach helped to keep my curiosity and motivation going even during difficult and challenging project hurdles. The rest all followed and fell into place.
What is the one experience during your time at NCAD that has informed you most in your work to date?
Bureau+ was definitely one of the most defining moments of my four years at NCAD. Working directly with clients allowed me to implement the skills I had built up to that point. It really pushed me to work at a professional standard and gave me the confidence to feel like I had gained some real-world experience going into internships and my final year.
If you were chatting with current NCAD students today, what is the one piece of advice you would offer?
Keep your eyes wide open all the time and accept any opportunities when they come up. If you can have a positive attitude going into these situations, you can definitely discover something of interest for now, or in the future.
Given the global turmoil and change accelerated by the COVID-19 pandemic, what in your opinion are the opportunities for those in creative industries?
I think it would be worthwhile looking at how your creative process can adapt and implement itself against big unforeseen changes, such as what we have experienced. I believe it's something that we will come up against again in the near future.
Portfolio Links:
@Goujjon
Follow NCAD
NCAD Twitter @NCAD_Dublin
NCAD Instagram @ncad_dublin
NCAD Facebook @NCAD.Dublin
Contact NCAD