Home »
Alumni Stories - John Fogarty
Alumni Stories - John Fogarty
'I heard that NCAD was a college that allowed for individuality and helped students reach their goals. They had an excellent Visual Communications course and the college was also in the heart of Dublin'.
Name: John Fogarty
Current Career: Graphic Designer
Graduation Year: 2016
Discipline: Visual Communications
Location: Kildare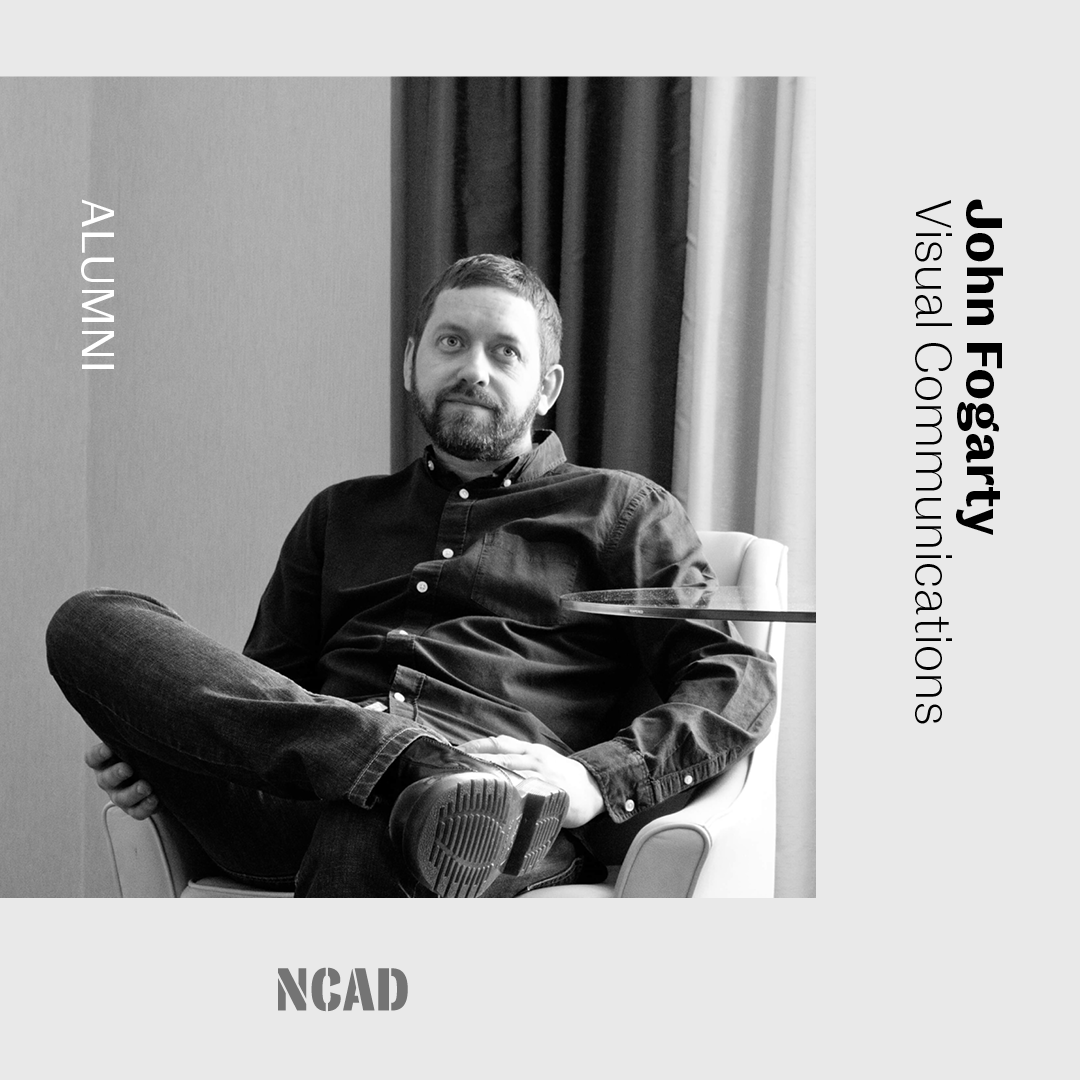 What career path did you want to follow as a child?
Growing up, I gravitated towards art as my favourite subject, in and out of school. I wanted to be an artist.
Why did you decide to study at National College of Art & Design?
I heard that it was a college that allowed for individuality and helped students reach their goals. They had an excellent Visual Communications course and the college was also in the heart of Dublin.
How did you develop your career towards your current practice?
During the last recession I found myself without any qualifications. This meant I had no edge when it came to interviewing for new jobs. Furthering my education seemed like my best option, so I spent two years studying Graphic Design in Ballyfermot College of Further Education, and then went in advanced entry to year two, of a four-year Visual Communications degree, in NCAD.
After graduating, I began searching for a job that intrigued me. I began working for a company called CarveOn as their in-house Graphic Designer. This opened up new work challenges such as product design and photography. After three years I felt it was time to begin the next step in my career and I began looking for a new job. I am still looking at present. Fortunately, with the experience I have gained, I now know what jobs will give me the opportunities I am aiming for.
What is the one experience – during your time at NCAD – that has informed you most in your career to date?
It would be hard to narrow down one experience that informed me most towards my career. Each day in college I would learn something new. Each lecture in history would inform my approach to any new projects in the studio. Each tutor would help me advance my ability and skills through their focused projects. I found my practice developed by being really engaged in my college work and life.
One significant project I took on came through NCAD Origin8 - they project manage NCAD client research projects and consultancy services. NCAD Origin8 gave me the opportunity to get paid work experience for several months as a graphic designer working for the Rediscovery Centre in Ballymun. Rediscovery Centre had attracted a €4 million Wiser Life grant to renovate the Ballymun Boilerhouse facility into the National Centre for the Circular Economy. They needed to update their existing brand identity. My interest was in creating a unique typeface for the Rediscovery Centre. The typeface I created is called Wiser. Rediscovery Centre used it in all their wayfinding signage throughout their new building. This real-world work experience really helped my typographic skill.
It is an accumulation of experiments and findings that help inform your knowledge base and lead your career choices.
If you were chatting with current NCAD students today, what is the one piece of advice you would offer?
Ask your tutors and peers as many questions as it takes to help you grasp what you are trying to learn. There are no stupid questions. At some point in the future you will be searching for answers to something that is holding you back, and you will wish you asked when you had a chance.
Also keep your notebooks and those answers safe, they come in handy years later.
Given the global turmoil and change, accelerated by the COVID-19 pandemic, what – in your opinion – are the opportunities for those in creative industries?
Creative people are skilled at problem solving and self-motivated to produce the work they want to develop. In times of turmoil such as this, it is often creative people who begin new startups and open their own studios. Sometimes you need to look to create a job for yourself.
With regard to COVID-19, a whole new set of challenges have opened up in a wide range of businesses. This means for designers we have a chance to problem-solve. From fashion to way finding, there is a creative person working to make a positive change.
Portfolio Links: makingshapes.ie
Follow NCAD
NCAD Twitter @NCAD_Dublin
NCAD Instagram @ncad_dublin
NCAD Facebook @NCAD.Dublin
Contact NCAD