Home »
Alumni Stories - Jen Donnery
Alumni Stories - Jen Donnery
'Following my graduation from NCAD, I was given the opportunity of a solo exhibition. I was also delighted to be shortlisted for the DCCI Future Makers Awards, in the Student & Recent Graduate category.'
Name: Jen Donnery
Current Career: Ceramic Artist
Graduation Year: 2020
Discipline: Fine Art, Ceramics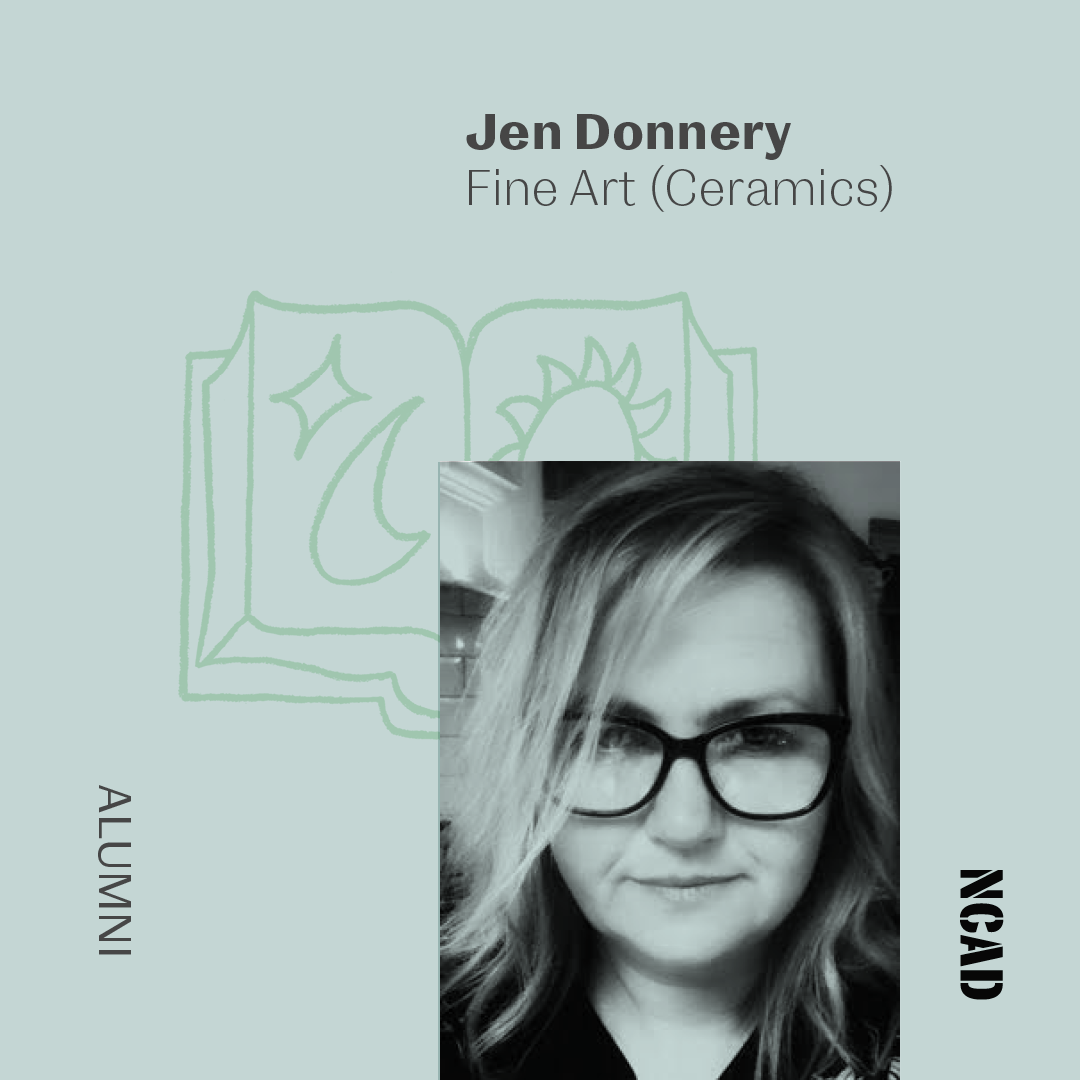 What career path did you want to follow as a child?
I spent a great deal of my childhood drawing, and a move to London in my early teens prompted an interest in theatre design - of costumes and sets. On reflection, my early constructions of cardboard theatres and dolls' houses may have been my first explorations of 3D work! I was also very keen on fashion Illustration. Art was always my favourite subject at school, but it was only later in life that I found it again, and, having raised my family I returned to education. This was a turning point in terms of understanding the possibilities of a career in art.
Why did you decide to study at National College of Art & Design?
I was completely taken with the atmosphere at NCAD; I just felt it was where I belonged. I hadn't seen myself undertaking a degree course, but it felt like a natural progression from my post leaving certificate studies in art, craft and design. My QQI qualifications enabled me to achieve a direct entry place in year two of my chosen course, through a digital portfolio submission and interview process.
I visited the college on several occasions; attending graduate shows, open days and portfolio sessions, and each time I received encouragement and advice from tutors, admissions staff and students. Their feedback confirmed for me that the resources and technical support needed to progress in my chosen field would be available, and there was a real positivity and friendliness expressed by the students I met in ceramics and glass.
How did you develop your career towards your current practice?
During my time at NCAD, I attended every workshop and lecture I could, and very often these revealed practical advice from established artists and curators. Sometimes I received individual tutorials with visiting lecturers, which was invaluable to me. My tutor placed a strong emphasis on the importance of professional practice and development, and throughout our training, there was a strong focus on acquiring the practical knowledge necessary to establish a studio practice after leaving college.
Following my graduation from NCAD, I was given the opportunity of a solo exhibition. I was also delighted to be shortlisted for the DCCI Future Makers Awards, in the Student & Recent Graduate category, which has already provided my work with great exposure within the visual arts community.
I plan to pursue the development of my most recent body of work while expanding my studio space through applications for grants and residencies.
What is the one experience during your time at NCAD that has informed you most in your work to date?
The most outstanding aspect of my time at NCAD has been the many talented artists I have been so fortunate to encounter; from my tutors and visiting lecturers, to my peers and technical support staff. Their advice and support genuinely remains with me, as I continue to develop my practice.
If you were chatting with current NCAD students today what is the one piece of advice you would offer?
Make work that means something to you, about subjects which sustain your own personal interest. Take full advantage of the resources available to you and enjoy your time at NCAD; make the most of the experience and talk to your peers. Some of the most rewarding learning comes from collaborating with those around you.
Given the global turmoil and change accelerated by the COVID-19 pandemic, what in your opinion are the opportunities for those in creative industries?
Research shows that creative skills will differentiate people from machines in the age of automation. Diverse ideas have set apart great organisations in the past. Creativity has become a skillset for the workforce of the future, and opportunities exist for artists and creatives to provide solutions for the complex problems facing organisations and to implement societal change.
While the speed of technological change is rapid, technology itself is only an enabler for creative ideas …to help us to problem solve through collaborative thinking.
Portfolio Links:
https://ncad.works/graduates/jen-donnery
Follow NCAD
NCAD Twitter @NCAD_Dublin
NCAD Instagram @ncad_dublin
NCAD Facebook @NCAD.Dublin
Contact NCAD