Home »
Alumni Stories Jane Cope
Alumni Stories Jane Cope
"...the real world teaching and learning opportunities and experiences I gained during my degree had really helped me to stand out..."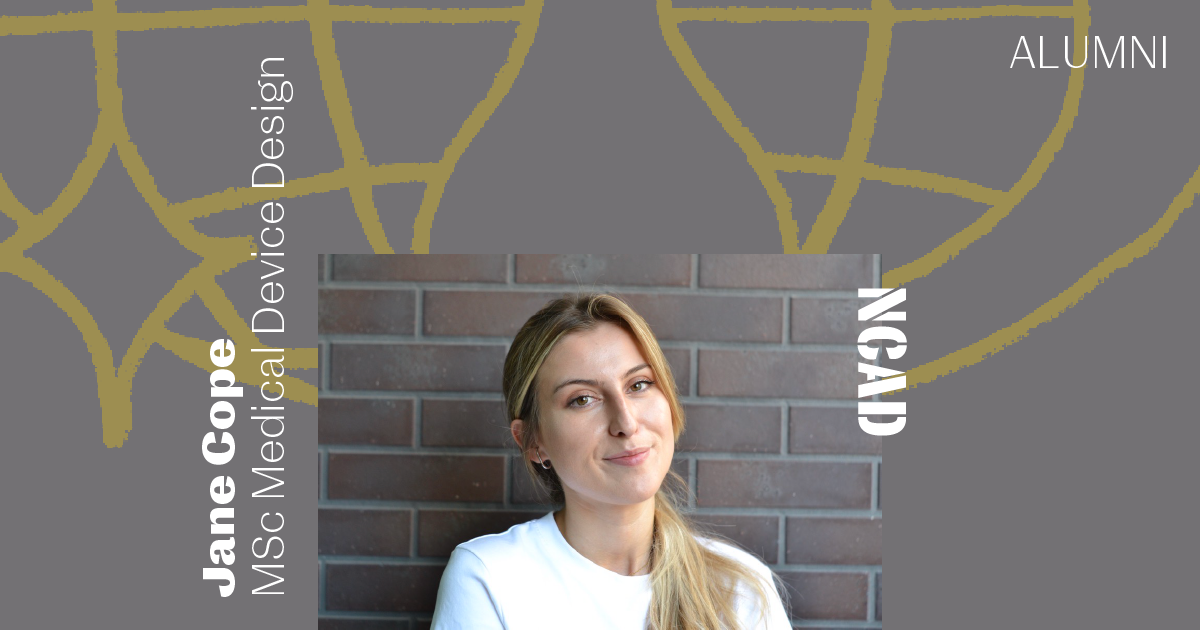 Name: Jane Cope
Current Career (Field): Medical Technology
Graduation Year: 2017
Disciplines: Product Design BA (Hons), Medical Device Design MSc
Location: London
What career path did you want to follow as a child?
As a child who loved animals, I wanted to be a Veterinarian. However, as I progressed through secondary school that changed and I didn't know what I wanted to do, which was a bit stressful. I'm glad I didn't really know, as the job I'm doing now didn't exist then.
Why did you decide to study at National College of Art & Design?
NCAD was recommended to me as the best college to apply to. I created my portfolio with an art teacher in Roscommon named Stephanie Cuddy Cullen who also suggested NCAD to me. She gave me great guidance through the required NCAD portfolio brief. Also, the NCAD location in the centre of Dublin was very appealing.
How did you develop your career towards your current job or practice?
I first completed an undergraduate degree in my Product Design. After graduation, I found it challenging to decide on what exactly I wanted to do. So, I decided to apply for the Medical Device Design masters. I was interested in Biology throughout school and thought it would be interesting to combine that with my design experience. It was a formative year for me because I learned so much. I polished up on all the design research skills and approaches that I had learned during my Product Design degree.
I am always proud to say I got the first job I applied for after graduating with am MSc in Medical Device Design. The job aligned completely with my thesis on surgical training. It suited me perfectly. The job post was shared on LinkedIn by an NCAD alumnus. I was lucky to have found the job opportunity. Networking pays off.
What is the one experience during your time at NCAD that has informed you most in your career and work to date?
Throughout the Medical Device Design masters course we had the chance to work alongside medical professionals and industry leaders. I particularly enjoyed working alongside a Plastic Surgeon named Leonie Heskin, at Royal College of Surgeons Ireland. She was a great tutor and one of the reasons I decided to work on surgical training for my thesis. Working with her was an opportunity to build my user research skills. I attended some of her classes, as well as observing and analysing her approach to surgical procedures.
When I was job hunting, I discovered that the real world teaching and learning opportunities and experiences I gained during my degree had really helped me to stand out from the rest of the candidates when I was interviewed for the job I have now.
If you were chatting with current NCAD students today what is the one piece of advice you would offer?
If you're struggling to decide on what you want to do after your undergraduate degree it may be worth your while to consider doing a masters. During my Medical device Design masters we had the opportunity to try out lots of new projects. This helped me to narrow down what I was most interested in.
If you're not keen on doing a masters, try not to get overwhelmed with the job hunt. Your first job is more than likely not going to be your last. Design is so versatile that you can always change your role if you find out you don't like it. Also, apply for the jobs you want even if you don't fit all their criteria. I've recently read that if you tick all of their requirements it means you're probably overqualified for the job and role. I agree with that.
What new opportunities have developed for you as a result of changes in work practice during the Covid pandemic?
I can't speak for all of the creative industry but, I don't feel the tech industry has been affected as much as other industries by the impact of COVID-19 pandemic. We can now work remotely. Now, you may be able to apply for international jobs without having to move. You could decide to move overseas to somewhere you've always wanted to live but still work for a company based in Ireland. I plan to take advantage of this as soon as we can travel more!
Portfolio Links: