Home »
Alumni Stories - Jaki Coffey
Alumni Stories - Jaki Coffey
'The best thing I got from NCAD was the extended network of fantastic designers, makers and artists - both students and lecturers - which I can always call on for support, critiques or encouragement.'
Name: Jaki Coffey
Current Career: Designer/ Maker
Graduation Year: 2015
Discipline: Metal/ Jewellery/ Drawing
Location: Cork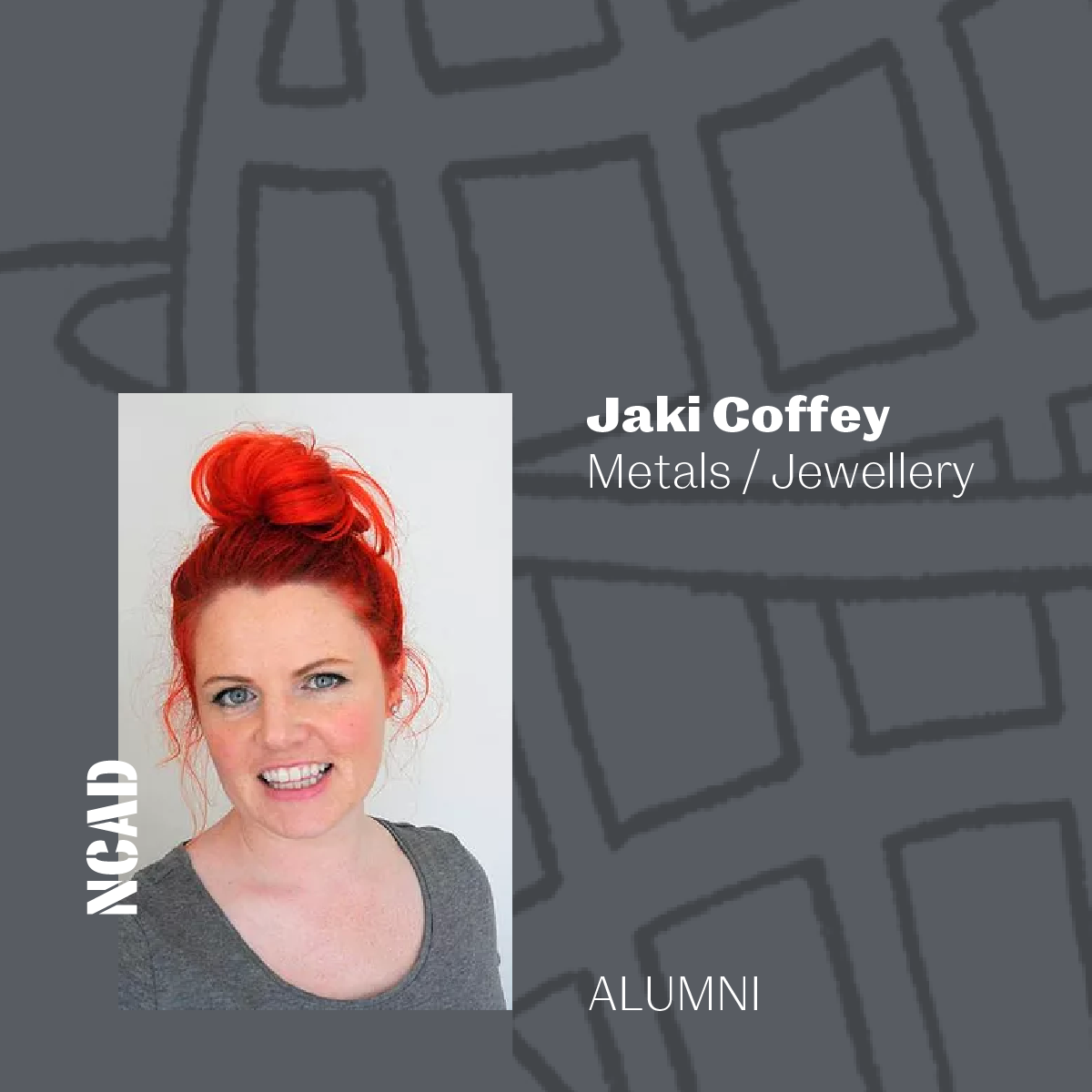 What career path did you want to follow as a child?
I always absolutely loved anything creative, but it never occurred to me that it was something that I could utilise as a job when I grew up. When I was young, I didn't know anyone who was a designer or artist. I suppose I would have wanted to be Mary Fitzgerald from 'Make and Do'.
Why did you decide to study at National College of Art & Design?
I was doing a portfolio course at the Inchicore College of Further Education. I had studied metal there and was eager to continue those studies. I knew NCAD had a great reputation and felt it would be the best place to further my studies and skills.
How did you develop your career towards your current practice?
At the moment, I am focusing on one big project a year to work towards, whether that be an exhibition, funding or a competition. This keeps me creating new work and motivates me to keep researching currents trends to stay relevant.
What is the one experience during your time at NCAD that has informed you most in your work to date?
The best thing I got from NCAD was the extended network of fantastic designers, makers and artists - both students and lecturers - which I can always call on for support, critiques or encouragement.
If you were chatting with current NCAD students today what is the one piece of advice you would offer?
To utilise every bit of information and skill that the amazing lecturers have. You will not have such easy access to this knowledge and ability when you leave college! This is especially true if you are pursuing a course in making, such as metals. Having that hands-on experience and having someone to show you in the first person is invaluable and will always stand to your craft.
Given the global turmoil and change accelerated by the COVID-19 pandemic, what in your opinion are the opportunities for those in creative industries?
There seems to be a renewed interest in and respect for the arts and crafts sector which is really encouraging and exciting to see.
Portfolio Links:
Follow NCAD
NCAD Twitter @NCAD_Dublin
NCAD Instagram @ncad_dublin
NCAD Facebook @NCAD.Dublin
Contact NCAD