Home »
Alumni Stories - Jack Connolly
Alumni Stories - Jack Connolly
'I loved the idea of building things and testing them to create new experiences that were useful to people'.
Name: Jack Connolly
Current Career: Medical Device Design
Graduation Year: 2010 (BDes); 2014 (MSc)
Discipline: Industrial Design;
Medical Devices Design
Location: Galway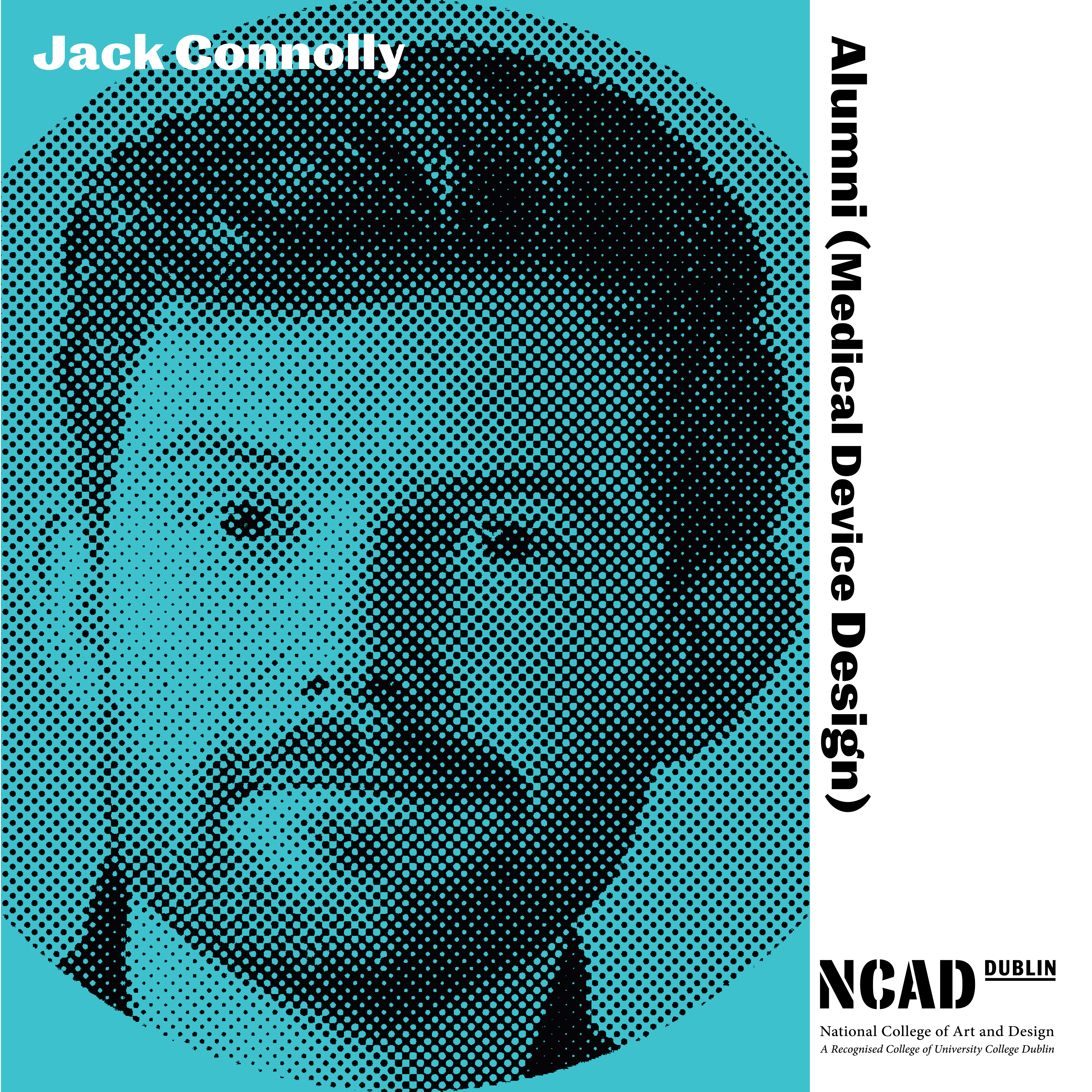 What career path did you want to follow as a child?
I wanted to work in illustration.
Why did you decide to study at National College of Art & Design?
Initially, I was recommended by my school art teacher to attend the NCAD open day. I was impressed by the work on display and the physicality of the Industrial Design workshops. I loved the idea of building things and testing them to create new experiences that were useful to people.
How did you develop your career towards your current practice?
I focused on the strengths learned from my Masters, in human-factors engineering and usability-focused design. I pursued a job in medical device design consultancy to gain experience in the field before investigating avenues to move towards entrepreneurship in the space. I ultimately ended up on the Bioinnovate programme in 2019/2020 to pursue that goal.
What is the one experience – during your time at NCAD – that has informed you most in your work to date?
Dr Katharina Pfützner was my degree tutor for industrial design. During the concept stage of that project, we held weekly round-robin critiques with all her degree-students. These sessions were pivotal for me in understanding the importance and value of giving and receiving constructive criticism. They were also a key component of my pro-social attitude towards design and its ability to create positive change in society.
If you were chatting with current NCAD students today, what is the one piece of advice you would offer?
To engage in debate. I have realised during my career that the most enjoyable part of the work I do (and the most effective way to work), is collaborating with people who have different viewpoints to solve problems. This needs trust, honesty and a willingness to change one's mind. Developing relationships that challenge your point of view seems to me to be the fastest way to develop your ideas and produce amazing work. It's tempting to focus on the craft – and this is important – but without the foundation of solid ideas, the craft cannot be used to its full potential.
Given the global turmoil and change, accelerated by the COVID-19 pandemic, what – in your opinion – are the opportunities for those in creative industries?
Times of turmoil are ripe for innovation. When I graduated in 2010, it was a time of financial turmoil. There were not many traditional career opportunities, but the opportunities were there for self-directed exploration; communities of artists and designers made use of unused spaces to chase work and create work, so we could practice our crafts and hone our thinking. That time was financially tough, but one of the most creative, innovative, stimulating and enjoyable periods of my life and career.
Necessity is the mother of invention. Tumultuous times uncover many new needs, and the design process can be used to identify, prioritise and solve those needs. But remember to focus on identifying and prioritising. Don't let the solving draw you in too early.
Portfolio Links:
https://www.linkedin.com/in/jackconnolly1/
Follow NCAD
NCAD Twitter @NCAD_Dublin
NCAD Instagram @ncad_dublin
NCAD Facebook @NCAD.Dublin
Contact NCAD