Home »
Alumni Stories - Donna Rose
Alumni Stories - Donna Rose
'Your classmates are all experts in something and you can learn so much from each other and make some real friends for life.'
Name: Donna Rose
Current Career: Research Fellow at the Centre for the Study of Irish Art,
National Gallery of Ireland
Graduation Year: 2019
Discipline: MA Design History & Material Culture
Location: Dublin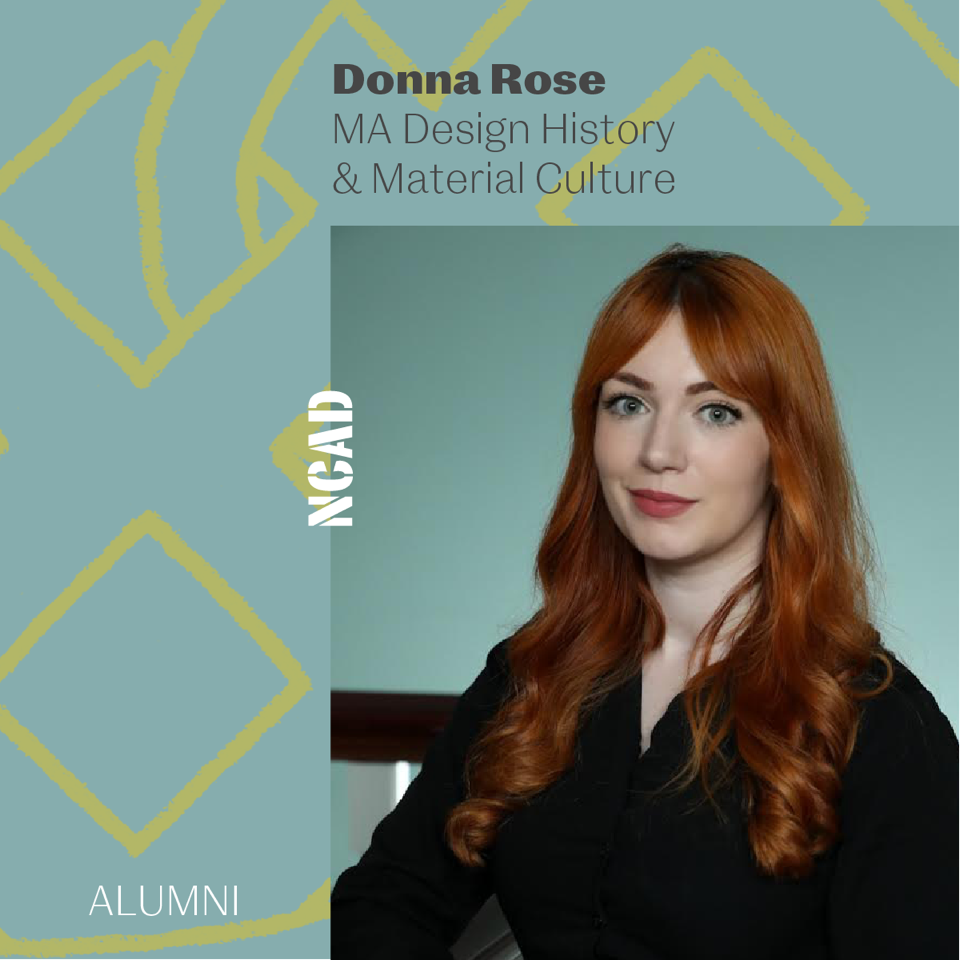 What career path did you want to follow as a child?
I was always drawing as a child and my favourite subjects in school were English, History and Art. I always wanted to do something that combined all of my favourite things but I wasn't aware of the amazing possibilities out there until I went to college as I hadn't known anyone who worked in the art, academia or cultural industries.
Why did you decide to study at National College of Art & Design?
It made sense for me for a number of reasons really. I was very interested in the Master's course in Design History & Material Culture, which is the only one of its kind in Ireland, and the fact that there was a scholarship available made it more accessible to me.
Also, I was new to Dublin at the time and wanted to continue living here, and I had heard great things about NCAD and the experience of studying there.
How did you develop your career towards your current practice?
My Bachelor's degree was in Fine Art from the Crawford College of Art and Design and it had a focus on art history and theory. This, combined with my Master's in Design History and Material Culture from NCAD, meant that I had built a strong knowledge of the history of art and design in Ireland, and its wider social and cultural context.
Leaving the Master's, I was well-equipped to research and interpret objects in an archival and cultural setting and this really has helped me to be successful in my job now, as a Research Fellow in one of Ireland's largest cultural institutions, The National Gallery of Ireland.
The Centre for the Study of Irish Art (CSIA) is a research centre, library and archive of materials with a focus on the history of art in Ireland. My job there includes researching the collection, caring for it, exploring ways to share it with others through outreach and engagement, and developing projects and exhibitions which focus on the archival objects. The ability to interpret objects and situate them historically and culturally is an important part of my job.
I have just started taking on some lecturing work too, on the topics of art history and material culture, and my positive experiences as a student combined with the hands-on experience of working with objects has really helped to inform my teaching.
What is the one experience during your time at NCAD that has informed you most in your work to date?
As part of the Design History and Material Culture Master's programme, we visited the National Museum of Ireland and did a project where we chose an object from the collection and interpreted it. The experience gave me a strong interest in archive and collection management and interpretation, areas that were new to me at the time. This practical experience has very much informed my work to date.
If you were chatting with current NCAD students today what is the one piece of advice you would offer?
Your classmates are all experts in something and you can learn so much from each other and make some real friends for life.
Presentations are a great way to practice sharing your ideas with other people. If you get nervous, remember that your classmates and lecturers are rooting for you! If you want to share your ideas with people after college in a way that is interesting and engaging, getting involved in the public speaking aspect of your course will really benefit you.
Also, when it's possible again, I would recommend spending some time in the library. I know from experience that it can be tough when juggling college with work, but spending just a few hours a week walking up and down the aisles and picking out books that spark your interest can lead you down some really interesting paths.
Given the global turmoil and change accelerated by the COVID-19 pandemic, what in your opinion are the opportunities for those in creative industries?
I think at the moment there is a big focus on how we can adapt things to the digital world. Things like online exhibitions, research, events… they can be made accessible to more people who share the same interests. Now more than ever, online networks of people in creative industries are growing, especially internationally. That's pretty exciting!
Follow NCAD
NCAD Twitter @NCAD_Dublin
NCAD Instagram @ncad_dublin
NCAD Facebook @NCAD.Dublin
Contact NCAD