Home »
Alumni Stories - Deirdre Giblin
Alumni Stories - Deirdre Giblin
'My four years in NCAD gave me a very strong grounding in an interdisciplinary approach to learning, before it was ever a discussion on the broader education landscape'.
Name: Deirdre Giblin
Current Career: Director of a Higher Education College
Graduation Year: 1988
Discipline: Textile Design
Location: Dublin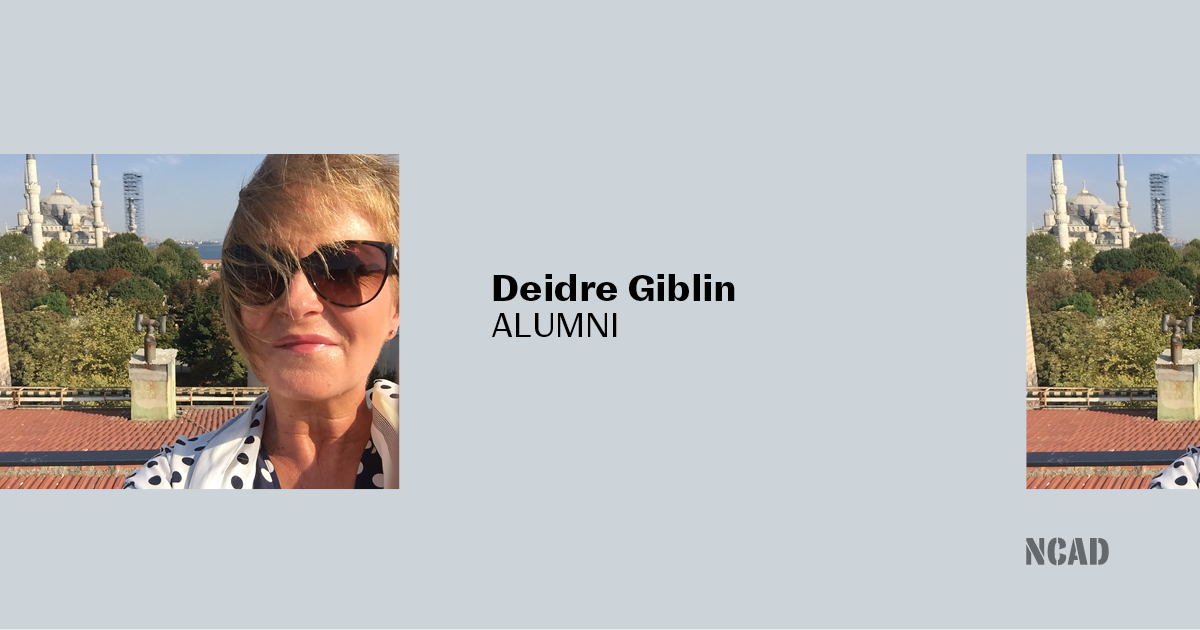 What career path did you want to follow as a child?
I always loved art and wanted to be a teacher too. As I had a very encouraging and inspiring art teacher in secondary school, Joyce Garvey (herself a graduate of NCAD), that thought evolved in to my wanting to be an art teacher.
Why did you decide to study at National College of Art & Design?
NCAD was well known as the premium art college and there was never a thought to apply to anywhere else. On the Textile Design Programme, I studied many types of textile applications including print and weave but fell in love with embroidery studying with the late Cecil O'Donohue. It was a very interesting mix of students in the wider fashion & textile class with Philip Treacy, Helen Cody, Aideen Bodkin and Neasa Hardiman as students at that time. I loved the diversity of subjects I studied and how my critical thinking skills were developed alongside my creativity.
How did you develop your career towards your current job?
My four years in NCAD gave me a very strong grounding in an interdisciplinary approach to learning, before it was ever a discussion on the broader education landscape. It engrained in me the ability to examine ideas from multiple points of view, solve problems, adapt, and collaborate. The route from a graduate of NCAD to being a Director of National College of Ireland was via roles in retail with Boots and River Island in London, as a Training Manager with the then HM Customs & Excise again in London, a move back to Ireland in a HR role, a long career as an International HR Director working across many countries, then self-employed as a Management Consultant, lecturing, and ultimately my current role. Each significant shift in career was accompanied by a corresponding relevant course of study, which all built on my initial NCAD qualification.
What is the one experience during your time at NCAD that has informed you most in your career to date?
For me, it was being able to accept feedback. When you are working on a collection or a one-off piece that is very personal to you, you become very close to it, with the ability to lose any sense of objectivity. In the NCAD environment, feedback was sought and given by tutors, lecturers and classmates from so many different disciplines, yet all with the one intention - of you producing your best work. This set a very strong foundation for me in appreciating the value of such feedback, and in developing resilience to deal with feedback that I did not always agree with, and ultimately seeing the value of it.
If you were chatting with current NCAD students today what is the one piece of advice you would offer?
My advice is to take every opportunity you are given to work on collaborative projects, whether it be across disciplines in the college, with international colleges, or with local industry. This is where you will hone your skills for the future.
Given the global turmoil and change accelerated by the COVID-19 pandemic, what in your opinion are the opportunities for those in creative industries?
I think particularly in Ireland the pandemic is driving people to value the creative industries more and those close to home, whether that be a locally produced piece of art, craft or Irish fashion. Digital channels for the procurement of art has become more prevalent through the pandemic, with online art auctions outperforming pre-pandemic traditional auctions. That said, I know that this period is very tough for the creative industries with funding from government making some contribution, but more is needed.
I think the opportunities go back to earlier points I made about the value of being interdisciplinary and also, in that now very familiar word of 'pivoting'. Who better than those working in creative industries to pivot? I have spent my career pivoting and in some cases re-inventing quite significantly what I do, but always following my interests and staying close to my values.
Follow NCAD
NCAD Twitter @NCAD_Dublin
NCAD Instagram @ncad_dublin
NCAD Facebook @NCAD.Dublin
Contact NCAD