Home »
Alumni Stories - Conor Clarke
Alumni Stories - Conor Clarke
'Returning to NCAD in 2000 to do my MA with tutor Bill Bolger - my book 'Oranje & Green' published by BIS in Amsterdam in 2002, was the outcome of those two wonderful years.'
Name: Conor Clarke
Current Career: Designer, Founding Partner of Design Factory
Graduation Year: 1984 (BDes), 2000 (MA)
Discipline: Graphic Design
Location: Dublin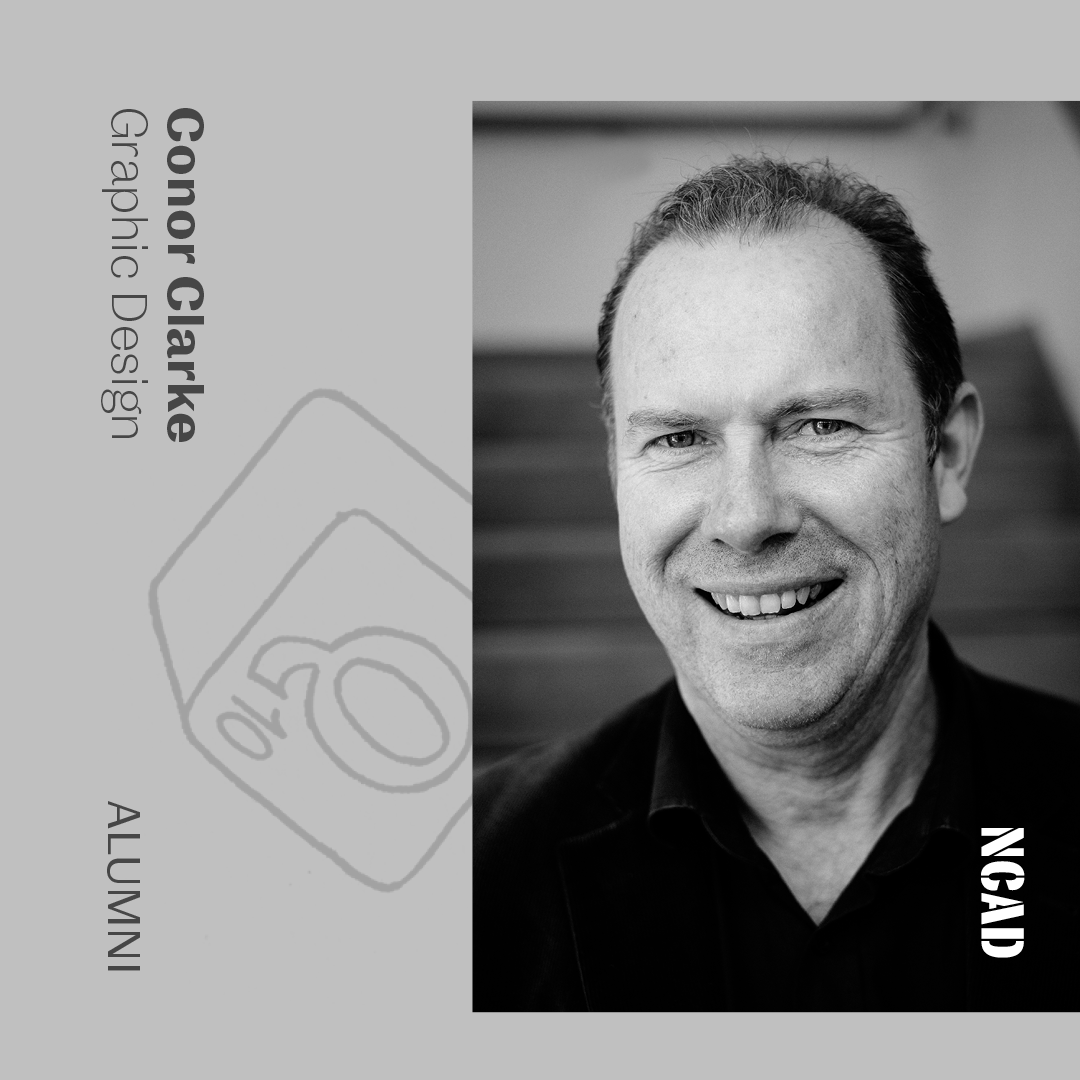 What career path did you want to follow as a child?
I wanted to be a footballer until I was about ten. Then I wanted to be in a rock band until I was about 60…
Why did you decide to study at National College of Art & Design?
…somewhere in between I wanted to be a designer, maybe aged 19. I saw a short film (by accident) about the English designer David Gentleman, and that was it. I knew what I wanted to do.
How did you develop your career towards your current job?
Once the penny dropped and I realised that I actually liked graphic design, which took me about two years, I became enthusiastic and went on to do my degree. It was a four-year degree back then. That extra year gave me time to develop and grow. It was so important.
I read a lot about graphic design, and design in general, that year. I listened to my tutors, Bill Bolger and Frank Bissette, and soaked up everything they had to say. I collaborated with other students and learned a lot from them. I travelled as much as I could. I worked in Europe after I graduated, connecting with designers I admired.
I took risks and made lots of mistakes. I tried to improve all the time. It was hard work, but great fun too. It still is.
What is the one experience during your time at NCAD that has informed you most in your career date?
There were two experiences. The first was a typographic poster for the Goethe Institute. The poster was to promote a concert for the German baritone and opera singer Hermann Prey. My Dad loved that music, so we connected a lot on that project. My tutors Bill and Frank made me stay very late one Thursday night until I got it right. The main letterforms (P R E Y vertically set in black Letter) were hand-cut out of red rubylith masking film and the secondary type was set in Univers on the IBM 'golf ball' selectric typewriter, and all finally assembled by hand. Grey paper, mounting board, scalpel and cow gum. That was my typographic baptism. I learned a lot that night. Maybe that was the night that I became a graphic designer.
The second experience was working on the Citigas identity with my tutor Frank during the summer and autumn of 1983. He taught me how to be brave, how to challenge the client and realise that there is a real value in what you think and say, once you believe in what you are doing. He also taught me a lot about the importance of typography, scale and contrast in order to achieve visual impact. Attention to detail was paramount. If it's wrong, stop and do it again. Keep at it until it is right. Just like the Goethe Institute poster.
Actually, there was a third experience. Returning to NCAD in 2000 to do my MA with tutor Bill Bolger. My book 'Oranje & Green' published by BIS in Amsterdam in 2002, was the outcome of those two wonderful years.
If you were chatting with current NCAD students today what is the one piece of advice you would offer?
Ask lots of questions and make lots of work. Play hard, work hard. Collaborate as much as you can, especially with other students and other disciplines. Read. Study the Masters of what you do. Use the library as much as you can, preferably every day. Contact your heroes. Turn your laptop off as much as you can. Your phone too. Experiment. Walk a lot. Look around. Take notes. Make sketches. Be prolific.
Given the global turmoil and change accelerated by the COVID-19 pandemic, what in your opinion are the opportunities for those in creative industries?
Covid-19 will pass. Stick to your plan.
Portfolio Links:
http://www.creativeireland.com/articles/clarke.html
https://issuu.com/offset2010/docs/offset2013
Go to page 44-45
Follow NCAD
NCAD Twitter @NCAD_Dublin
NCAD Instagram @ncad_dublin
NCAD Facebook @NCAD.Dublin
Contact NCAD