Home »
Alumni Stories - Ciaran OGaora
Alumni Stories - Ciaran OGaora
'Creativity connects us with our humanity; and through design, it sets out to do that for others. The pandemic has reminded us of the need we have for each other. It has also shown that collectively we are capable of greater change than we think.'
Name: Ciarán ÓGaora
Current Career: Managing Partner at Zero-G / Designer
Graduation Year: 1991
Discipline: Visual Communication
Location: Dublin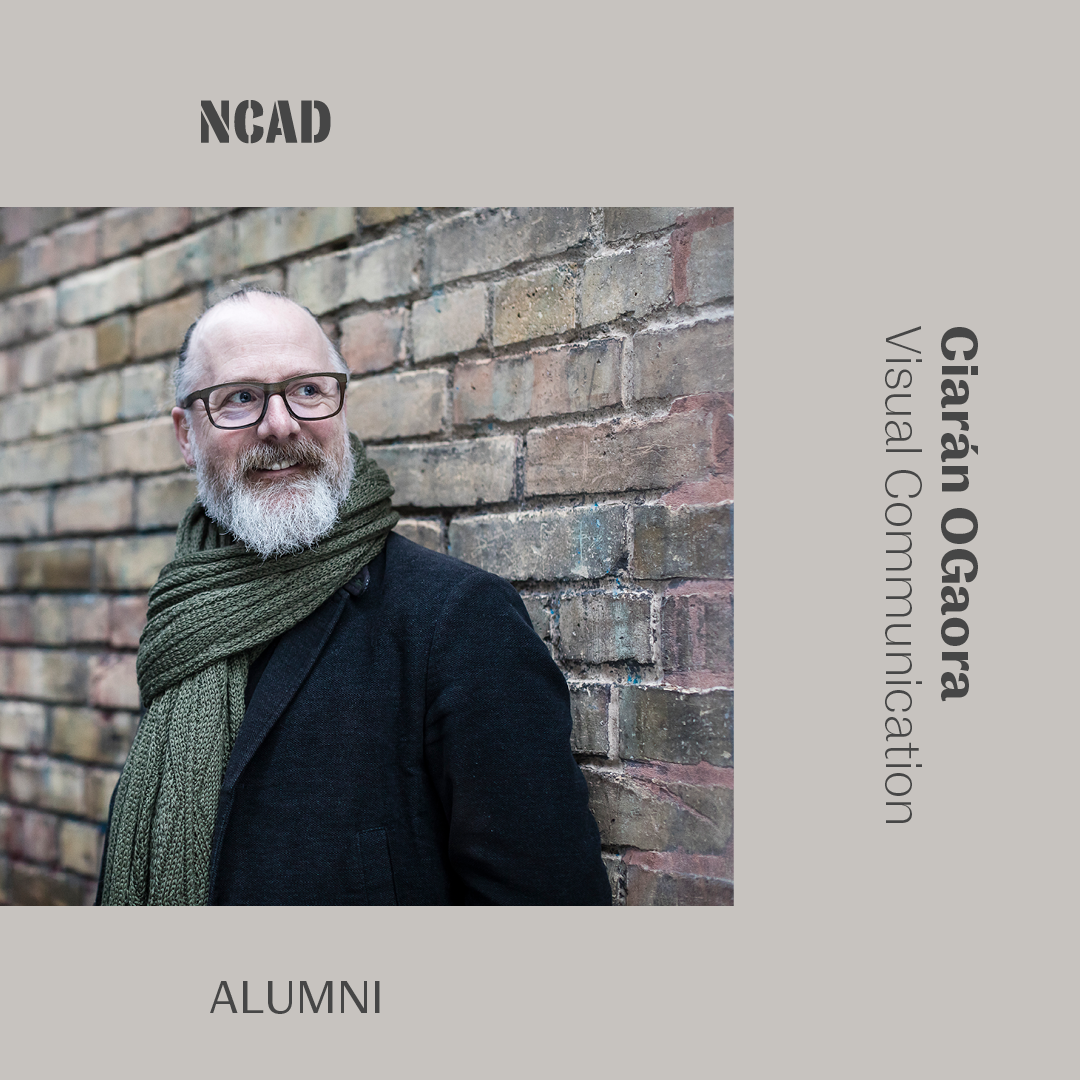 What career path did you want to follow as a child?
From as long as I can remember I wanted to work in a creative field.
Why did you decide to study at National College of Art & Design?
Back in 1985, it was one of the few colleges that offered a genuine foundation course, known then as Pre-Diploma. I knew very little about the differences between the colleges, or what to expect from any of them, but the idea of having a year to explore different directions was something I wanted to do.
How did you develop your career towards your current job?
After graduating, I worked for a few years in the Netherlands for a Rotterdam-based design company and learned a lot about identity and systems design. I returned to Ireland in 1995 and combined teaching, working and personal pursuits before taking up a full-time position and partnership at an established design company in Dublin. While there, I worked on a broad range of identity programmes.
In 2004, I left and set up my own company, Zero-G, with a view to being more selective in the clients I worked with. I wanted to focus more on people and organisations and the fundamental role that design could play in shaping their direction, rather than shaping their look. I am lucky to have enjoyed many interesting relationships over the last 16 years and have seen the studio grow to a team of 15, working with clients in Ireland and around the world. While I run the business, I am also still a practising designer, and find great pleasure in what I do. After 30 years this isn't something I take for granted.
What is the one experience during your time at NCAD that has informed you most in your career date?
My first month doing the Pre-Diploma. The drawing exercises were the first step in the kind of de-education that the college provided at that time. It taught me that 90% of drawing is observation. This is an understanding that continues to inform all aspects of my design practice.
If you were chatting with current NCAD students today what is the one piece of advice you would offer?
Don't focus on presenting yourself as slick and competent, or trying to package yourself to be 'employable'. Find out what makes you tick, what drives you, what's essential to you and let that guide you. Life is long (if you're lucky!) and you need to be true to yourself if you're to sustain a creative life through its twists and turns.
Given the global turmoil and change accelerated by the COVID-19 pandemic, what in your opinion are the opportunities for those in creative industries?
Creativity connects us with our humanity; and through design, it sets out to do that for others. The pandemic has reminded us of the need we have for each other. It has also shown that collectively we are capable of greater change than we think. If creative industries can focus on better serving society first, then other opportunities that come from that (commercial and otherwise) might prove to be more enduring and sustainable.
Links: www.zero-g.ie
Follow NCAD
NCAD Twitter @NCAD_Dublin
NCAD Instagram @ncad_dublin
NCAD Facebook @NCAD.Dublin
Contact NCAD