Home »
Alumni Stories - Andrew Bradley
Alumni Stories - Andrew Bradley
'Design is a collaborative sport and the better we play together, the more successful we are. College gives you the opportunity to think freely and open your mind. As you get older this muscle needs to be continuously exercised.'
Name: Andrew Bradley
Current Career: Brand Consultant, Director at Bradley Brand
Graduation Year: 1984
Discipline: Industrial Design
Location: Dublin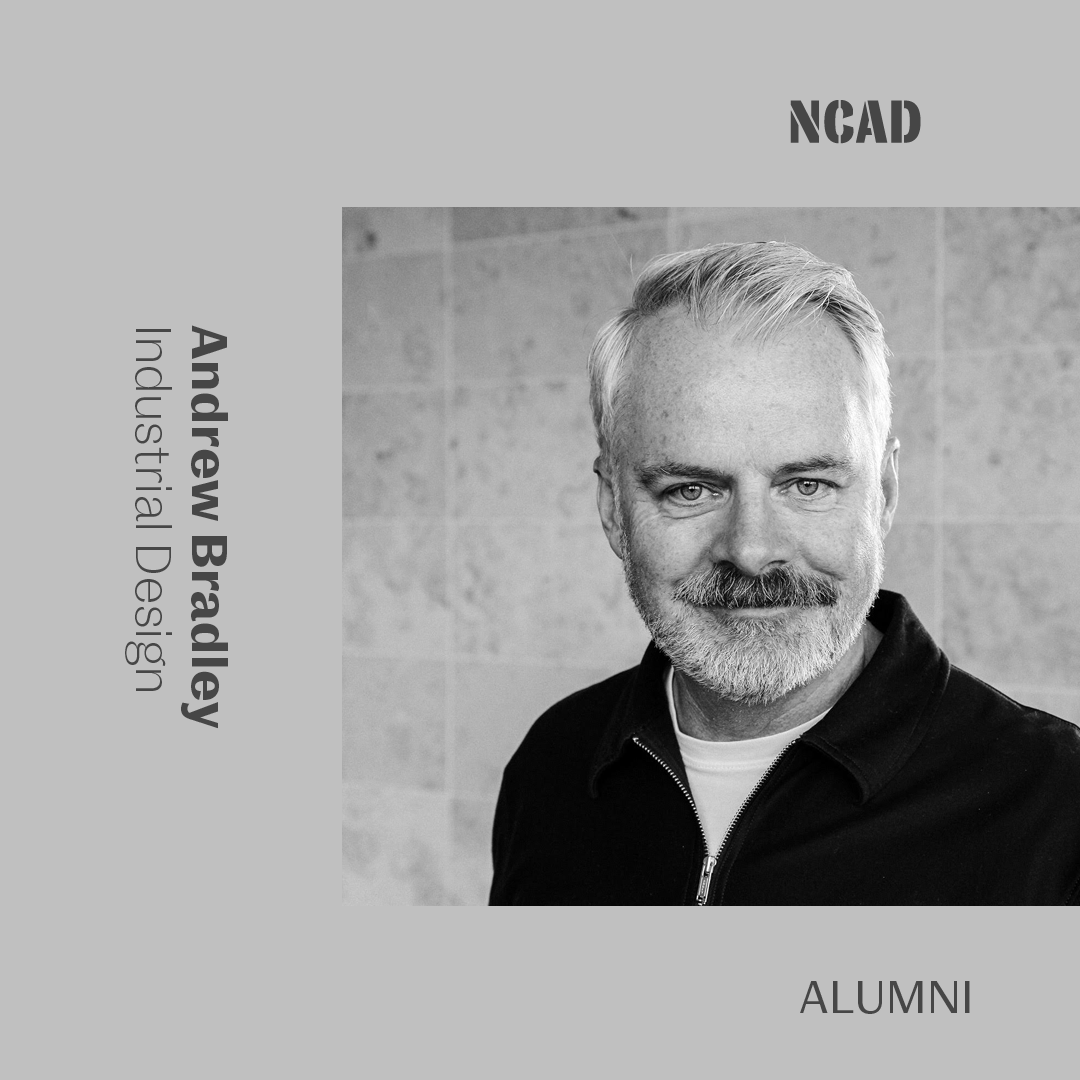 What career path did you want to follow as a child?
I was interested photography at school, and I loved making stuff in art class. I wasn't great at drawing, but I had the ability to see things differently and to create something from nothing.
Why did you decide to study at National College of Art & Design?
My art teacher in school suggested that I apply. He thought design would be a good choice for me. My dad and I visited Kildare Street (yes, I'm that old) to have a look around. Then we went down to the Industrial Design Department. We were so impressed with the small models lying around and the sketches on the wall. My dad is an engineer and could see quickly that this was the course for me.
How did you develop your career towards your current practice?
I knew early on that I wasn't great at design. I was better at explaining and selling it. So, I decided I would set up a 'design management' consultancy, advising clients how to select a designer, brief them and assess their work. This was successful for five years or so and I then decided to expand the business to undertake more strategic consulting for clients in the area of marketing and design thinking. In 1999, we started to call ourselves 'brand consultants' and this opened more doors. In 2004, we pivoted again and set up a design studio to support our brand strategy work and became a team of 15 very quickly.
Today we're Bradley, the brand agency. We now provide strategic, creative and digital consulting services. I'm nearly 30 years in business and still have a strong enthusiasm for the work today. It's a real privilege to be asked into an organisation to assist to them figure out the direction forward.
Design is not a career you retire from. It's a vocation. It's a life sentence -but a nice one.
What is the one experience during your time at NCAD that has informed you most in your work to date?
The History of Art and Complementary Studies class on a Wednesday afternoon. I loved meeting the other design students from fashion, vis com and craft. It was cool to chat to them and realise that we all had the same issues and concerns. To this day, I have a strong appreciation for all other design disciplines.
The other influence was the rigorous process that Industrial Design was taught by. We were assessed as much for our research and ideas as we were for our final design. The importance of the design method process is still with me. Today we call it design thinking. Design without process is conjecture.
If you were chatting with current NCAD students today what is the one piece of advice you would offer?
Attitude trumps talent. Yes, you must learn your trade and techniques. But a curious mind and the desire to get on with others is key. Design is a collaborative sport and the better we play together, the more successful we are. College gives you the opportunity to think freely and open your mind. As you get older this muscle needs to be continuously exercised.
Given the global turmoil and change accelerated by the COVID-19 pandemic, what in your opinion are the opportunities for those in creative industries?
Average is over; mediocrity is buried. With so much stuff in the world, consumers today want something special. But generally, they don't know what they want. The opportunity for the creative sector is to show leadership, something we have struggled to do in the past. Now more than ever, our clients seek our advice and direction. They want us to make the decision for them. To deliver today, designers need to have the courage of their conviction. We need to articulate and validate why our recommended approach is the right approach. It is no longer good enough to offer three options and let the client choose.
Portfolio Links: www.bradleybrand.ie
Follow NCAD
NCAD Twitter @NCAD_Dublin
NCAD Instagram @ncad_dublin
NCAD Facebook @NCAD.Dublin
Contact NCAD