Home »
Alumni Stories - Aisling Clancy
Alumni Stories - Aisling Clancy
'Remember that Ireland has a rich history in design and crafts. I would encourage students not to wait until they graduate to interact with the wider design and craft community'
Name: Aisling Clancy
Current role: Education Manager, Design & Craft Council Ireland (Design & Craft Education)
Graduation year: 2013
Discipline: MA in Design (Textiles)
Location: Dublin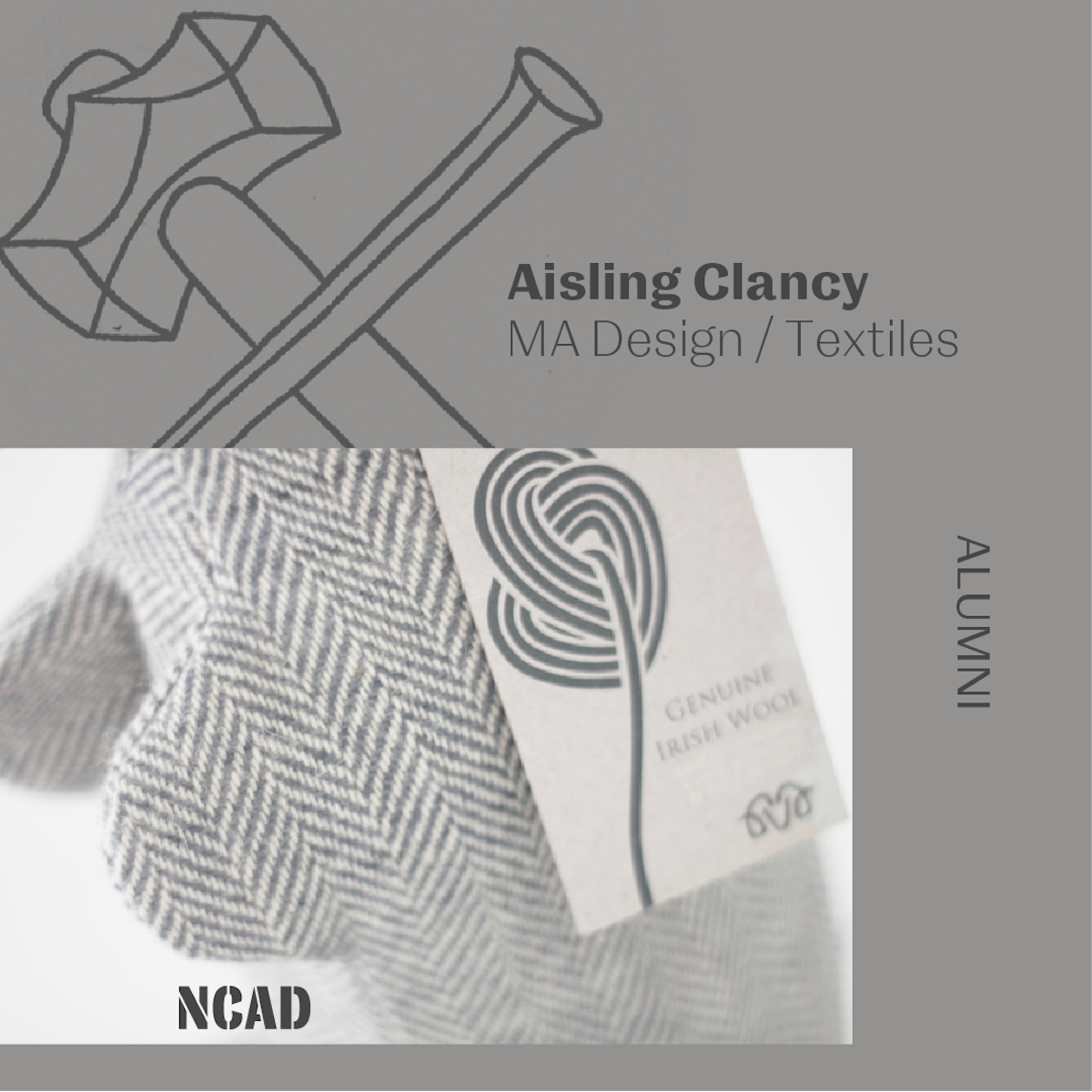 What career path did you want to follow as a child?
I knew I wanted a career that would help people, but I wasn't sure what career path I wanted to follow as a child. I enjoyed being creative and was always drawing, painting, building and experimenting with materials. I chose subjects and extra-curricular activities purely based on what I enjoyed with no regard or thoughts to a career. I was naturally drawn to the arts, but would not have been aware of the range of careers in the arts until I was at college.
Why did you decide to study at National College of Art & Design?
NCAD has a strong reputation nationally and internationally. I attended the graduation shows for many years and was always especially impressed by the standard of the Textiles and Fashion graduates. When I decided to undertake a project focusing on local sourcing and production for fashion and textiles in Ireland, I knew I wanted to further this project at NCAD.
How did you develop your career towards your current job / practice?
Through my MA project focusing on local sourcing and production for the fashion and textiles in Ireland, I worked with wool spinners, weavers and knitters. After graduation, I was invited to work with Donegal Yarns, who I had worked with on my MA project. I gained varied industry experience, insights and connections, which led to some interesting freelance design projects. This experience also led to a role with Etsy, working with designer makers who were scaling their businesses, encouraging them to make ethical and sustainable choices.
After gaining experience working within the Irish industry with a sustainability focus, I became more and more interested in craft and design education and socially engaged projects. I took up a position with Real Nation, where I managed national arts and wellbeing programmes in schools for a number of years. I gained experience in developing and growing programmes, large scale programme management, content development, consulting with stakeholders, evaluating and measuring impact and from there my passion for education grew.
What is the one experience during your time at NCAD that has informed you most in your career / work to date?
I was very fortunate to undertake my MA project with the supervision of Helen McAlister and Nigel Cheney. Their experience, advice and support of me and my work was invaluable; they pushed me to be ambitious, to keep moving forward and to pivot when I encountered obstacles along the way.
If you were chatting with current NCAD students today what is the one piece of advice you would offer?
Remember that Ireland has a rich history in design and crafts. I would encourage students not to wait until they graduate to interact with the wider design and craft community; enter competitions, look for collaborations, apply to exhibition open calls, ask for advice, learn from the experience of others and of course, join the Design and Crafts Council Ireland.
Given the global turmoil and change accelerated by the COVID-19 pandemic, what in your opinion are the opportunities for those in creative industries?
During the pandemic, the public have embraced creative activity and are supporting local craft and design businesses by buying local. Now more than ever, there is an appreciation and market for beautifully crafted Irish products.
Follow NCAD
NCAD Twitter @NCAD_Dublin
NCAD Instagram @ncad_dublin
NCAD Facebook @NCAD.Dublin
Contact NCAD