Home »
Alumni Stories - Adam Blagburn
Alumni Stories - Adam Blagburn
'As a student, I could spend days at a time with NCAD tutors and students. This interdisciplinary approach to design I experienced at NCAD has had a lasting impact on my practice to this day.'
Name: Adam Blagburn
Current field: Spatial Design
Graduation year: 2017
Discipline: Product Design
Location: Dublin/London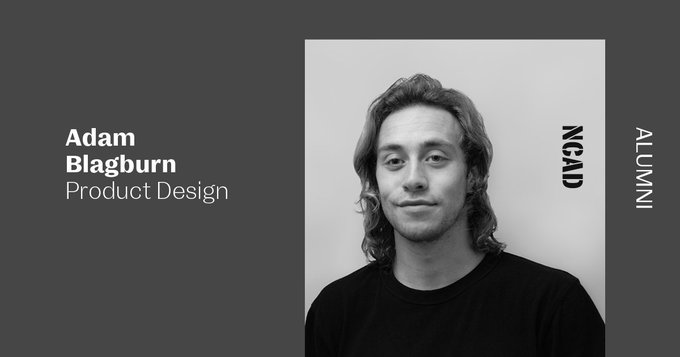 What career path did you want to follow as a child?
My family is made up of artists and business owners, so I naturally wanted to find a path that combines a creative output with a strong goal-orientated career. I was originally torn between painting and architecture, but then I discovered product design during my final year in school.
Why did you decide to study at National College of Art & Design?
NCAD has a strong reputation in the creative industry and it was suggested by my teachers. The creative culture that's promoted there, by having both a fine art and a design school on the same campus, really excited me.
How did you develop your career towards your current practice?
During our second year at NCAD, we had a short project with a design studio called Designgoat, which was founded by two product design alumni. The studio focuses on furniture and interior design, but also encompasses an expansive range of creative projects. I was inspired by what they did and subsequently got an internship at the studio. There, I developed a passion for spatial and interdisciplinary design.
Once I graduated from NCAD, I was offered a position at the Dublin based studio AB Projects. Here I was given more responsibility and allowed me to grow into a professional design role. I then moved to New York where I interned at Studio Atlason, which focuses on both consumer goods and furniture design for large international clients. This experience cemented my decision to focus on spatial and architectural design. I arrived back in Ireland at the end of 2019 and had received a place on a London based Masters course in interior architecture. Due to the pandemic, I have decided to defer my position and work freelance until 2021.
What is the one experience during your time at NCAD that has informed you most in your work to date?
My final year project required me to branch out to other design disciplines and contact other faculties throughout the college for insight and guidance. The fashion, textiles and visual communication departments taught me new skills such as pattern drafting, sewing and graphic design techniques, which considerably advanced my project's overall design. As a student, I could spend days at a time with NCAD tutors and students. The interdisciplinary approach to design I experienced at NCAD has had a lasting impact on my practice to this day. It is a mentality that has proven invaluable professionally when dealing with clients, brands and other colleagues who usually all come from different creative backgrounds.
If you were chatting with current NCAD students today what is the one piece of advice you would offer?
If possible, do an internship or two between academic years. The time spent in the industry experiencing live projects, clients and other designers in a network is invaluable once you graduate. It allows you to hit the ground running, and really stands to you when applying for future positions. It also helps you find what aspect of design you enjoy, and work towards it.
I'd also advise students to make sure they have fun with their work. It's something that is rarely mentioned during third-level education. I have seen countless students getting bogged down by projects that don't excite them. College is a space to experiment and flesh out ideas without the limitations of the real world. If you are bored by your own work, how can you expect others to feel any different? Try something new or experimental even if the result isn't as refined. It will elevate your practice and could lead your project down an unanticipated path.
Given the global turmoil and change accelerated by the COVID-19 pandemic, what in your opinion are the opportunities for those in creative industries?
Depending on where you are in your career this could be answered very differently. But, for those just getting started, I see this period as a perfect time to build on existing skills and create new ones. Taking the initiative now to build your toolset will stand to anyone in the future.
Portfolio Links: www.adamblagburn.com
Instagram: @adamblag
Follow NCAD
NCAD Twitter @NCAD_Dublin
NCAD Instagram @ncad_dublin
NCAD Facebook @NCAD.Dublin
Contact NCAD