Home »
Alumni - Siofra Caherty
Alumni - Siofra Caherty
We are more connected than ever before and there is less emphasis on where you are based... There is a lot more encouragement and ways now to be self employed and create your own path, this is a really exciting time!
Name: Síofra Caherty
Current Career: Sustainable Design
Graduation Year: 2009
Discipline: Fashion Design
Location: Belfast, N. Ireland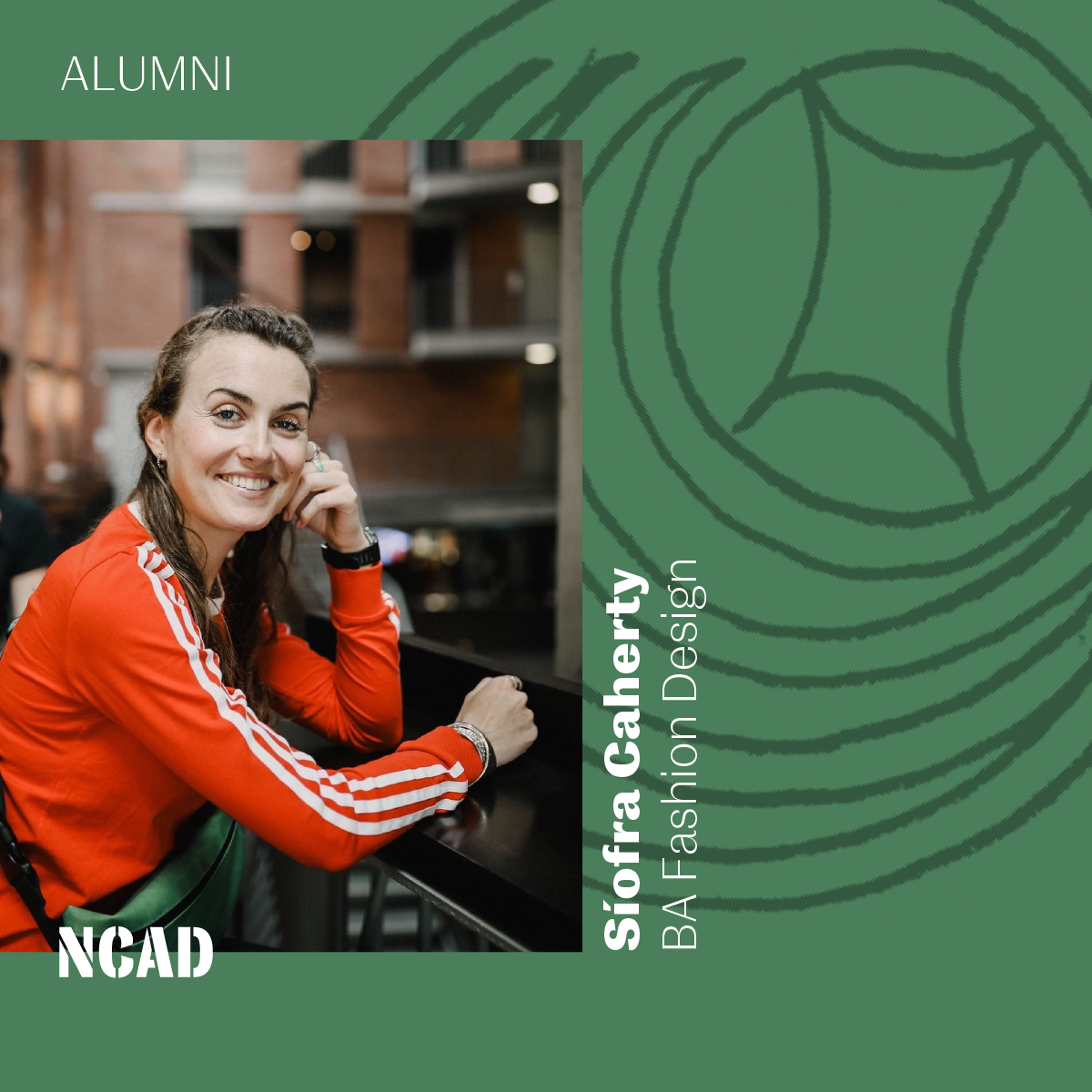 What career path did you want to follow as a child?
I always wanted to be a Fashion Designer. I grew up in rural south Armagh along the border and came from a family of farmers, teachers and tradespeople. I had no interactions with people who worked in the creative sectors yet somehow decided that I wanted to be a Fashion Designer. I have no idea how or when I decided upon this idea except that it feels like something I have always just known.
Why did you decide to study at National College of Art & Design?
Attending school in the north of Ireland we were encouraged to look at universities in England, Scotland and Wales. I considered and visited colleges in Edinburgh, Glasgow and London and just didn't feel like they were right for me, they all seemed too big and impersonal. One day a former pupil of my school that had gone to NCAD came in to chat to us and she spoke so highly of her experience there that I decided it would be worth a look. My best friend and I went down to see the college and loved it. It felt like a little creative bubble contained within the busy city. I remember Ken Langan, the former National College of Art & Design Registrar, chatting with us. I came away so inspired and determined to attend the college.
How did you develop your career towards your current job / practice?
I have worked relentlessly at my career since leaving NCAD and have had multiple interesting and varied jobs. Whilst studying I interned with ThreeAsFour in New York and this was a defining experience. This was my first experience of luxury fashion and being in a totally diverse working environment.
After graduating I worked as a designer with Portwest in county Mayo which paved the way for many future positions. I moved to San Franciscio and assisted a Pattern Cutter at Levi's and taught part time at the Academy of Art University. After this I landed what I thought was my dream job as a designer with Adidas in Germany. It was during this experience that I realised I was really interested in sustainability and having my own business.
After I moved home I worked as apparel product designer with a biomedical device company in Galway. I eventually plucked up the courage to leave a 'solid' job and studied a MFA at Belfast School of Art as a safe route to develop my business idea. I loved indulging in creativity and being back in the art school environment after so many years working commercially as a designer.
All of my work experiences were stepping stones and totally necessary to get me where I am today. The experiences that have equipped me with the resilience, work ethic and soft skills in order to gain the design jobs are the ones that are not on my CV; the retail, waitressing and nanny jobs that I have done part time since the age of 15. These were more essential than my design jobs in preparing me for self employment.
What is the one experience during your time at NCAD that has informed you most in your career / work to date?
My tutor once told me that I shouldn't worry about whether I get a 1:1 or a 2:1 degree as my personality will open doors for me. I scoffed at this at the time; when you are in the education environment and working your arse off it is impossible not to feel defined by your grades. I was super disappointed when I didn't get a 1:1 degree but she was right; I have never ever been asked what degree I got and my personality has definitely opened all the doors I needed opened. There is not enough emphasis on soft skills in education environments yet they are more essential than anything else.
If you were chatting with current NCAD students today what is the one piece of advice you would offer?
I would say to indulge in every moment of this creative adventure, try out all your ideas; this is your safe testing ground. Attend all the balls and recognise that socialising and meeting students from other courses is an incredibly important part of your student journey. From a career perspective these are the people you will work alongside for the rest of your career, almost every job I have had has been in some way linked to a fellow NCAD alumni. I would advise them to stop obsessing over what grades they are getting and recognise that these grades do not define them or their work. Your work will continue to evolve and grow with you.
Given the global turmoil and change accelerated by the COVID-19 pandemic, what in your opinion are the opportunities for those in creative industries?
I think the world feels like a smaller place which is exciting for those of us based outside of the main creative hubs of London and New York for example. We are more connected than ever before and there is less emphasis on where you are based. Being based in somewhere like Belfast allows me to be full time self employed and live a good life whilst doing creative work that I have chosen. Creative work cannot happen from a place of financial anxiety and this unfortunately is what the bigger places do to those in the creative sector. There is a lot more encouragement and ways now to be self employed and create your own path, this is a really exciting time!
Read the recent Irish Times article on Síofra's practice in sustainable fashion design (Sat, Oct 23, 2021).
Portfolio Links:
Website: https://www.jumpthehedges.com/
Instagram: https://www.instagram.com/jumpthehedges/
Facebook: https://www.facebook.com/JumpTheHedges
Follow NCAD
NCAD Twitter @NCAD_Dublin
NCAD Instagram @ncad_dublin
NCAD Facebook @NCAD.Dublin
Contact NCAD