Alumni Kay Sim
'The fact that the projects are real world assignments, with partnering companies piqued my interest. I think working with Hollister may have been one of the more pivotal moments on the course. The research into the users, user needs, and how to convey that was intense.'
Name: Kay Sim
Current Career: Human Factors Engineer
Graduation Year: 2017
Discipline(s): MSc in Medical Device Design
Location: Philadelphia Pennsylvania - USA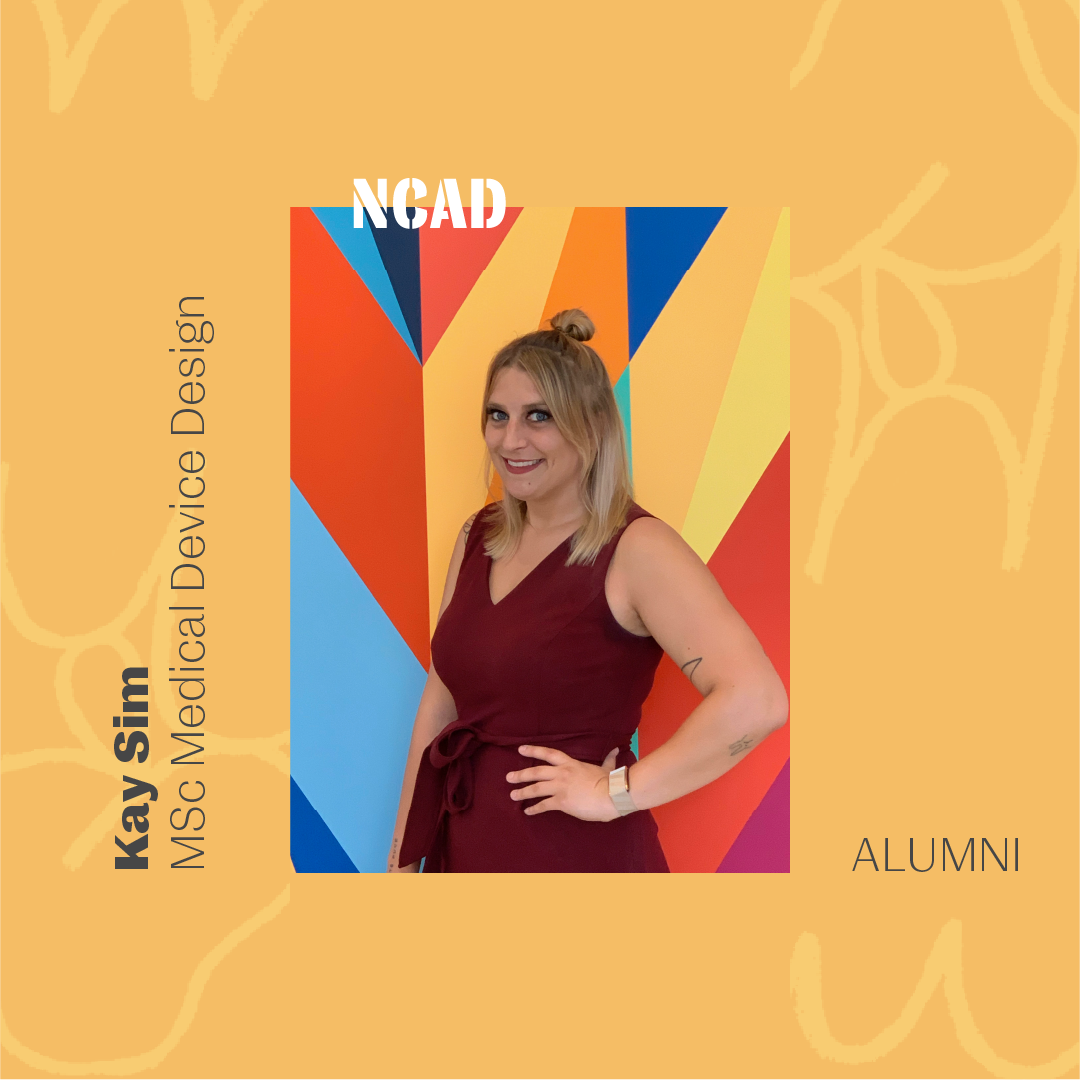 What career path did you want to follow as a child?
A dolphin trainer – I was obsessed with them. Then I quickly realized I was terrified of deep water, so I set my sights on Graphic Design. My Aunt was a graphic Designer at the Philadelphia Zoo and I thought it was the coolest thing in the world that the pictures she drew ended up on the billboards I would pass driving to my Grandmom's house.
Why did you decide to study at National College of Art & Design?
I didn't realize how much I enjoyed building things until I was well into my undergraduate degree – or that industrial design was even an option. After 5 years in advertising as a graphic and interactive designer I decided I wanted to move from 2D design to 3D design. I wanted to build things that mattered.
I was researching Industrial Design course and NCAD popped up on a list. The fact that the projects are real world assignments, with partnering companies piqued my interest. After talking to Enda O'Dowd, the Course Coordinator, I found out more about how the students were intentionally pulled from different educations and backgrounds to bring different skillsets and strength to the course, where peer to peer learning was critical. This really won me over, it's the method we used to build strong teams in creative fields and yields best results for the group. It was an applicable course to real world work, with interesting projects and people, I couldn't pass that up.
How did you develop your career towards your current job / practice?
Working in advertising instilled strong presentation skills and communication of abstract concepts or ideology both verbally and visually. You're always telling a story. NCAD took the immersive research I would do for brand identities in advertising and applied to medical devices and workflows. I learned to translate engineering speak to marketing speak and vice versa; how to be informed enough to hold my own in a discussion with a clinician with 30 years' experience, and how to look for unidentified needs and opportunities in workflows.
I've done a lot of further reading since graduation, and every project I assist with has different needs, so you have to research and adapt to help execute the task at hand. Directly tying a device's features or functions to needs identified through qualitative research helps build a solid foundation for a successful product.
I've attended conferences, presentations, trainings, in my field and outside of it. Remembering to step outside your box to see how your work affects, and is affected by others is a strategic check and balance we need to stay relevant and keep learning. The words 'I don't know' – aren't necessarily negative. Just go look for an answer.
What is the one experience during your time at NCAD that has informed you most in your career / work to date?
This is hard to choose because of how in-depth projects can go.
I think working with Hollister may have been one of the more pivotal moments. The research into the users, user needs, and how to convey that was intense. It was emotionally upsetting at times to think of what people were experiencing as their 'normal' quality of life. Then it was incredibly fun to have a sincere and humorous conversation about their experiences and the different nicknames they had for issues.
After the research we were all so invested in the projects because of the hardships we saw the users facing. I did some wild product testing, which from the outside looked like it made no sense, but after listening to the issues the users had– using odd shaped objects with various textures and patterns made a lot of sense.
It drove home a lot of the key aspects of HF, use specification – the full life and persona of the user, task analysis, user interviews, user needs, and how all of that translates into design decisions for a device.
If you were chatting with current NCAD students today what is the one piece of advice you would offer?
You get out of your education what you're willing to put into it. So invest your time, energy, and effort into the courses while you're in them. The connections I made during my degree helped me beyond just education. It helped me land a job in my home state back in the US. I had some inspiring classmates, work that would take your breath away, and it leaves you humble but inspired.
I wasn't used to a campus that had closing hours – so find a space outside of your bedroom and your home where you can get work done. A space that you can mentally define as a work space. Mine was the 24 hour Starbucks at Stephens green during the degree, and now it's a separate space in my house that has everything I need to work at my fingertips. The division and definition of space is good for keeping productivity up and also for knowing when to shut things down and spend time on yourself/your personal life. Especially with what we've seen during the pandemic, and the need to work from home or remotely.
Given the global turmoil and change accelerated by the COVID-19 pandemic, what in your opinion are the opportunities for those in creative industries?
Remote enthographic research best practices should be more clearly developed and defined. Video diaries, reviews, and interviews require a different skill set and preparation process that we haven't capitalized on in the medical industry.
Redefining the value and direct outputs of research. Industry, and people in general can be quick to run to the finish line with an idea assuming they 'know best'. Research into the environment of use, intended users, and intended uses can be done before prototypes are ever drawn by hand. Methodologies that can capture clear plans and execution could save companies extra costs in future usability testing and rounds upon rounds of prototyping if we take the time to listen to our users before assuming what they need, and that we know the best solution for it. It's hard to listen with your mouth open.
Portfolio Links:
Unfortunately I can' share the fun visual work that I do because of the sensitive nature of it. I can share some of the activities that I've done since being at Teleflex though:
- Run usability testing: the plans, moderation, observation, and data collection and analysis. This includes site visits, contextual inquiry, usability testing, cadaver lab prototype testing, designing and building the products being tested.
- Co-authored global policies and procedures in Human Factors for Teleflex
- Co-authored training materials, and provided said training to Teleflex globally
- Spoken at conferences to fellow Human Factors engineers, and medical industry peers
- Developed product concepts, and been listed on patents
- Developed concept generation processes based on HF needs, as well as best practices in industrial design and creative thinking.
- I've worked on products from the entire range of TFX global portfolio executing Task Analysis, Expert Reviews, Heuristic Reviews and contributing the HF documents necessary for a compliant DHF.
Follow NCAD
NCAD Twitter @NCAD_Dublin
NCAD Instagram @ncad_dublin
NCAD Facebook @NCAD.Dublin
Contact NCAD