Home »
NCAD Portfolio Guide
NCAD Portfolio Guide
Download our Portfolio Guide 2022 to help get you started on your portfolio. NCAD - Your Place is Here!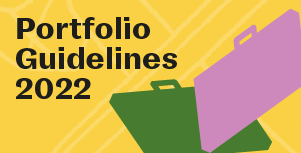 Important Notice:
For 2022 Portfolio submission to NCAD will be 100% digital. This means you will scan/photograph/film your work and upload it to NCAD via our dedicated Portfolio Submission Platform.
The Portfolio Submission platform is open now, and will remain open right up until the closing date, allowing you to submit your work at your own pace. You can save your progress and return as many times as you like.
Extended Deadline- Sunday 13th at 6pm
You can edit your submission, remove files, add files or even start a brand new submission by Sunday at 6pm.
You can find all you need to know about your digital portfolio submission in the Portfolio Guide.
Please sign up to the Undergraduate Mail List to keep up to date with all key information for applying to NCAD in 2022.
Portfolio Submission Platform
Click here to visit the Portfolio Submission Platform