Portfolio
Support, information, events and portfolio courses to help you prepare your portfolio for NCAD.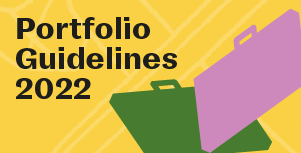 Here at NCAD we have developed a comprehensive Portfolio programme to ensure that you have access to the best information and guidance at every stage of your portfolio journey.
Your portfolio is an important part of your application for an undergraduate place at NCAD. You will need to submit a portfolio for every undergraduate course at NCAD, with the exception of the BA in Visual Culture, which does not require a portfolio.
Your portfolio represents who you are now, as well as who you may become as an art/design student and, later, as an artist or designer.
Explore the Portfolio Website for information on how to begin working on your portfolio; how to prepare your portfolio for various study pathway options at NCAD; sample portfolios from current NCAD students; guidelines on how to submit your portfolio, FAQs...
Be the first to know!
Join our Undergraduate Mail List to be first to receive updates and notifications on undergrad study at NCAD.
Follow us on Instagram, Twitter and Facebook to stay up to date on what's happening at NCAD.